The Minix NEO C is the only Continuum hub you need for Windows 10 Mobile
Have I found the most powerful USB Type-C Continuum Hub for your phone? Let's find out!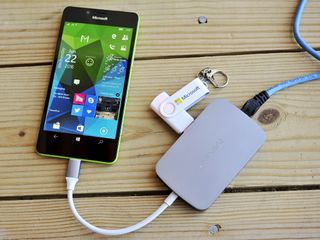 Have you heard the news? USB Type-C is the future that is here right now. More and more laptops, tablets, and phones are shipping with the ultra-powerful port and the Microsoft Lumia 950, and Lumia 950 XL are on that list.
Recently I sought to find the most powerful USB Type-C hub for Windows 10 Mobile. My investigation lead me to the MINIX NEO C. At $89 it is not cheap but is the only hub you will ever need for your phone. Bonus? Connect it up to your Dell XPS 13, Samsung Galaxy Tab Pro S, or Huawei MateBook for even more features.
Ports. Lots of 'em
In my quest to find the perfect hub for my Lumia 950 I was looking for one that would allow me to do Continuum and more.
Specifically, starting with the latest Redstone releases for Windows 10 Mobile these phones can now handle full Ethernet connections via a USB Type-C adapter. That is not news and in fact, I demonstrated that feat a few weeks ago testing various hubs.
So let's cut to the chase and I'll list the ports in this little beast.
Minix NEO C Hub
Gigabit Ethernet port
USB 3.0 x2
USB Type-C for charging
Full HDMI output (up to 4K supported)
SD card reader
TF (micro SD) card reader
That beats the Microsoft Display Dock handily since you are also getting an Ethernet port, USB 3.0 ports (instead of 2.0), and SD and TF card slots all for $10 less than the $99 price point from Microsoft.
With those features all in one hub you can connect it up to a Lumia 950 or Lumia 950 XL and:
Use Continuum on any display or TV with an HDMI input
Get 100+Mbps downloads over fiber optic Ethernet (if available)
Connect an external USB3.0 drive
Charge your phone
Add a wireless mouse and keyboard (USB dongle)
Edit photos or use music on an SD/TF card
...all at the same time. At that point, the only thing holding back your full PC experience is the phone itself.
The build quality is also superb as the Minix NEO C is made of a light alloy/metal. It's not nearly as heavy as a Microsoft Display Dock, but the quality is approaching it.
The bottom line
Even for small tasks, the Minix NEO C is perfect. Did Microsoft just release a new Insider or cumulative OS update for your phone? Plug it into your Ethernet at home and enjoy blazingly fast downloads. I'm not kidding either about the speeds, as you can see my test results using the nPerf app or from my Continuum screenshot below:
It hit 108 Mbps. Not bad for a phone*.
*Note: To use this particular Ethernet port you need at least Windows 10 Mobile build 14364.
I also use the Minix frequently for transferring files to my phone. Nothing beats the speed of a USB thumb drive to add music, copy over some photos, add some documents, etc.
With the full HDMI port and USB Type-C extra port you can use your phone in full Continuum mode while charging it at the same time.
Perhaps my only complaint, if I had to make one, is the main USB Type-C connector is part of the device. I would have preferred a spare port here instead so that I could use my own USB Type-C cable to add some distance between the phone and the hub. With the cable attached, it's a little less pocketable, and your phone will only have a few inches of breathing room between it and the cadre of wires and USB drives. That is not a deal killer, but something to consider.
Overall, the Minix NEO C is likely the best accessory you could invest in, especially going forward. Don't forget you can just plug this into newer laptops and tablets and also get the same experiences there as well making this a highly versatile add-on to your mobile arsenal.
See at Amazon (opens in new tab)
Did you find a USB Type-C hub that can match or even best the features here at this price point? Let me know in comments and I'll take a look at it next time!
Windows Central Newsletter
Get the best of Windows Central in your inbox, every day!
Daniel Rubino is the Editor-in-chief of Windows Central, head reviewer, podcast co-host, and analyst. He has been covering Microsoft since 2007 when this site was called WMExperts (and later Windows Phone Central). His interests include Windows, laptops, next-gen computing, and for some reason, watches. Before all this tech stuff, he worked on a Ph.D. in linguistics, watched people sleep (for medical purposes!), and ran the projectors at movie theaters because it was fun.
That start screen man... That start screen.... Someone please provide me that start screen

IIRC there's an app to make those. I say this because I have a similar picture on mine, which I got from Rubino after seeing it here ages ago.

Found it! It's called PolyScreen.

locks up my 950XL on newest Insider release.... oh well

I remember that. Got mine from Daniel too back then.

Daniel, I think following sentence from the article is missing a 0
"Get 100Mbps downloads over fiber optic Ethernet (if available) ​Sounds like you meant to put 1000Mbps because Gigabit and fiber are mentioned throughout the article.

No, I meant 100Mbps, which matches the speeds I posted.

I think I understand the confusion here. The Network port on the hub itself is 1 Gigabit, and can connect to internal switching at such speeds. The fibre connectivity you're referring to is actually your internet connection, Is that right?

Correct. I suppose it could support 1000Mbps, but since I did not try that to verify, nor do I believe most consumers have access to such speeds, I'll leave it at the 100Mbps I actually tested at ;)

So you posted a benchmark of your own WAN connection, since it was the bottleneck in the chain. Not the ethernet adapter.

Correct I posted my internet speeds, not someone's mythical home network for my review.

"since it was the bottleneck in the chain. Not the ethernet adapter."

These are assumptions as we not know if the Ethernet can handle 1000Mbps or even if the phone could.

Is there any phone in this world (including android/iPhone) which can support wired Ethernet connectivity other than 950/950 xl?

iPhone can with a somewhat convoluted combination of a Lightning to USB 3 Camera Adapter kit + USB network adapter

Yeah I think so as well. It is clearly a Gigabit port but he limited to what his Internet plan provides. In this case his Internet connection is below what the device can do.

If only there was a way to transfer data over ethernet that didn't involve an internet connection... Some kind of Network, a Local one. In the same Area..

Stop speaking in riddles. :P

As a networking engineer I actually cringed a little reading those senteces. It's as innacurate as it gets :) I do understand the reason behind it but I cringed nonetheless

you meant 1000mbps over eth right?

Why do you folks keep saying that? I posted the screenshot of the image of 108 Mbps. We don't have 1000 Mbps here for residential FiOS.

You are testing a gigabit adapter. You should connect it to a gigabit switch and transfer a file from a pc with a gigabit port. So we would know the max speed of the device. The test you did does not give useful info. You could probably saturate your internet connection with the phone's WiFi if you are close to the router. Please do the gigabit to gigabit test. The results would be interesting!

While that would be great if we were after gigabit ethernet speeds, it's kinda irrelevant if the interface speed is negotiated at GbE, potentially making something else the bottleneck. I am curious as to what you propose he do to test the speeds within a reasonable timeframe? W10M's file manager does not support SMB I believe (even if it did, CPU load is noteworthy) The phone's NAND would be either write speed limited or again limited by CPU Setting up a local HTTP server for transfers isn't a 2 minute job if you don't have a web server active or files on hand (Apache, lighttpd etc I understand the technical dissection of what he wrote but it's kinda beside the point isn't it? We all know the amount of work that goes into constructing these articles and I'm sure gigabit transfers via your phone aren't really going to swing your purchasing habits.

Doesn't the market place sell type-c extender cables?

Sure, there's a kludge for everything with cables and adapters. That reinforces my point as I don't want a kludge.

This does look good. I already bought the display dock shortly after I got my 950 but this is one id consider if I was buying right now. Out of interest does the Microsoft Display Dock work with a laptop that has USB-C? Obviously it doesn't have Ethernet, but do the USB and HDMI out work?

Yes it does work with my USB-C tablet the only problem is that you have to use the power supply that came with the dock otherwise the dock will not power on.

I actually recently bought display dock. This one in the article was one of the options I had but I chose to stick with Microsoft product since I didn't care about the network speed or wired network connections. My main use is remote desktop and TeamViewer. Both work flawlessly with continuum over Wifi and LTE.
I recently used it for running a movie from phone. It was awesome!

Please work with the HP Elite X3

There is not a single reason why it wouldn't. The Elite x3 Desktop Dock has Ethernet built in, so obviously it will support that feature.

Maybe, but we have to realize that hp can be extremly user hostile in some cases. What they have done with the new Spectre is disgraceful artificially blocking charging via USB C except using their expensive power adapters. Hopefully they don't take that approach with the x3 and artificially limit it to working with hp peripherals.

Might need this to use with the NexDock when it ships. Of course this will cost more than I paid for the NexDock. :)

love HP's standing doc ala old school pocketpc style. Is a third party doc coming that will allow the phone to stand?

I love the HP dock too... Just looks sexy! This dock does have some good points though.

Some of the reviews on Amazon talk about overheating with use. Did the review device have any problems with heating and disconnects from usb devices?

Can't say I did, then again I would not expect it with a phone per se as it's not driving that much data. A full PC may be different.

Hey Daniel! Looking into buying this Minix NEO hub. Now after a few months of use, how is it working for you? The reviews seems really poor, but most of those reviews are from macbook owners. How is it standing up to continuum use for W10M?

Where can I have the wallpaper ❤

Seems like the best choice to me!

OMG!!!! Just what I was looking for! Seriously, this is my next. No more Microsoft Dock to USB hub to Ethernet adapter! Stop typing and take my money!

Wouldn't it be something if a phone had all these ports already built in to it. This way, you wouldnt have to carry around a "dock". Micro HDMI, Micro 2 USB 3.0, maybe another card reader slot, and its natural USB Type C. For those that argue this would make the phone too thick, it can be optional. Meaning it can be a case, like a battery extender case that comes with all the ports mentioned. Hmm, I just patented the idea! Anyone who makes this owes me a dollar per sale! Patent Office number 5255221134.

Does this work with 45W USB-C power adapters? My 45W adapter will charge my 950XL and my tablet but the Microsoft Dock does not like the adapter and wil not power on unless I use the provided power adapter. So if this can handle the increased power and charge the tablet then this is a great find indeed.

I used the standard 950 charger to power it.

Daniel - I have tried to use the standard 950 charger with my Minix Neo-C and it seems to have enough power to power the Minix but not to charge the phone. Without anything plugged in other than the Minix, my 950XL was decreasing in power despite there being a charging power icon next to the power meter. I am wondering if I need a more powerful fast USB-C charger to power both the Minix and the 950XL. Maybe Apple's 45W 9V charger for their Macbook range? just worried how this will feed into the 950XL back as 5V/2.4A or as 9V? USB-C is as confusing as hell.. sigh

And I just bought a second display dock yesterday, as my first is now permanently connected in my car. https://www.youtube.com/watch?v=9d6ZrO_ach0

I wanted to watch that video but it's blocked by UMG Music. You might have to edit that video and nuke their content.

Incoming lawsuit from Andrew S. Tanenbaum.

LOL... I kept thinking the OS every time I saw the name too. I think I still have his textbook.

this is sort of OT, but it's continuum related... Dell has a wireless charging monitor: http://accessories.dell.com/sna/productdetail.aspx?c=us&l=en&s=dhs&cs=19&sku=210-AHIX that, paired with a microsoft wireless miracast projector, and bluetooth keyboard and mouse would be a pretty cool setup.

If this had a DP connector I would have ordered it in a heartbeat :(. All our work spaces and conference rooms are being upgraded with DP connectors and I've been looking for something more pocketable than the MS display dock

The problem with a lot of these hubs is that they support USB-C, but work at 3.0 speeds not 3.1.

true, but I'm not sure how much that matters for Continuum/Mobile at this time.

For continuum, not much. For other uses, it is a big deal.

What Lumia is that on the screens? A nice green color never seen that before.

I guess its 950 with custom back case right?

It's one of the newer Mozo back cover replacements.

Looks great, but the reviews are disheartening. What type of a warranty does it have?

Has anyone tried this? Very interested to know. https://www.amazon.com/gp/r.html?C=3RWLSM8ZGDDKR&R=1S43VCHF52599&T=C&U=h...

Yeah, they should try this cheaper one!

Check the reviews. It doesn't work with Continuum. At least not with the 950. Posted via the Windows Central App for Android

yes I received it today .... anddddd it does't work -_-. after 1 hour, I had continuum, but the phone goes on sleep and no more continuum after that. To tell you the truth the power passthrue don't seems to work ether. the phone don't charge. I was able to try a mouse, but that's it. I don't know why they put compatibility with the 950, I don't think they even try it.

Can you just pair a Bluetooth keyboard with the phone and cancel out the need for a dongle, or is that not how it works? And if not, why? Posted via the Windows Central App for Android

Wow! I had this one in my Amazon cart for a couple of weeks now. Posted question for Continuum capability but didn't receive any response. Thanks to this post that cost me $89.90 !!!! :)

How do you manage to create such beautiful star screen?, please share the wallpaper and gives us some tips. Thanks.

There is an app that creates it, you choose the colors, size of the triangles etc. and it generates the wallpaper. Sadly, I uninstalled it and can't recall the name anymore :( Hopefully someone else does.

@karltech83, there is a dedicated section in the sub forums for start screens. Should help give you some ideas :).

Nice dock actually. Dat 4k. The 950/XL currently does not support 4k afaik. They only support 1080p. Ethernet and card reader are very handy. If a phone comes out with 4k @ 60hz output I may pick this up.

What features with Dell XPS and others?

Can I plug the Dell Venue 11 Pro to it?

damn that looks good i will consider it when i get my 950 :D !!!!!

Now that is a pretty handy adapter to have. Pity you would have to use a usb extension cable to provide some breathing room. Meaning one extra cable to carry as opposed to one decent length cable.

Is the Microsoft Lumia 535 supports Minix NEO C?

was it fit also for regular windows phone like any microsoft phone??

Where did you bought your usb? I love it! i want to have one <3 :D

I have an older usb powered monitor. Can I connect it directly to a 950 and start using continuum??

I think the "Continuum" function of a full featured Windows10 Mobile smart phone is going to be more than just a Gimic to those who use it. Android smart phones have some thing simular to Microsoft's Continuum but it is not as full featured as MS Continuum is. My only worry is Microsoft will not sell a mid priced 350 to 400 dollar "Continuum" capable smart phone so more people will be able to buy them. The rumored Microsoft brand "Surface" smart phones I hear will be high end and directed to sell to the Business/Enterprise market which I think is a BIG Mistake because many Bussinesses allow their Employees to use what smart phones they have which may be Iphones or Android smart phones. HP realized this and is going to sell some HP Elite X3 Windows Mobile smart phones to the non Business Customers. Microsoft should do the same with it's "Surface" smart phones and also have a "Surface" low end smart phone simular to the MS Lumia 650 & 640 XL to sell to low income folks. Please remember that the Nokia Lumia 520 was made and sold very well because folks told ex Nokia CEO Elop people wanted to buy cheaper Windows smart phone.The "Surface" smart phone Brand needs a low priced model to round out it's models

have you ever heard of Ubuntu for Phone? it have very similar thing as continuum, and for some features it is better,
Micheal Fisher AKA. Mr. Mobile did a "review" video for PocketNow back in march

can you guys review the marble usb-c Dock when it come out? they are still in indigogo state right now, but about to put in production soon. Thanks

Thanks for the rundown on this dock, I had been looking at this very model for a while. I wanted one of the MS docks for my 950, but I never qualified for the freebeeies and I the listings for the MS dock have been few and far between on Amazon. When I originally came across the Minix dock a while back, I was interested, but leery based ont he regularity of user complaints of failures. This review is what shifted things and I ordered one today. Hopefully it will arrive tomorrow as expected and I can put it through it paces and see if it lives up to the glowing review.

Daniel, did you have to get the Minix to jump through any hoops to get it to work? I connected mine to my 950 and I just get the message "The USB device might not work. Try connecting it to a PC." And no signal to the TV. I've used Continuum on my phone before (with a Cable Matters USB-C to HDMI adapter), but the Minix box doesn't appear to want any part of it. I noticed that when people asked whether it worked with the Lumias on the Amazon page, the manufacturers were pretty clear to indicate that they don't support those devices. Maybe I got a later rev of the device that only works with Macbooks.

I bought the Minix Neo USB-C from this article, but my Lumia 950XL doesn't work with it, either.