Minor patch for the Windows Phone Central app available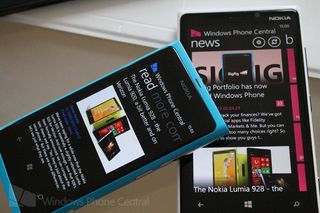 You may have noticed an update available for our app this morning, and perhaps you're curious as to what has changed? It's not the most exciting patch but we are aware of issues that users of 512MB devices have been experiencing with the app and are working hard to try and fix these problems. Patch 4.1.3 is intended to fix said problems by reducing the memory footprint of the app with slightly lower quality image when running on the lower spec devices such as the Lumia 520, 620 or 720.
If you have been experiencing any kind of crashes with the app please update to this version. However if that still doesn't work for you it would be incredibly helpful if you got in touch via app@wpcentral.com. As much as the 1 star reviews in the store make it clear you have a problem it makes it impossible for us to diagnose and fix that problem! Now that we've cleared that up, there were a couple of other things in the patch that were ready at the time, see below for the full changelist.
Low memory devices (512MB) now use lower quality images to reduce memory footprint and fix crashing issues
Added NFC sharing option for articles
Sharing via e-mail or SMS now also includes a direct WPCentral app link
Sharing link option now copies the link directly to clipboard
Youtube links in WP8 now open directly in the app rather than via Internet Explorer
Fixed a bug in the forums where the wrong thread would load when another had been exited part way through loading
What's coming next? Well unless we have to work on any more bug fixing patches then you can hopefully expect lock screen wallpaper support in the next update, and if you follow me on twitter you'll have already seen a few very early drafts at what I'm planning. As always please get in touch via e-mail, comments or the forums if you want to give us feedback.
I also need to say a special thank you to everyone in this forum thread who helped me diagnose the low memory issue in less than 24 hours, you guys make every frustrating bug worth fixing!
Windows Central Newsletter
Get the best of Windows Central in in your inbox, every day!
Glad I could help. :) You did a wonderful job with your quick support. Cheers!!

What about an RT Version any news on that? ;) I mean the WP app is nearly perfect and finish :)

Well as you can see, apparently it's never finished! :)

Just curious is there any chance of a Xbox app?

Almost definitely not, you need to be a special publisher for those rights

You just officially busted my bubble...

Keep up the great work Mr. Bennett and the innovations must keep coming

Hey Jay. Sorry for bringing up another issue as soon as you solved one but I cant seem to connect the app to the Unification app from those liquid daffodil guys. In the settings it asks me to sign in and after signing in it still shows me the sign in tile. Plus the app isn't showing up in unification either.
I have a lumia 720. Let me know if you need anymore details or if its something that i am not doing right.

Btw how long dies it take before it shows up in unification? Asking coz i installed unification only about 3 hours back.

My issue is only once did any toast notification ever show up in LD app from WPC and nothing since. So I dropped LD app. But then nothing from WPC live tile altogether. Maybe I'll try LD app again whenever this shows up in the store for me.

Same here. Finally uninstalled the LD app.
I am guessing it has to do with the fact that the wpcentral tile updates every time a toast is received while the Unification tile updates every half hour. Plus I dont really think the unification app shows toasts, it just shows a live tile. I might be completely wrong here, but thats my guess.
Anyways, the wpcentral live tile seems to be working correctly, as usual. So there isnt really a need for any thing esle. :)

Hi, so unification notifications only come through when you receive a toast message from wpcentral, However you do bring up an excellent point that I need to include a test unification notification that fires as soon as you connect :) I'll do that now for the next patch

Thanks Jay. Appreciate all your good work. And btw never really faced any major low memory related issues with the app. It was only once or twice that the live tile,dint render correctly. Overall, its a great app.

Cool beans Jay. As soon as the new patch drops, I'll re-install the LD app and see if I can get it to go.

I do not undertand the problem and fuss around wp8 512MB limitation. The app runs just fine in wp7.8 (lumia 710) with 512MB ram than why it has problem in wp8. Does't mean that wp8 uses more system memory?

You're right, wp8 does use more system memory. Whilst the amount available in total might be the same (512MB) the amount available to be app is different. On wp7 it was never strictly enforced except for on 256MB devices, whereas WP8 behaves differently. Plus, with our WP8 version in general there is more going on and we use higher definition graphics which is causing issues with the low memory devices

Can we have instead an option for these low quality images? I have never had issues on my 620 whatsoever... Or is it the image quality setting under config?

It is the option under image settings yes

Coolio, then i better dont touch those settings. Thanks for the clarification

You can set it to medium or low with low memory devices, just high is disabled :)

Can you give an option in the video playback option,where you can have the hd as a permanent playback coz everytime one has to click hd since i have fast internet

This will stop the crashes on startup?

According to all of my testers yes, otherwise please get in touch

Hey jay , after the minor update, my live tile turned black . I re installed it again still the same any solutions . I am using a L820 .

Can happen on occasion, if it frequently happens then try using the iconic tile

Hmm, so how do i describe this... I noticed that if news are not fully updated for various reasons, (launch the app and wait for everything to be updated. I use vibration on content load, really the beat idea) because of very low internet speed or other connection errors, the tile will be black. Just relaunch the app with good connection solves the problem. May take 1 or 2 times.

Hey jay benett, what about 256 Mb ram devices?

They're unaffected and work the same as they always have on wp7 devices

And I thought I was the only one facing the crashes these few days

Nope, just needed people to get in touch so I could use the information from everyone to figure out the problem! :)

Wpcentral app and community... You are the best! :-)

Works good and have had no problems with this update cheers jay

WPCentral app is the best Windows Phone app. Seems self-serving but it's true. Every WP user should have it to keep in touch with what's happening to the platform. Appreciate the hard work.

One issue I frequently see is that the color of the tile changes after I come back from kids corner. It changes to kids corner theme till l launch again. This is the only app that does this.

Windows 8 app would be good. Also for replies to comments shown on live tile. Hopefully small tile, as don't use other sizes. A way to easily see replies to comments would be good.

Question Jay, do you get any support from Microsoft? This is one of the most useful & most used app on Windows Phone. Thanks for your efforts.

Not formally no, but I do go to events hosted by them when possible

If only it was available for free.

You can't spare $1 for this beautiful app choubey? you do know that its developed and updated by just one guy!! Try the free version if you can't spend the big amount of $1

Common man ! Its not about $1. I luv WP app and full credits goes to Jay.Microsoft should make it free and give the rewards to Jay.This should be free in my opinion.

It's a free, full-featured trial... What more do you want?

It IS available for free. The trial/free version works great, but without a couple of features (like unification support, who cares). I used it for months, but recently bought the app to show support because I use it everyday.

Why would Microsoft make it free ?? O.o
This app is developed by one guy

I must be doing something wrong... I have not been able to get the unification toasts or wpc tile to show news articles (number).
Is there a how to for this, it can't be this hard to get them to work.
Please anyone.... Help! :-(

Absolutely coming in the next update. Just wasn't ready for this one and fixing the crashes was far more important :)

Does that mean that videos won't open with the Microsoft YouTube app?

Not at all, we will make these options

Hd videos still open in the native player

That's intentional, were you expecting something different?

It would be great if we could share the videos without having to go to 'Show in Browser'...
Btw this app is incredible!

Yes since you mentioned videos are going to open in the youtube app...

That's the SD option. I will label these buttons clearly in the next update though thanks for the feedback :)

Np...the app works great as always! :)

Brilliant app. Still having the issue when swiping across from an article to view comments when in landscape and not being able to see the left hand side of the comments until I open the text entry box then close it again.... But otherwise an awesome app Jay! Would also love a Win8 edition :)

Jay, wpcentral is a great app and I appreciate how you guys regularly update and support it. I was wondering if this update addresses live tile issues? I have a T-Mobile Lumia 710 and the wpcentral live app stopped working about a month or so ago. Keep up the good work. Thanks.

There shouldn't be any problems with the tile on wp7, but you could try switching to the iconic tile as it is the most reliable of the two :) just less visually interesting

Jay I had to buy the app again because the last update wouldn't install..so after I uninstall it and went to download it again it couldn't find that I purchased it before....any idea why

Other devs have also been saying that customers were complaining that their paid apps were disappearing from the store. If you get in touch with Microsoft they should be able to refund you.

Spot on, head to http://billing.microsoft.com and get in touch with support, you should not have been charged again :)

Another option to try before paying twice( in the future) is to log into your WindowsPhone.com account with your LIVE ID info, then go to your list of purchase history and find the app you purchased, then push (install) it to your phone from there... Should work no problem that way.

Hands down the best WINDOWSPHONE news app!! You guys come a long way...

thanks for the fix, I had many crash in the last days, now it's ok. L720

I don't care as long as they pay you twice because all of my app are paid for by using Bing, I have two accounts that I use to buy Microsoft gift cards for my wallet... :)

I noticed that the WPCentral app in the WP Store still has release notes for v3.11, but no others.

Good spot, it seems that somehow my changelist for v4 got lost! Thanks for pointing that out :)

The latest update says support for unification. But even then the unification app is not getting any notifications from wpcentral.

After update on Lumia 900 with 7.8 I notice doublewide tile is black, I open and close app several times with no luck. So I decided to resize the tile to small and medium, that solved the problem, but now i cannot resize the tile back to large or doublewide. No problems on my 920, anyone else have this problem?

We disabled the wide tile on 7.8 due to compatibility issues. It's still available with the Iconic tile though

Thanks Jay, I really should have gone into settings myself to figure that out, appreciate your work on this app too.

Everything is working fine now. Thanks, best app ever!

Jay, just FYI, I had to clear all data in the settings, close out of the app and re load the app, and log back in again so that I could post comments again. It might be worth mentioning that to people on app updates so they don't get upset being unable to post. It was saying I didn't have the correct authorization code to post, on Lumia 920 in US region... Might not have affected everyone, but it did me.

Jay, one article with a video when clicked opened the YouTube app (the Microsoft one). Only that article was able to do it, not sure if it was a test or an accident. And I'm happy about you working with MetroTube. Hope it will take effect soon.

Yup just updated it while I am at a baseball game.

When is the version 4.0 update for the 920 coming?

Hiya Jay.I get that the update was needed,however what I dont understand is why l am not able to choose high quality images never had any issues on my L800 with your app ,but just feel a bit restricted in a sense.Yours Disgruntled...

Yep that's an error on my part, wp7 shouldn't have been restricted, will be fixed in the next update I promise

Thanks as always Jay for setting the bar on what a professional app should be, how often it should be updated, and how it should be supported by the developer. With the fact that WP Central was THE best app on Windows Phone on Day 1, it would have been easy and understandable to "rest on your laurels", so-to-speak. Oh but no... You and the fine folks at WP Central weren't content with just "great" and continue to set the bar higher. You know what the best measure of an app developer is? It's the support given not when all seems ok... But rather when there are "problems". Hours and hours of tireless work and sacrifice go into your app and it would be easy to get defensive when little issues pop up and people over-react and start rating your "baby" with 1-Star ratings. In truth, you can take the panic-reaction as the ultimate compliment. People responded in a panic similar to their power being out, because apparently your app is just that great that people can't envision life without it! :-) Keep up the fine work work and by all means keep fearlessly taking development risks by adding new features in order to push the app forward... Knowing that we learn best through failure and persistence.

Hello Jay,
I can't update the app on my Lumia 920, I keep getting the error code: c101a7d1. The only way is to remove the app and download again, which ends up with me paying another time - thanks to microsoft grrr.
Please help!

Afraid there is nothing I can do to help :( but if you go to http://billing.microsoft.com you should be able to contact support and get a refund :)

That's the beauty of app reviews, they can be updated. If you've fixed the crashes that's what I'll do, if you haven't I'll be in touch.
Windows Central Newsletter
Thank you for signing up to Windows Central. You will receive a verification email shortly.
There was a problem. Please refresh the page and try again.