Getting phone service through carriers like Verizon and AT&T isn't inexpensive in the slightest, which is why Mint Mobile is here to save the day (and the cash in your wallet). Powered by T-Mobile's 4G LTE network, Mint Mobile offers data plans for as low as $15 monthly every day. Plus, you don't have to sign up for a long-term contract and you can even bring your own phone to use when signing up.
The Black Friday discounts at Mint Mobile refuse to end, making now the perfect time to join as three-month plans are up to 40% off for a limited time. This includes both the 8GB and 12GB plans with 4G LTE service, taking both options down to only $15 monthly. You'll have to pay the full cost of the three months up front, so in any case, you'll be paying $45 today.
Answer This Call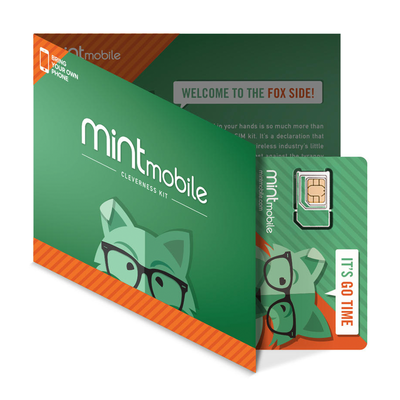 Mint Mobile is offering up to 40% off its service plans for three months when you join now! You can score any data plan for only $15 monthly for three months, though you'll need to pay the full three-month cost in advance.
$15/month
Whichever option you choose ends once the three months is up. It won't auto-renew, though you will receive a discounted rate that might entice you to sign up again for another 3 to 12 months. With all of that in mind, there's really no reason not to choose the best plan featuring 12GB today; you'll be paying $45 either way.
This offer is eligible for new Mint Mobile customers only. You'll receive a SIM Card Kit in the mail with free shipping within a few days so you can get started. Mint Mobile's plans include unlimited nationwide talk and text, free international calls to Mexico and Canada, and the ability to turn your mobile device into a hotspot. It even allows for Wi-Fi calling and texting.
If you don't have a phone ready to use with Mint Mobile, you can buy a phone at its website or take a look at this guide to the best budget phones in 2019 for more affordable options.
We may earn a commission for purchases using our links. Learn more.