Mint Mobile buyer's guide: How to get the lowest data prices in the U.S.
This is everything you need to know about Mint Mobile in one easy place.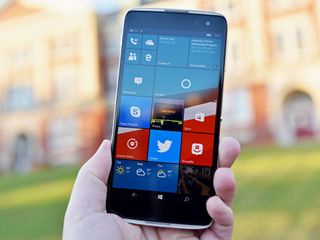 Buying phone service or changing carriers is never fun. But it should be! Saving money or having a better data connection is great.
Mint Mobile takes the process of buying and setting up your new account and makes it simple. Even so, there are always a few things you should know before you get started.
We're here to help with that. Read on for a few tips and answers to help you get the most from Mint Mobile!
Advertisement
Best phones
One of the best things about using an MVNO for your phone service is that there are plenty of unlocked phones that just work. Mint Mobile is no exception, and most any modern phone built to use on T-Mobile works with everything Mint Mobile has to offer — including Wi-Fi calling.
Modern Windows 10 Mobile devices like the HP Elite X3 and Alcatel Idol 4 Pro should work, as do many iOS and Android devices.
More: Alcatel Idol 4 Pro review
Best deals on Mint Mobile
Mint Mobile offers several different ways to pay for your plan, and that brings a few compelling deals. You buy in advance, and plans with 2GB per month of high-speed data as well as 5GB per month and a whopping 10GB per month are available.
You can pay for 3 months, 6 months or 12 months in advance and get service as low as $15 per month for 2GB of high-speed data. If you want the convenience of paying for the whole year in one shot, a 2GB per month plan still comes out at just $15 a month. The value scales well, too: 10GB per month plans are just $25 per month.
Compare that to others and you see why buying "in bulk" makes sense.
We track extra deals and savings codes for Mint Mobile all in one spot, so be sure to take a look before you click any buttons!
More: Mint Mobile deals and promo codes
Mint SIM FAQ
It's normal to have a few questions when you switch carriers. Things like international rates and extra data add-ons can be confusing for even the seasoned mobile enthusiast.
Mint Mobile knows this and has a broad set of support options. You'll find the answers to most questions right in Mint's FAQ pages.
Another option is your fellow users! Cheap data pricing means plenty of people are using Mint, and there's a good chance you'll get an answer to any question quickly through online forums.
A few common questions and their answers:
Q: Will my existing phone work on a Mint Mobile plan?

A: You'll need a phone that's GSM compatible (with U.S. radio bands (1700/2100 MHz (AWS), 1900 MHz, 850 MHz), is SIM unlocked and in working order. For full compatibility, including 4G LTE data connectivity, you'll need a phone that supports the AWS bands (1700/2100 MHz) as well as Band 12 (700 MHz). Phones that only support 1900 MHZ and 850 MHz will be able to use the service, but you won't have access to high-speed data in as many places. If you're not sure the phone you have will work, give Mint a call at 844-646-8746 (6-6 PT Mon-Fri, 8-5 PT on Saturday) or you can chat with a specialist at the Mint Mobile website.

Q: What's the return policy?

A: You can get a refund for a service plan anytime within 7 days by filling in a form at the Mint Mobile website

(opens in new tab)

. You can get a refund for any unused SIM cards within 10 days of purchase. The returned cards must be in their original, unopened packaging. To start the return process for phones purchased through Mint Mobile, email returns@mintsim.com.

Q: How do I set up my phone?

A: Visit Mint Mobile's phone setup page

(opens in new tab)

for all the details and full instructions.
Advertisement
To see more questions and their answers, visit Mint Mobile's FAQ pages.
Mint Mobile FAQ: Let's get you sorted out! (opens in new tab)
If you're still searching for the right answer, you can reach support by email or phone. Send a message to support@mintsim.com anytime, or call (844) MINT-SIM (844-646-8746) for live support Monday-Friday between 6 AM and 6 PM (PT) or Saturday between 8 AM and 5 PM (PT).
How to cancel Mint Mobile service
Like all MVNO prepaid plans, you're paying in advance and once paid for, the service is yours to use for the duration. You won't be getting your money back. Mint Mobile does have a seven-day guarantee so if things don't work out for you you can get a refund, but consider the money spent once that passes.
Actually canceling your service is easy. Once the months you've paid for are over, you'll get a text notice letting you know. You can reactivate by adding funds to your account to continue the service for 30 days. After 30 days, your number is released and you'll lose it and after 60 days you can consider your Mint Mobile account closed.
The important thing to remember here is that you'll lose your number if you don't act. Porting phone numbers is fairly easy no matter where you end up, but you'll need to be sure to go through that process before your number is returned to the pool for someone else to get.
You'll find information about porting your number from Mint Mobile to a new carrier at that carrier's web site.
How to port your number to Mint Mobile
When you get your Mint Mobile SIM card, you will need to activate it. That's a simple process you can do online and all you need is the 11 digit number printed on the card. If you would rather talk to a live person during the activation process, you can call (844) 646-8746 from any other phone to get started.
Activate your Mint Mobile account (opens in new tab)
During the activation process, you'll have the option to use your existing number. You'll need to provide the number to Mint Mobile as well as the account number from the carrier you're using now. If the account has a PIN or other access code, you'll need to supply that, too. You'll be able to get all this information from your current carrier if you need any help/
Once you supply the information needed, Mint takes it from there. Mint Mobile contacts your existing carrier and gets the number freed so they can assign it to your SIM card.
This can take up to 24 hours for the process to complete, but usually, it doesn't and you'll be up and running quickly. During the actual number porting, you will not be able to use your number. Prepare for this just in case it takes a full day. You can set up an emergency Google Voice number and use it on a phone or even a computer with a Wi-Fi connection, and this makes a great backup if you need one.
We think Mint Mobile is a great deal, and use the service ourselves. We're here to help get you started and answer any questions that might come up so your transition to great phone service on the cheap is pain-free. If you need any help and are unsure where to look, drop a comment below and the awesome user community can help!
Windows Central Newsletter
Get the best of Windows Central in in your inbox, every day!
I'm an RHCE and Electrical Engineer who loves gadgets of all kinds. You'll find my writings across Mobile Nations and you can hit me on Twitter if you want to say hey.
According to the table graphic provided, you pay more per month for the 6-month plan, and get no additional discount for 12 months. Does that make sense??

You're basically locking in the discount if you opt for 12 months. If you buy a 3 month plan, your rate increases after the introductory plan.

Jerry, Mint is NOT the cheapest. There is another carrier that I will get the name of, they have much cheaper rates than mint. My parents are looking for a plan when they live in florida 6 months of the year...and i mentioned mint...they looked and found a much better deal!

But the cheaper carrier your parents found didn't pay for this ad masquerading as an article, therefore they can't possibly be the cheapest.

I wonder how much Mint pays Mobile Nations to run these articles?

It's actually too bad because Mint is a great service at a very good price. I switched from Tmobile and I get the same service using the same cell towers at half the price. If Tmobile works well in your area and you use less than 5 or 10 GB per month it's hard to beat the price.

For 6 months gerry, after that it's price jacking!

Nope. No price jacking. Actually their renewals are sometimes lower than what is shown on the signup page.They are not running any specials at the moment and yet I could change my deal today to 10GB/month for 12 months at $25/month. The 5GB plan I have would be $20/mo for 12 months. If I only want to extend for 6 months the rate for 5GB is $24/mo.

Sounds great - oh wait, the service stinks in western Wisconsin, where I travel a lot. Oh, it sucks in western Iowa, which is where I live. It's even worse than AT&T, which at least works where I live.

Pretty much a fake company with fake promises. Say they have great coverage in Houston, but 90% of the time there is NO NETWORK. 99.9% of the time, there is NO INTERNET. This is in Houston Downtown!!! Customer care helpless and useless. Glad I took just the 3 month package. Back to AT&T in a week. No refund too!
Windows Central Newsletter
Thank you for signing up to Windows Central. You will receive a verification email shortly.
There was a problem. Please refresh the page and try again.