Mint, Swarm and Lumia Device Hub all get bug fixing updates for Windows Phone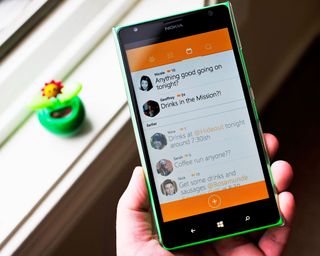 Just because it is a holiday in the US it does not mean the world of software has to stop. Today, numerous updates are going out for a few apps, one of which is Mint, which has not been updated in months.
Let's take a look.
Mint
Financial tracker service Mint has received its first bug-fixing update in months this afternoon. Version 1.2.0.2529 is now live in the Store, and although no new features are listed, the usual 'bug fixes' is noted in the changelog. Some users have complained about the connection issues, so perhaps this makes a few adjustments in the app to address those problems.
Mint maintains a positive 4.5 (out of 5) rating on the Store, so Windows Phone users must be pleased with the combo app and service.
Swarm
Popular Foursquare check-in service Swarm is continuing its evolution from 'eck' to 'hmm, this is pretty good' with today's update. Version 1.2.2.19 continues to fix some bugs and improve the Windows Phone social check-in service, including a detailed changelog:
Added a setting to control the distance units (Auto/Imperial/Metric)
Get straight to the sticker leaderboards from
Bug fixes and stability improvements especially in poor network coverage conditions
Keyboard was covering text entry when editing your profile (Fixed)
Crashes when checking in (Fixed)
We cannot complain too much about this app, which has received numerous updates over the last few months.
Lumia Device Hub
For those with Lumia Windows Phone, you may notice that the Device Hub app found under Settings has been updated today. Version 3.6.1.5 of Device Hub is available, and the changelog is the same one from back in September, so don't let the MD-12 support note fool you (the MD-12 speaker came out months ago).
Presumably the Device Hub has some bug fixes, likely related to those new Lumias hitting store shelves worldwide, including the Lumia 830 on AT&T. Regardless, you can force an update by grabbing the link below.
Thanks, David L., and everyone else for the tips!
Daniel Rubino is the Executive Editor of Windows Central, head reviewer, podcast co-host, and analyst. He has been covering Microsoft here since 2007, back when this site was called WMExperts (and later Windows Phone Central). His interests include Windows, Microsoft Surface, laptops, next-gen computing, and arguing with people on the internet.
1. I installed Mint, and it shows 'Installed' but I can't find it on my app list nor delete it from my phone. Any way I can fix this without hard resetting my phone? 2. Can anybody check in straight to Facebook using Swarm? It's so strange that I can't...

The first problem solve without hard reset. But you need DEV your phone. And get that Mint.xap you just installed . DEV the xap in phone and delete it. Try it and good luck!

For someone looking to buy a Windows Phone this is the kind of stuff I don't like to read. I realize that this may or may not be Microsoft's fault or it may reside with te Dev. Either way this should not happen. I do get software development and realize it does happen. Then again, the Dev may release another update later today or tomorrow and then it will all be for nothing.

Thing is the OP didn't really provide any detail. You have to take information like that with a grain of salt. I use Mint, and have for quite a while, never had an issue. The peson having the issue could be doing something they aren't supposed to, you never know.

Agreed and I do take it with a grain of salt. On another note I was really hoping for the 535 and another phone(s) announced today...

When I'm on recent transactions list on Mint, and move away from the app (say tap Windows key), and go back to the app, enter PIN, it always displays error message. I tap back and it works fine. Do you also get this error?

I never said the problem is with the app. I was using it just fine before upgrading to Update 1 using the Developer's Preview and it happened after the update. I love the app so it's been a little bit frustrating. But thanks for the feedback anyway :)

I check the fb button all the time. Assuming you have 8.1, try storage sense if you haven't already.

I did but couldn't find it. That's why I took it here to ask if anyone's experiencing the same.
On a side note, about Swarm, I do check the fb button all the time, but nothing is posted to my fb...

Had the same problem with asphalt 8. Had to reset my phone. Installed it again and after one update , the same thing happened . But only this time I had the live tile pinned so now I able to use the app through the tile .

Just like every time. Fix bug and fix bug. It more bug when they fix it =))

That's the nature of software. It's sometimes impossible to know what it will affect when you change one piece of code. More often than not, it's impossible to test to the extent that millions of users will when a piece of software launches.

Device Hub updates has broken battery saver brightness setting for my Lumia 1020. Now my screen stays at the same brightness irrespective of battery saver... Rendering battery saver ineffective. :/

It was broken before, from the very begining

It worked for me always. Only stopped working after some recent device hub update.

Please add twitter button to your website so we can share it to our twitter account

It is and always has been on the page.

Where is it on the page? I only see a link to your Twitter account. Oh, there it is.... On the right side of the page. Kotesh, from the top of the page, page down about 7-9 times.

But I can't find it in mobile version... It is there in desktop version

Mint has worked out well for me on Windows Phone....928.

Android received Lumia Hub update prior to Windows phone... Sarcasm

What about IMDb & Instagram???

Better yet, how about an update for the actual Foursquare app.

I still don't get why Xbox music can't start with the jbl on power up!!! Isn't that device hub?!?!

A little disappointed that Device Hub doesn't have Microsoft Health in the app suggestions for Band. OTOH, I am not entirely sure what purpose Device Hub serves, as it doesn't give me anything I don't already see in Bluetooth settings.

Still wish Mint would add transparent tile support. I reached out to them on twitter to request it a week ago. I was hoping this was it.

The device hub is unable to connect to the internet to get list of apps. Anyone experience this?!

I hope the Mint updates fix the connection/sync issues. It's been damn near useless for me as every time I open the app, nothing is up to date. And it takes several tries to get it in sync.

mint still won't allow me to change the date of my transactions on WP. I've reported this issue since day one.

Hub update has caused problems with my battery save option. I always used battery save to turnoff the home/back/search lights. But they are staying on now. Damn this update

Mint was working fine prior to the update. Now it kicks me out after awhile in the app. Seems pretty random to me.

Deleting hub after hard reset solved the light button problem. Do not install hub
Windows Central Newsletter
Get the best of Windows Central in in your inbox, every day!
Thank you for signing up to Windows Central. You will receive a verification email shortly.
There was a problem. Please refresh the page and try again.