AirServer brings Miracast, Chromecast, and Airplay to your Xbox One
You can add a lot of streaming functionality to the Xbox One for a small price with AirServer Xbox Edition.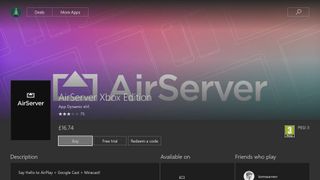 AirServer has been available on the Xbox One for awhile but thanks to a new update it now works with all Miracast devices. Previously Miracast support was limited to Windows devices streaming to the Xbox One.
The app comes with a relatively high price tag of $19.99, but when compared to the price of the hardware it is doing a similar job to, the price is fairly reasonable.
A few key features for AirServer for Xbox One include:
AirPlay support including AirPlay audio and AirPlay screen mirroring
Chromecast support
Miracast support
Background audio support
Using the app is straightforward. When you open it on your Xbox One it launches to a generic launch screen. You can then connect to it using any of the supported casting formats. This varies a bit from device to device but generally you can connect, cast, or or screen mirror from the quick actions area on your device.
See in the Windows Store (opens in new tab)
Features
AirPlay was the first type of streaming available for AirServer Xbox Edition and the app has many features that Apple users will enjoy. On the video side of things, the app supports AirPlay screen mirroring as well as AirPlay audio. AirPlay audio is especially useful because it puts less of a strain on the app, which yields smoother performance. The app also has background audio support so you can stream your favorite music or podcasts from your Apple devices as you play on the Xbox One.
Chromecast is ubiquitous in the streaming world and AirServer Xbox Edition having support for it is a big plus for the app. It essentially turns your Xbox One into a Chromecast receiver. In our testing on an Android phone, it was easy to cast and connect to the app. It just appears as if you've named a Chromecast "Xbox One." This makes it easy to stream all sorts of things to your Xbox One.
Miracast is a more universal, if lesser-known, streaming tech. The recent update to the AirServer allows Miracast streaming from any device, though to use it your Xbox One has to be connected to the internet using an Ethernet cable. This is useful for if you need to stream something that doesn't have an Xbox One app that also doesn't work within Microsoft Edge. There was some latency with Miracasting in our testing, but this may vary based on your setup. Another curious issue was that the mouse cursor icon didn't appear when Miracasting, though again that could be hardware related.
Pros and Cons
AirServer has done a good job making the app work well on the Xbox One, including optimizing the app for a year. But there are some restrictions that they pointed out when asked that give some perspective on the app "Due to Microsofts limitations on the Xbox, we were only allowed to utilize up to 40% of the GPU while in foreground and a total of 128 MB while AirServer was running in the background"
What this leads to is an app that does very well at certain things and struggles some with others. For example, Chromecast streaming yielded much better performance than Miracast streaming. The app is fairly optimized for the Xbox One, but it is not quite perfect.
What AirServer excels at is streaming media content. If you have music or videos that you want to stream that for one reason or another you can't play natively on the Xbox One, AirServer Xbox Edition is going to add a new world of functionality to your device.
The smoothness of your streaming may vary but in our experience Miracast support had the most issues. There is noticeable latency that would make it impossible to game on. But that doesn't matter as much if you're streaming videos or audio. The sound and picture were in sync while streaming, even if there was latency, so the viewing experience was fine.
Pricing
There are two important things to know when it comes to pricing for the app. First, at $19.99 the app costs more than a lot of apps in the Windows Store. It can be easily argued that the price is justified when compared to the price of a Chromecast device, AirPlay receiver (an Apple TV), and Miracast device, but you have to make that decision for yourself.
The second factor is that the price you pay for AirServer Xbox Edition does not also get you AirServer on other devices. The pricing for the PC version or any other version is completely separate.
When asked about the pricing separation AirServer support stated "Since the AirServer for Xbox has been specifically designed to work for the Xbox, it's quite different from the AirServer Desktop version which results in us having to maintain two separate softwares. This is the reason why we do not have the AirServer Desktop and AirServer Xbox versions unified under the same license."
Wrapping things up
AirServer Xbox Edition is a great example of a third party app expanding the functionality of the Xbox One. It adds streaming from the three most popular ways of casting devices and has improved over time which is a positive sign. While the app isn't perfect and has a relatively high price when compared to other apps, it is worth trying out and seeing if it can replace or supplement your casting setup.
The app has a free trial that we recommend giving a go so you can determine if the app works well with your particular setup and if it's worth the cost.
See in the Windows Store (opens in new tab)
Windows Central Newsletter
Get the best of Windows Central in in your inbox, every day!
News Writer and apps editor
Sean Endicott brings nearly a decade of experience covering Microsoft and Windows news to Windows Central. He joined our team in 2017 as an app reviewer and now heads up our day-to-day news coverage. If you have a news tip or an app to review, hit him up at sean.endicott@futurenet.com (opens in new tab).
Seriously where's the Miracast app Microsoft is working on? App had no problems and it got pulled, been a year and still no app insight despite them saying the app is getting a remake. Now I want this app but don't wanna pay $20 for it. We had one free in preview, Microsoft please bring it back.

Is it not still there in preview? Or do I just have it because I never deleted it? AirServer is a bit more than miracast though. Chromecast and AirPlay support is no mean feat, and since the majority of Xbox One gamers will own an Android or iPhone as well, it's probably worth the spend.

I guess so. It's no longer available to me at all....and about support to ios and droid, didn't the one from Microsoft allow that? or that's what I thought..lol. Tempted to get this seriously and do away with the continuum dock and cables.

No idea, but AirPlay and Chromecast are first-party so Microsoft would have needed to put the effort in to actually build that support. I think we probably both know the answer there... ;-)

The Miracast app was only in preview and although I didn't delete it, when I went to open it, I was met by a force close screen. Kind of sucks as I loved using my Xbox and TV as an extended monitor from my PC.
Might see about this app as a replacement then.

I see the Microsoft preview one, it just doesn't seem to have worked for ages - the splash screen shows then the app just crashes :(

I bought this when it first came out for Xbox One. It was on sale for $9.99 I'm glad I got it because I use it quite often with my iPhone. I actually just used it last night to share some videos and photos with my dad. I'm even more satisfied now that it is getting updated. I was having issues getting certian apps that are not available on the Xbox to stream video. Even at $19.99 it still is worth it IMO, (that is if you have an Android or iPhone and want to mirror your screen). Otherwise just use the DLNA capabilities of the Xbox to stream video or photos from your Android or Windows phone/tablet. It works very well for me with my Windows phone.

Agreed. Apart from catch-up tv, highest used app at my home. $20 is cheaper than any boutique cable apple would sell me. Great for sharing photos and vids in busy situations when no one wants to muck around with technology

You don't need this app to stream to an Xbox ONE? I can cast directly from my Windows 10 PC?

Ugh do you really need an Ethernet connected Xbox to use Miracast on this app? I would buy today just for Miracast, but my Xbox is nowhere near my router.

I want to mirror my Windows 10 PC to my TV via my Xbox One. Will this app let me do that?
Windows Central Newsletter
Thank you for signing up to Windows Central. You will receive a verification email shortly.
There was a problem. Please refresh the page and try again.