Microsoft rolls out updates for MixRadio, Display and Network+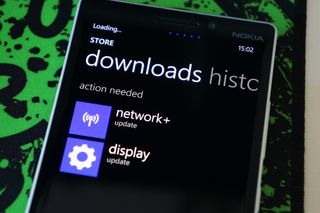 Microsoft has today released a bunch of updates covering three apps on the Windows Phone Store – two being Lumia system apps affecting how the Windows Phones operate. The MixRadio music service by Microsoft is joined by Display and Network+.
MixRadio
Microsoft has rolled out another update for its MixRadio service on Windows Phone, but unfortunately the change log is an old one and we're not entirely sure what's new. Version 4.5.1.448 is only a minor bump since recent updates, the last major one removing 'Nokia' branding. Let us know if you notice anything new in this latest release that we've somehow missed.
Display
Next up is Display, which has also received a minor bump with unknown changes to boot. All we know is recent releases prepared the system app for the Lumia Cyan firmware upgrade, so this update could be fixes post-upgrading to Cyan or to cover something else. Check out version 3.1.2.6 on the store.
Network+
Just like Display and MixRadio, Microsoft has failed to provide a log of changes for Network+ on Lumia hardware. The changelog present on the store covers 2.1. Today, version 2.3 was released to the store with unknown improvements and/or changes. Again, be sure to hit us up in the comments should you notice anything we've somehow overlooked.
Thanks to everyone who tipped us!
Windows Central Newsletter
Get the best of Windows Central in your inbox, every day!
Rich Edmonds was formerly a Senior Editor of PC hardware at Windows Central, covering everything related to PC components and NAS. He's been involved in technology for more than a decade and knows a thing or two about the magic inside a PC chassis. You can follow him on Twitter at @RichEdmonds.
already did it before few hours

May be they were digging for change logs....its okay...wats with comments today...complains and complains...(ironically this one as well)..

It's one of those updates that don't do anything, you know, like Xbox Music???

Nothing gained from this article, poor work!

Really ? Why bother to comment anyways enjoy your day ;)

Because he/she is trying to make a point, that is why people comment smh.

Don't hate the player, hate the game. They post things that are "new" or "relevant". As such, this is not quite relevant but it's still new. Blame MSFT for updating without major changings or change logs. Not WPcentral, they just inform us.

I don't get the frustration with the change logs. Improvements welcome, now matter what they are. It might make it harder for them to write an article about the details but as a user who cares!?

Because not every update improves things. Sometimes it actually breaks functionality and it would be nice to know the changes with a particular release. It's good practice to include useful info in a changelog. Laziness not to.

I care. And many people cares ,who don't know update is available

Like the improvments that came with the WP8.1 games hub app? Yeah sure.

Chill dude. No harm here. There's a community of people here who help the editors of this site as much as the editors help the community. It's the editors job to keep us informed as much as possible, but there's no harm in them asking the community for help either.

And if this article hadn't been created, there would be dozens upon dozens of off-topic comments in every article begging WPC to report on these updates, ask why they weren't mentioned, or just plain state there have been updates in case the WPC staff didn't know.
They were also already tipped this by a bunch of people, I imagine it wouldn't ever stop until they posted an article. The plus is that if enough people notice a change from the comments, they could update the article with reports from users

How can you say that you tipped them first ? :0

microsoft just release lumia cyan for all devices please

they have, isn't it the carriers that are holding it up?


Depends on what country you are. Mine is off-contract but still didn't get Cyan. (Argentina). Just the 925.

NL925.1 Unbranded updated this week. (Jamaica )

Nope. Unlocked 925 here and no update yet.

But my lumia 925 already got update nearly more than a week ago. (INDIA)

Not really, my 920 is Unbranded so it is up to my OEM, which happened to be MS, to release the update and so far... nothing on the horizon.

Sorry but what source are you talking about?

Oh good I was trying to reply some other comment , this happens :p

Has "Operator info" in the pull-up menu in Network+ always been there?

No. i don't have it. Carrier dependent

I think they may be getting ready for further OS updates, currently have noticed any feature change.

Agree, we're waiting for Cortana more than anything here in UK and rumoured for 31st Jul 2014 however not certain if that'll be Dev or public release

The tweet suggested dev only.

Yes it has been there, seems some options are carrier dependant. I don't see call divert on my l920cv

For those who experience screen uniformity problems (washed blacks) or purple hint with the 930, this update changes nothing. I just did the update and restarted, still disgusting.

Why would this update affect that?

I find the fact that the changelog is either missing or old to be sloppy on Microsofts part. Can't they just let us know what the changes are. Very frustrating as I am interested in what changes or bugs might have been fixed.

Yeah, it's weak, but even with a change log there is unacceptable risk in updates on WP. In the past week I've been burned by Nokia Creative Studio and WPcentral app. My new policy is if it ain't broke don't fix it. WP should have a way for users to go back to a previous version. Not having this capability really blows.

You can also research before you update.

How would you research if they don't share the change logs. If they did, we would be reading it in this article.

I do that for OS and firmware upgrades, but am not willing to take the time to do that for each app.

They did not fix the colour profile issue for me in display. I've got the 630 and whenever I try to change the colour saturation to anything higher than the default setting (for example extremely vivid, right-most on the advanced sliders), it resets back to the default colour saturation when I lock the screen and unlock it again :\
I can't use the bright themes (such as the new bright green), because text is unreadable on tiles with that colour....

I don't know why there is no Cyan update for 520 in India, no carrier restrictions.......

If there's cyan update for you, enjoy it ;)

I though Microsoft don't bother mix radio anymore ? Since they had already spin off the business ?

Yes , this is the last update that will come to mixradio , the devs finished to fix the last bugs ...

No changelog, no buy (modern combat joke for you there, I'm here all week)

Does this fix the touch sensitivity issue on the 1520?

I did always mention about this problem but there is no answer from MS or Nokia so far, this is very annoying.

No. My 1520 still has it after updating :(

Wouldn't that require an update to the touch "app" instead of display?

Yes, they had updated touch sometime ago. Totally fixed my 1520. I was surprised and kept waiting for it to come back, but never did.

Network+ moved the call-related settings into a separate screen.

There is a new feature for mixradio , you can add album art manually ( from camera roll ) .

Changelog is unknown word for windows phone OS.

I was waiting for this article, and write first comment, but someone seems to be faster than me...

When will Lumia cyan be available for Lumia 920 :(

Just enjoy dp, it's awesome as well...

Network Changes in network+ 2.1:
- Support for dual SIM
- Smart dual SIM feature

That's old. Came before 630 launch b/c 630 needs that.

Well, the changelog for Network+, says that those are the 2 changes. http://www.windowsphone.com/nl-nl/store/app/netwerk/62f172d1-f552-4749-871c-2afd1c95c245

The network plus and display only update for those who are having cyan version? Just now I was downloading both apps but disappear suddenly.

You have the update bug. Clear your cache in IE and reboot your phone. Should let you update after.

How to clear the cache on IE, I deleted history.

You can clear the cache from IE's advanced settings.

Had the same issue with tetris blitz on gdr3

What if they are just changing the version numbers as an update :)

Display doesn't changes... Full shit!

They don't disappear. As they are system apps they only show from settings once installed of updated. Check your settings. When updated they show on the bottom of the list,

And just because you don't see some new features doesn't mean nothing has been updated. My lord, people. Chill. So much happens under the hood and updates may address both pre and post cyan issues,

That's why they should provide a changelog. It's just standard practice.

Is there ever going to be a fix/update to the 1520 screen issues?

Something just happened but we don't know what.

Display: Improved usability and brightness profile for all Lumia models. Network+: Support for dual sim and Smart dual sim. As per the Danish changelog...

...as per the old changelog. FTFY

I see; not in the habit of meticulously double checking version numbers. Sad that MS can provide 2 updates without changing the changelog... :-/

Diplay settings image changed hehehe. Lol,

The only thing I can see in Network+ is a call counter and an option to pin it to start screen. Nothing else. Does anyone else have this problem? Lumia 928

Ive had that on my icon for a while. I don't think it does much else

New brightness profile is there in display.

Hey this update has made my Lumia 820 faster ND even 2 g speed improved thanks ms .

Dear Microsoft,
Please can you include Nigeria to the list of supported countries for MixRadio? Sincerely,
A music lover from Nigeria. Every damn music services out there (Spotify, Pandora even Xbox Music!!) not supported in here.

Probably local laws rather than MS who are to blame. Here in Denmark we never got Nokia Music simply because Nokia couldn't work out a reasonable deal with our national music agency, or whatever it's called...

Or really? But I wonder, what's such a big deal they can't come to agreement on?

They probably won't add new countries as MixRadio will be sold.

Hey Bagzton,
Here is a way to use Nokia MixRadio (MixRadio now) outside of supported countries like New Zealand e.t.c
Things you need - Windows Phone.
• Change your region to US by going to your Windows Phone Settings.
• Go to, App List > Settings > Region > US > Restart your phone.
• After Restarting, go to Marketplace and download MixRadio.
• Now open Internet Explorer & create a new Nokia Mail account from here.
https://www.nokiamail.com/
• Open the link and then 'tap' Create a New Account.
• Now type in your email address, Date of birth, Password and all the necessary stuff.
• Now the most important step Change the region to UNITED STATES (This is very important).
• Now hit enter, you'll get a confirmation email on your email ID that you gave earlier to create Nokia Mail account, confirm your account.
• After that set a Username & Password for your Nokia Mail.
• Congrats now you have your own Nokia Mail ID.
• Go setup your Nokia Mail account on your Windows Phone by going to Settings > email+Accounts > New Account > Nokia Mail/Nokia Account > Enter your user name and password > Save OR just write your Password & Username somewhere.
• Now open MixRadio, and untick the 'Use My Location Option' and after that tap continue.
• Now you'll see it saying 'Finding your music ID'.
• Now it will give you an error that 'Sorry MixRadio is not avalaible in your country'. Don't sweat it it's normal (Although if you have setup Nokia Mail account on your Windows Phone, you probably won't need to do it, as it will log-in automatically. But if you do see the error just follow the rest of the steps).
• Now open settings by tapping the ellipse '...' in lower right corner of MixRadio app.
• Now tap Settings > Account > Sign in.
• Now enter your Nokia Mail & Password e.g username@ovi.com (always enter '@ovi.com' after username). Now tap 'login' and wait until you successfully connects your Nokia Mail Account to your MixRadio app.
• Now Restart the app, and if you've done everything correctly you'll be able to use it in countries where it is un-supported. ;)
Enjoy.
Pro Tips:
• To get transparent tile for MixRadio, download an app called 'Transparency Tiles'.
• MixRadio is a free service, but you can buy Nokia MixRadio+ for 3.99$ to get access to High-Quality streaming, Playlist Downloading and infinite Skips.
• To get MixRadio+ you need MixRadio vouchers. You can buy them at Nokia customer care centers.

@Master Chaos5 Thanks for this tip. I already have a Nokia Mail account (but can't remember what country I created it with, will I still be able to change the country without needing to create a new account?) also, my phone's region is set to US already. But the app info at the store states that the availability of the features for your location will be determined through your SIM, can I still override this following your steps?

No you need to set your Nokia Mail's region to US. Changing your phone's region to US only helps you to download app from marketplace.

Okay. Thanks, will try that now.

Hm, sitting here in Denmark, and Network+ gives me the texting options of "full", "limited" and "optimize for Turkish"... A definitive sign that immigration has gotten out of control! :-D

For all I know, these updates could be nothing more than placebos - you know, make me feel good that I'm updating but actually nothing has changed at all.

MS loves to not tell us whats wrong
...if they say "Bugs fixed", then they have to acknowledge that there were problems to begin with

On the lock screen my notification would only open to the settings and stop and fail to display my notifications. However, once unlocked the notification worked correctly. After today's dsplay update, everything works correctly.....

Actually, you could change this from your settins> Notifications+Action> then check the no that says : Show notifications in action centre when my phone is locked.

Yes, I was aware of this setting, it just failed to work on my 925 until today's update. It always worked on my 520.

No way placebo update.this has certainly fixed the resume problem to me.btw am on dp 8.1!cheers

Maybe the Mixradio update was to fix a strange error I had a few days ago, it read..... 'SKIP LIMIT Due to some tricky radio licensing rules you can only skip 2147483647 songs an hour. Try again later ' ....took a screen shot of it as didn't think anyone would believe me lol. Not sure its possible to press skip that many times in one hour !!!

That limit isn't a bug. You need to use the paid version if you want unlimited skips.

Network+ Change log says "brightness profile for all Lumias" but where is it?

Microsoft is becoming increasingly secretive about many things. Perhaps this fall they plan on something really BIG that will take both Google and Apple by surprise. That the change logs show nothing may suggest "hidden" features that come to life based on some event.

Mix radio live tile color change.. I guess?

Speed improvesss , no resuming caption and luks nyc

I do use the paid version so it is a bug, I have unlimited skips, well I thought I did but I guess there is a limit !!!

I believe it fix some graphic issues, I had the artist name plus the standard quality tag right on top of it. That seems to be gone

I can't turn off the phone now ... Everytime im trying to swhitch off my Lumia is restarting

Nice to see regular updates, but it would be nice to know what they do.

Mixradio had before this update transparent live tile?

Isn't MixRadio a bit faster?

On my Lumia 520... The display app doesn't download.... I tried restarting my phone and also had reset but still not updating... Pls help!!!

There's no problem with my L520...

WHERE IS THE FREAKING CYAN UPDATE !!!!!!! Microsoft - You are shittier than Apple and Google wrt to software updates..... I am disgusted !!!!!!

Eh? Apple has one line devices to update and usually the updates cause older devices to function incorrectly thus forcing them to update, have seen this behavior from early iPhones, soon 4 and 4s will be pushed into this category. With android, have a low end to mid end device? Forget about updates cause you will rarely get them as it is up to the oem's discretion to support devices.

This display update did not fix the brightness issue on my Lumia 930 which they broke with the last display update. How can I downgrade "display" app?

They need to roll out an update to the OneDrive update from a couple days ago, where they broke the OneDrive integration in the Photo Hub and now only a portion of the OneDrive albums show up.

My phone carrier signal / data kept telling me no signal after this network+ update

Signal problems here ...1020

There are no additional settings such as pictures shows in display! :( L925 cyan

Menus don't lag anymore on my 930.

They should really sort out their changelogs.

And in Europe we are still waiting for the 930 to launch.....*facepalm*

When shall that day come when Network settings may have a 3G lock. Cortana or Skype are absolutely of no use when the phone happily decides to stick to 2G :\

I hate the XBOX MUSIC App on WP 8.1. MixRadio is an awesome piece of app for every music lover like me.But its a shame that there is no "ADD TO NOW PLAYING" option for the songs while listening. Nokia (now Microsoft) are you listening ?

Can't force updates for display and network+. Weird.