Mobile World Congress 2016: The Windows Central Preview
Alternatively titled: "We don't really know what to expect."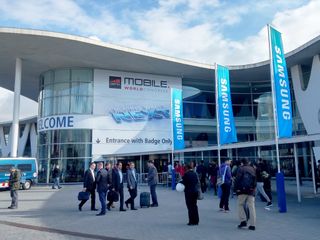 Mobile World Congress is upon us once again and as the world's major players pack up and head for Barcelona, so to, do we. 12 months ago we had a fair idea what to expect going in to the event. Microsoft had sent out invites for its Monday morning press conference, we had a strong idea that two phones would launch and all was right with the world.
All that without mentioning the OEM partners: Acer, Lenovo, HP et al, all had something new to show off.
2016 is a different affair all round. Mobile Nations has a team heading out to cover the show on behalf of all our sites, with Mark Guim and myself specifically making up the Windows contingent. But we're in a very different position to last year. We're not actually sure what to expect.
Nevertheless, read on for a brief overview of what we will, won't and may possibly see in Spain over the course of the next week.
Microsoft - Big presence, no press conference
There'll be none of this for 2016's event.
Microsoft will still be at MWC with a hefty presence in the form of its booth, but this year there will be no press conference. The announcement has already been made, with the fanfare-less introduction of the Lumia 650 happening already.
And that's really all there is to it. We're not expecting anything else. We'll of course be spending plenty of time touring Microsoft's booth (which is usually pretty big), so we'll be sure to bring you anything cool we happen to stumble upon. But ultimately it's going to be a very quiet show for Microsoft.
Xiaomi - could there be a Windows 10 Mi 5?
This one is a massive what if, but nevertheless, there has been at least one rumor that Xiaomi's newest flagship will come with some kind of Windows 10 Mobile connection. The launch event goes down on Wednesday, February 24, and we'll be there with our buddies from Android Central covering things live. We already know the Mi 5 will launch and we know that Xiaomi's Hugo Barra will be appearing.
It's purely speculative at this point, but Microsoft's partnership with Xiaomi is still in its early days. There's a version of the MiPad 2 just launching with full Windows 10 and the Mi4 program has been relatively successful, with the process of turning an Android phone into a Windows 10 Mobile phone is both painless and effective. So could Xiaomi do something similar again with the Mi5? We'll soon find out.
This phone will launch with the latest and greatest hardware, that much is pretty much a given. Xiaomi built a reputation for high-end hardware at mid-range prices, and the Mi5 will likely be the same. Expect to see a Qualcomm Snapdragon 820 processor, with leaked specs suggesting a 5.2-inch 1080p display, 3000+mAh battery and 4GB of RAM.
Whatever goes down, we'll be there, and we'll take you with us. Stay tuned for more information on our live coverage closer to the event.
A HP flagship phone?
One of the tastier rumors in recent weeks was HPs return to making phones (we still love you WebOS), in particular word that it might be a proper, flagship class, high-end device. The so called "Elite X3" also known as Falcon has been much rumored and will allegedly pack Qualcomm's latest Snapdragon 820 processor.
The timing of the rumors could suggest an MWC launch, or it could all be make believe. We'll soon know for sure.
Huawei - A Windows 10 2-in-1?
Huawei hasn't been talked about in Windows circles for some time but recent rumors suggest that the company is about to drop a new 2-in-1 at Mobile World Congress. And one running Windows 10 at that. The so-called Matebook talk began in the days running up to MWC and the company chief posted a picture of the invite to Weibo, toting a business feel.
There's nothing concrete to go on, but honestly, if Huawei is planning to release a 2-in-1 it really should be running Windows 10. The event goes down on Sunday, February 21 and we'll be there reporting alongside Android Central so stay tuned for more details on our live coverage.
The rest
With so many manufacturers from all over the world in attendance, you never know where a Windows Phone or tablet may show up. The likes of Acer, Alcatel OneTouch and Lenovo are all in town, so there's a strong shout we'll see something from at least one of them. Lenovo has a habit of dropping Windows laptops and tablets out at big shows, so we'll be interested to see what, if anything goes to Spain.
It's probably too early for the Alcatel OneTouch 'Superphone,' and there hasn't been any chatter on Acer having anything else in the way of smartphones. The Jade Primo is already a thing, and with MWC being primarily phones and tablets we're not expecting to see any laptops.
There could also be any number of OEM partners present from all corners of the globe. We first saw the Coship X1 at MWC last year, so there's always a chance for some goodness lurking in the halls. Stay tuned as we trawl everything MWC has to throw at us.
The non-phone stuff
The great thing about MWC is the sheer range of stuff you can see. In this year's case we'll be taking in a press conference from Ford, where not only will a new European vehicle be announced, but we're promised some cool new tech on the inside to get our motor running.
Facebook CEO, Mark Zuckerberg, will also be delivering a keynote address. It's not a Facebook event, but hearing someone of his stature speak isn't something to pass up. Hopefully we'll be liveblogging it somewhere.
How to follow it all
The best way is to keep it locked to both the Windows Central and Android Central homepages from Sunday, February 21 through the rest of the week. Both site's social feeds including Twitter, Facebook and Instagram (for the behind the scenes stuff) and our dedicated MWC page. Strap in!
Richard Devine is an Editor at Windows Central. A former Project Manager and long-term tech addict, he joined Mobile Nations in 2011 and has been found on Android Central and iMore as well as Windows Central. Currently you'll find him covering all manner of PC hardware and gaming, and you can follow him on Twitter and Instagram.
Samsung...S7 powered by Win10. I'll leave this right here...

I've been hoping for that, who knows...

They would take plenty of the 950s owners and future owners that are not satisfied with the design. Windows Hello would be replaced with the fingerprint sensor and it wouldn't cost them too much to do it, but otherwise MS would be happier if they could just stick to the OS and Surface, Surface phone, Surface Book

I don't think so.. it will come with android marshmallow

Hey it wouldn't surprise me if we see a dual boot galaxy note (or the like) running marshmallow for phone usage case and full Windows 10 for productivity situations I.e. Airport lounge. Dropbox or OneDrive would integrate the two environments :) I would try it!

It will definitely come with Android, but don't count Samsung out. They need to expand their offering because of sluggish sales. I wouldn't put money on an S7 w/Win10, but it definitely wouldn't come out of no where. Also, that would definitely be considered "mind blowing" to most people...which we are still waiting on that announcement from evleaks.

Mark Zuckerberg to announce availability of UWP apps for Facebook, Instagram and Messenger, and say "Facebook is all in on Windows 10". We can dream right!

Isn't the new Facebook app universal and all that we'll get?

That app not from facebook..from Microsoft

They will all go Universal.

Your comment reminded me of Chandler..

Knowing what big cdn. red has carried over the years brand-wise its anybody's guess

I am really surprised and disappointed that the HP Elite info and pics that came out yesterday on multiple sites has not been written about on Windows Central. Also heard that Brad Sams stated that there will be more than one OEM making a version of the "Surface Phone" and Evleaks has said that there is a big surprise coming and the HP Elite was not it. None of this has been talked about on this site. Part of me thinks the big surprise has to do with maybe Google apps or services. Though I have a hard time believing Google will ever play nice, I just can't think of anything else that would be a huge surprise or "mind blowing" as he suggested it would. Everything else is already at least rumored or talked about.

The big news will probably be 'platform' related rather than device related.

The big news will probably be 'platform' related rather than device related.

Well evleaks is usually related to hardware leaks...so I doubt its about google's services or any other's for that matter...
Evleaks usually= hardware news...so lets hope for an awesome reveal during MWC... :)

yep, apparently Windows Central is the last to know: http://www.itpro.co.uk/windows-phone/26066/hp-elite-x3-hands-on-the-falc... No price yet but this is a killer spec'd phone, and looks sweet!!

It is a pre-production review. It sounds like that Elite X3 is not quite ready yet.

very possible, but others have their hands on it and full specs have been released. so it is a pretty solid "rumor", with pictures everywhere. 5.96 inch, 2560 x 1440 pixel display Qualcomm Snapdragon 820 processor 4GB of RAM, 32GB of storage Windows 10 fingerprint sensor, Windows Hello (iris scanner) 16 mega pixel rear camera / 8 mega pixel front cameras IP67 dust and water-resistant MIL-STD-810 rating, assuring device protection for drops from up to 1 meter USB Type-C port with USB 3.0 support Qi wireless charging

Specs looks great. Its perfrmance and camera, however, need some works. Hopefully, HP can solve all issues before Summer shipping.

Is there any news for XL version for 650

There's no XL version coming out for 650. That pattern is only there for the 950 series from now on from the looks of it...

This is a L650XL alternative with better specs: http://www.amazon.com/Moly-Ultra-thin-Windows-Unlocked-Smartphone/dp/B01...

It's probably better that they didn't wait until MWC to announce the 650. They're better off not having a press conference than holding one for a mid-range device. It would've been cool to hear someone finally say "Surface Phone" though.

So what's Microsoft going to do at MWC? Best case they are there to learn from real phone providers. Worst case they are cleaning the bathrooms...

Nokia tomorrow: https://www.youtube.com/watch?v=ko49-LCtTmY

Finally here. Time to budget my next device :)

There'll be no stopping the Windows 10 juggernaut folks! WMC2016 let's go!
Windows Central Newsletter
Get the best of Windows Central in in your inbox, every day!
Thank you for signing up to Windows Central. You will receive a verification email shortly.
There was a problem. Please refresh the page and try again.