Modern Dad says Echo Dot is the best Alexa ...
Big Alexa? Little Alexa? Or waterproof Alexa? You've got choices when it comes to picking the best Amazon Echo. We've got answers.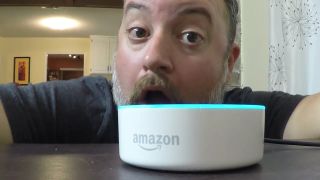 You almost can't go wrong picking any of the three versions of Amazon Echo. That's the official name, of course, for the little connected speaker thing that we affectionately refer to as Alexa. But the simple fact is that there are three of them, at different price points.
So you have a decision to make, and one that's even more important given that we're smack in the middle of the holiday gift-giving season.
If you've got 2 minutes, I'll walk you through my favorite of the bunch. That's less time than it takes to order an Echo, actually — and it goes even quicker if you use Alexa to order another Echo. (But that's a whole different layer of Alexa inception, and another video for another time.)
Currently, there's no Echo app for Windows PC or Mobile, but that's no excuse! Here's how to set up your Echo or Echo Dot for Windows 10 via the web app on your browser.
So get to it!
Want to see all the cool stuff we're playing with at Modern Dad? Check out our recommendations at Kit.com
And once you're done with all that, be sure to hit us up on all the social things:
Windows Central Newsletter
Get the best of Windows Central in in your inbox, every day!
So why should I buy one??

The Echo, at least in my opinion. It has good quality sound and the built in speaker was designed to work well with its beam forming technology so it can hear you over its volume while playing music.

$10 off today if you figured out the answer to your question...

It depends on your needs. I have one next to my bed and in the kitchen, both of which make a lot of sense. The one next to my bed controls a number of room functions, ranging from turning the lights on and off (I have several lamps and overheads and with a command can get the exact lighting I want) to being my alarm clock ("Alexa, set alarm for 8AM") to playing white noise when I go to sleep. Also, when I'm getting dressed after my shower I can get a news briefing, traffic update and today's weather. In the kitchen I use it to play music while I cook, do conversions on the fly for measurements, step me through recipes, check sports scores/listen to the news, and most importantly, set timers for various items I'm cooking so I can walk away or don't forget things. I use a full Echo in the kitchen, and a Dot in the bedroom (I found a great deal on a BT speaker so it has one now). I've been slowly adding smart home items as they go on sale, and have a lot of Hue lighting now which is fantastic and well integrated with Alexa. I am growing it out as it makes sense. It's not for everyone, but honestly its the cheapest and best done voice control home system I have found. It can play games with my brother's kids when they come over, entertain when guests are around, and do common household tasks for me with just a command while I am walking. For $39, the on sale price today, the Dot is a steal.

Am I the only one that is confused? All of these devices have been out for a while now and there are plenty of good reviews on youtube covering this exact subject only much much better!

Modern Dad isn't "reviews on YouTube," Modern Dad is Mobile Nations. And he's a Dad.

I haven't done too much searching to set up skills, but would like some MS integration....without having to pipe it through another service.. But it does work nicely with my Smartthings hub and lights.. also would for it to access music from my local NAS.... without the hassle of installing a bunch of stuff on my nas...

I, too, would like to see Outlook calendar and Groove music integration. One would think Amazon wouldn't have as big a chip on their shoulder as Google does, vis a vis anything to do with Microsoft.

I agree. For now I have linked my outlook to my Gmail. I literally never use Grove so I am fine with Amazon prime and Pandora etc. The one thing I could find (ms related) that Ifttt supported was Onenote.

I've had both. My first was the Echo then I got the Echo Dot. The Echo is very responsive and it is working for me. The Dot I had to return. I found it to be slow and at times unresponsive. IMHO, if you get one, just get the Echo.

I bought the dot its awesome with smarthings and hew.

waiting for microsoft to release cortana hub so i dont have to be sucked into awmazons or googles hub

Releasing it isn't enough! They need partners and continual development... Don't hold your breath, they are already 2 years behind.

Understood, but with Echo Dot you have a gadget with a very small footprint that can be placed just about anywhere. For many, that's a significant advantage over Cortana Hub.

My phone with Cortana has a pretty small footprint too. With Microsoft Home Hub and "codename" Famtana announced recently, I'd rather use that than buy another device. I could have Home Hub on my laptop and Surface as well. For those who don't know, Microsoft Home Hub is not a hardware. It's software for your devices that are already in your living room or bedroom.

The Echo range definitely have the best stand alone devices, and from what I hear some of the best voice recognition out there. The downside is as a personal assistant since nobody uses an Amazon phone....Maybe they will release it to Android, I also like you can get Alexa on a Raspberry Pi if you want to. If Google Home integrates with Google Assistant fully then that's pretty awesome for those in the Google ecosystem.

Putting this in my Microsoft News feed is Not Professional. This is not a Microsoft product, nor uses Microsoft Services. Its not even News, this thing has been out for months. Surely this is Sponsored Content?

I just don't get the hockey puck/ toilet roll Amazon echo thing. I use Cortana its on every device and my phone 📱 which is with me all the time. So if I'm lost, want a song played, reminded to do something or off to a meeting, im good without carrying a toilet roll shaped device with me, and my devices have a headphones socket.

The joy of Microsoft software is they do apps and so on for other devices an os so I will wait for the hub

microsoft missing the boat again. Would have much preferred a cortana hub, but I broke down and bought an echo dot. Already have a decent BT speaker to pair it with, so no need for the big version.

I bought an Echo Dot for the kitchen and hooked it up to my speakers via a BT receiver. It was pretty cheap and while I am frustrated that it doesn't really connect to anything Microsoft, it was cheap enough for me to buy as a 'proof of concept' purchase. Would my family and I even want to use a voice-controlled device? 2 months later and we're getting some good use out of the Echo Dot. We use it mainly to play music, radio shows and podcasts. I was already a Prime customer, so we have a few playlists already set up and have also uploaded some other music that we had bought elsewhere. We also check news and weather and use the timers/reminders and shopping list functions. I can't wait for Microsoft's Home Hub (or whatever it ends up being called), but in the meantime, using the Amazon Echo Dot has been a lot if fun.
Windows Central Newsletter
Thank you for signing up to Windows Central. You will receive a verification email shortly.
There was a problem. Please refresh the page and try again.