MOGA Pro Controller: Windows Phone Tutorial and Review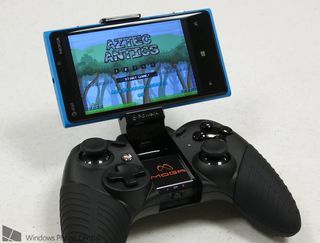 The history of MOGA controller support on Windows Phone has been tumultuous. Microsoft and MOGA manufacturer Power A first announced that the then-upcoming MOGA Pro Controller would be Windows Phone 8 compatible during last year's GDC. Games would need to specifically support the controller, and only one did at the time: Drift Mania Championship 2. We even played it during the show.
Since then, Power A has mysteriously and illogically refused to acknowledge Windows Phone support on the MOGA packaging and website. But the MOGA Pro Controller does work with Windows Phone, and new MOGA-enabled games continue to trickle out. So here we are at last with our full review, which also includes a tutorial and compatibility guide!
Connecting to Windows Phone
Before you can use a MOGA controller, you'll first need to connect it to your Windows Phone 8 device. Make sure the controller is charged and then turn it on by moving the switch at the bottom to position A. If the controller is already on A but has fallen asleep, switch it off and then back to A again.
Launch your phone's Bluetooth menu from Settings or using a handy app like Network Switcher.
Make sure Bluetooth is turned on.
You should see Moga Pro (or another MOGA name) on the list of devices with a description of "not connected."
Tap the controller name. The description should go from "connecting" to "connected" after a few seconds. If it fails to connect, verify the controller is still on, tap the name and try again. Some devices will only allow the MOGA to connect after removing other Bluetooth profiles from the device.
Once the controller's status reads "connected" in green letters, you're ready to play!
Note that the controller status will revert to "not connected" if you remain on the Bluetooth screen. It's still paired to your device and will reconnect as long as you launch a MOGA compatible game before the controller enters sleep mode and powers off.
Now launch your MOGA compatible game! Don't resume an already-running game; relaunch it. Some games or apps like SNES8X will require users to enable MOGA controls in their settings menus before the controller starts to function. Other games like Gameloft's titles recognize the controller by default.
Power Pro Controller design
Now then, let's talk about the Pro Controller itself! Inside the packaging, you'll find the controller, a stand for tablets, a micro-USB cable for charging the controller, and a download code for a MOGA-compatible Android game. I'd bemoan the lack of a Windows Phone code, but Windows Phone doesn't support download codes yet anyway.
The Pro Controller's shape closely resembles that of an official Xbox 360 controller. In fact, they're practically identical in size. Like the 360 pad, the Pro has two analog sticks, a digital d-pad, four primary buttons, and two secondary face buttons (Select and Start) on its face. Instead of a guide button, this one has a MOGA button – but I don't believe Windows Phone games use it.
The Pro Controller's d-pad is actually superior to that the 360's famously poor d-pad. It has four distinct directions, much like a traditional Nintendo-style pad. The inner section of the d-pad curves inward, allowing a thumb to rest comfortably between the directions. I won't say the Pro's d-pad feels quite as good as that of an Xbox One controller, but it's close.
The top of the controller has left and right bumpers and analog sticks, just like the Xbox 360 controller. Only here they're called L1 and L2 and R1 and R2 – a strange combination of Playstation nomenclature with an otherwise Xbox-inspired design. The bumpers actually feel better and more responsive than the shoddy Xbox One bumpers, and the triggers feel great as well.
The top of the controller also holds a micro-USB port. The Pro Controller requires its internal battery to be charged in order to function. The battery should last 12-15 hours between charges – quite a fair length of time. The controller can be used while connected to a power source as well. Should you forget to switch the controller off manually, it will shut itself down after five minutes of disuse.
Tucked away on the back of the controller, you'll find a single button. This toggles a blue light behind the four primary face buttons on or off. Pretty, but a waste of battery power.
Kung fu grip
The Pro Controller has an extensible flip-out controller grip that can comfortably hold most phones. It can even hold the Lumia 1520 with no case, but that's probably too tight for comfort. The popular 920's power button sits right under the grip, but the button won't press on its own unless you squeeze down on the grip.
With a phone inserted in the Pro, the whole thing weighs slightly more than a typical console controller. It also balances awkwardly and will fall over if set down. But I still found the Pro Controller/Lumia 920 combo comfortable to hold while playing – the excellent ergonomics and ridged grips certainly help.
If you don't care to hold the controller and phone at the same time, the included tablet stand can hold a Windows Phone with ease. The stand folds out into a tripod while in use, and then compacts into a small rectangle when you're done.
Overall Impression
The Pro Controller is a joy to use, though sometimes less so during menu navigation. It took me a few minutes to figure out the interface for Dungeon Hunter 4's world map, which spreads controls across both analog sticks and the triggers. The popular Nintendo emulators don't even support the controller during menu navigation, though developer Illidanx says he might fix that in the future. But Aztec Antics and Asphalt 7 have great menu navigation, so it just depends on the game.
Once you start playing a game and learn its controls, the Pro Controller really shines. Virtual analog sticks are fine, but any hardcore gamer would opt for physical controls if given the choice. And even though the list of supported titles is still kind of small, it feels much greater when you factor in emulators. Combine a MOGA controller with SNES8X and you literally get the experience of a portable Super Nintendo with very little trade-off.
Of course, the Pro Controller isn't the most portable accessory ever. It can fit in a pants pocket, but will bulge and you risk damaging the analog sticks. I transport mine in one of my laptop bag's pockets. Still, I expect many users will stick to using MOGA controllers at home. Yeah, you could be playing an Xbox One or 360 instead. But sometimes you want to play away from the TV, in bed or wherever. Most of us probably don't have access to emulators on our consoles, either.
If playing games on your phone with a controller sounds good to you, look at the supported games list and then decide whether to purchase. Gamers with both Windows Phone and Android devices should just buy right away – Android has great MOGA support. And let's all tell Power A we want official, non-secret Windows Phone support for MOGA by tweeting @MOGAanywhere.
Compatible games and emulators
Games must specifically support the MOGA controller in order to work with it. As of this writing, a total of 13 games and emulators offer such support. That number will surely grow over time. For the most up-to-date list, visit Windows Phone Central's MOGA compatibility thread in the forums. Developers can grab the SDK from the MOGA website.
Asphalt 7: Heat
Aztec Antics
Drift Mania Championship 2
Drift Mania: Street Outlaws
Dungeon Hunter 4.
Skateboard Party 2
Spectral Souls
EMU7800
Controller compatibility guide
When I discussed MOGA with Microsoft at GDC, I was told that only the MOGA Pro Controller would work with Windows Phone 8. The previously released and more affordable MOGA Pocket Controller was incompatible, they said. Months later, we learned that the original MOGA does indeed work with Windows Phone 8. Chalk the incompatibility report up to a misunderstanding from the event staff; it happens.
In fact, it turns out that all Android-compatible MOGA controllers released so far are compatible with Windows Phone 8: not just last year's Pocket ($29.99) and Pro ($49.99) models, but also this year's Hero Power ($59.99) and Pro Power ($79.99) controllers. The cheapest Pocket model lacks Left and Right triggers, limiting its ability to perform functions in games that use those buttons such as Dungeon Hunter 4. Otherwise, buy the one whose features and price is right for you.
That wealth of options is important because Power A is actually phasing out the MOGA Pro Controller featured in this review. In its place, they're now offering the Power Pro Controller. The Power Pro shares the same ergonomic design and adds a few new features like vibration and an improved phone mount. Most importantly, it can charge your phone with its internal battery via USB output.
MOGA controllers do not work with Windows 8 and RT at present, nor will they ever be Windows Phone 7 compatible.
Windows Central Newsletter
Get the best of Windows Central in your inbox, every day!
Paul Acevedo is the Games Editor at Windows Central. A lifelong gamer, he has written about videogames for over 15 years and reviewed over 350 games for our site. Follow him on Twitter @PaulRAcevedo. Don't hate. Appreciate!
If only all Xbox controllers had built in support for this !! (Bluetooth)

Thats what will be true unification !!! and make windows phone different...especially with Xbox Live https://twitter.com/backlashsid/status/251095115991486465/photo/1

Xbox controllers use radio to connect, ps3 use bluetooth.

I use the pocket with snesx and it won't work unless you delete all other Bluetooth profiles. Great for emu control but bloody annoying to have to delete and re add everything each time you want to play. Does this not happen with the Pro?

Yes, still happens with the pro and pro power.

Which device and phone are you using, Josh? Mine works fine with another device paired, as you can see in one of the review screenshots.

yes, on my lumia 1020 but this maybe phone dependent. I need to test this on my Lumia 520.

I have an L820. Doesn't seem to want to connect if there are other profiles as per the SnesX tutorial video but clearly looks okay with the L920 in the video. Any reason why the phones would behave differently?

I'm not sure. Probably different bluetooth hardware, seeing how Nokia had trouble enabling Bluetooth LE before Black update on certain devices.

Any chance the Black update would improve things?

What I really would like to see is support from WP for bluetooth keyboards. That would be something really 2010

Are these Windows 7 (not windowsphone7) compatible?

Actually yes, as long as your PC has bluetooth capbability. See this video: http://www.youtube.com/watch?v=379j6oEyrOg

Why would you get one of these for Windows 7 ? You can get an off the shelf Xbox 360 controller and a $10-20 PC adapter and use a wireless 360 controler with Windows 7 or 8.... Or you can buy a Wired xbox 360 controler and you can use it with the PC.. I use my old (white) 360 controller on my W7 PC time to time for some games, works awesome.. I paid $6.99 (Yea $7) for the PC adapater on ebay. You can even swap them back and forth between the PC and the 360 (just need to resync it)

Yes, as long as your pc has bluetooth capability. See this video for instruction. http://www.youtube.com/watch?v=379j6oEyrOg

San Andreas is the only time id need this. If SA is as good or "better" than PS2 as there hyping it to be. Otherwise its pointless. Once cell phones catch up to at least PS2 than ill be on board. I hate playing half*** games

Ugh. Would love this with Order & Chaos.

I wish FF1&3 supported the MOGA controller.

It's a shame that WP7 games can't work with it.

Please do demo of both Ashphalt games

We do demo Asphalt 7 in a previous article. Might do Asphalt 8 eventually.

The whole point of mobile games is in word "MOBILE". Accesories like this one are literary killing "MOBILE" in mobile games... and to the wast majority of us "not at home with time to kill" is when we play most of our mobile games...

I still consider it mobile, easpecially the "cheapest" MOGA Pocket seems still to be very portable. of course, not in your pants but your backpack or messenger bag. I wish I had one for on my tainride to/from work. however, these are very expensive to import to germany, so no joy for me :(

Can't you get an American to mail it to you?

Still very expensive. Converted to USD it would still be around $60 for the pocket including shipping which is pretty much twice the "regular" price.

Yeah, but some of us do want the option as most mobile games have horrid controls that keep us from playing them period... Maybe we are old school, but most touch, motion, or gesture controls do not hold up like a real controller... Shoot, killing it or a keyboard/mouse is not happening anytime soon as they are optimal for quick and extended sessions. I see mobile as on the go and/or on a mobile platform. I may be home and want to play on a mobile platform. Sometimes I take my xbox controler with my surface and sometimes I dont, but I have the option. Items like these are not killing mobile gaming, just opening them up. Shoot, the future may be docking your phone or mobile device and having the same game no matter where you are... So you not having the room to take this device with your or it not being with you all the time is not an issue as get this, YOU DON'T NEED IT :) It is just an option that makes playback EVEN BETTER :) Go figure...

Moga can really just bugger off, instead of helping young underprivileged future directors, with winning up to date cameras and equipment , they went and gave the winners to people with access to money and finest equipment available... That's a great way to help the underprivileged, and completely shutting the door into the industry!

Huh? What does any of that have to do with controlling phone games?

Oh they held a competition to win a camera and whatnot, if you featured a mobile phone and what not, it was for promotion! However they just chose the high production value film, whereas it was for amateur film makers starting out, but the winners were all the people with access to expensive equipment, rather than people who actually were doing the best they can with next to no tools. So yeah, they just rewarded the who already have access, to tools rather than those who are trying to put a foot into the industry!

Maybe your submission was simply crap?

Don't be a retard! I didn't enter , im just pointing out the how flawed it was. Just the fact that sawyer Hartman won, for the sheer volume of teenage girls he had, tells you there was something fundamentally wrong with everything they did with this competition!

Well, you clearly have some sort of personal chip on your shoulder if you care so much about this. http://www.mogaanywhere.com/video-contest/ This Sawyer Hartman won one of the rounds, didn't win the grand prize, and had a pretty decent and professional looking submission. OF COURSE they reward those who create the best videos. Do you expect amateurs in this day and age to submit clips that look like they were filmed with a VHS camera and unedited or something? They posted an example of the type of clip they were looking for: https://www.youtube.com/watch?v=ZBnF4bfD45c Too professional-looking for you as well?

I'm working on a dungeon horror game right now that uses the Moga Controller.

Cool! Tweet me @PaulRAcevedo when the game is in beta so I can be ready to post about it on our site. :)

The lack of support for W8 is a deal breaker for me

I gota get one of these at some point.... There is a lot of games I would love to play but, they are hard with a touch screen.... This would solve this problem for a few games....but, as long as we can get support for more games..

So I defiantly offered the Pro Power the other day for my 920 :) so pumped to get it!

The cyan 920 is still the nicest looking phone out there.

Harvey Norman Australia are also stocking these

"The Pro Controller has an extensible flip-out controller grip that can comfortably hold most phones – even the huge Lumia 1520." Are you sure it fits the 1520? www.mogaanywhere.com says all of their controllers fit phones up to 3.2" (82mm) wide, and Wikipedia lists the 1520 as being 3.3" (84mm) wide.

Paul's recent article about a week ago which related to Asphalt 7 (I believe) had a reader who indicated that it does support the 1520 regardless of the official dimensions. I will be getting tje MOGA this week.

Let us know how it goes, Venom! I'll update if you discover the other reader was incorrect.

You guys are right; the 1520 fits fine, as seen here: https://www.youtube.com/watch?v=T4EhpXz8MYk https://www.youtube.com/watch?v=V4ZheykfPSs Great, another toy to buy, lol.

Sucks that Halo: Spartan Assualt is not supported

Does any of the controller models fit the 1520? I wanna get one, but only if it can handle the heft and size of the 1520 without having to worry if it'll fall off.

As a fellow 1520 owner, I think using the stand would be the best option. That much weight hanging overheard of the controller would probably wear out your wrists after a while.

This is Relevant To My Interests

Are you using the Xbox One bumpers properly? Sounds like a silly or troll question, but it is different from Xbox 360 bumpers. I was using them like 360 bumpers and hated them. After watching a video online about how to use them properly, I like them much better than 360.

I used to work on controllers and arcade sticks as a hobby, actually, so I like to think of myself as a good judge of their designs. The 360 bumpers also have issues - specifically they can easily break with extended use. I'll try to find the video you watched, but I don't see how it could redeem the One bumpers' design flaws as I see them.

The company website does acknowledge Windows Phone support. It's mentioned on the SDK download page. http://www.mogaanywhere.com/developers/wp8-download-page/ Though that seems to be the only area where it is acknowledged. Not very high visibility.

Yeah, it's not mentioned on the product pages or packaging. That's the problem.

If only they made a Bluetooth keyboard.