Mogul ROM with GPS Leaked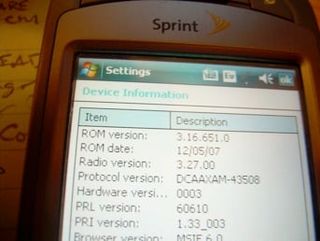 Take a look above, folks, it's the ROM update for the Mogul we've all been waiting for. Well, almost. It's a prerelease leak. It activates GPS (which isn't locked down at all, Woo Hoo!) and seems to also address some of the Bluetooth hassles Mogul owners have come to know and love hate. Installing it is a bit of work (check out this helpful thread here. Hat tip to Strohs and Malatesta for the heads-up.
You might want to wait, though. You need your MSID to do it, after all, and that's some work. Plus we're talking heavily unofficial prerelease, but here's something to whet your appetite, EVDO REV A has also been confirmed (but not necessarily up to snuff just yet).
Windows Central Newsletter
Get the best of Windows Central in your inbox, every day!
Read the thread below for instructions on upgrading. Standalone GPS has been verified as working by me and many others with programs such as TomTom, iGuidance and MioMap. EVDO Revision A speeds have been confirmed as well.http://forum.ppcgeeks.com/showthread.php?t=16806
This is an unofficial prelease, testing ROM, so make sure you READ THE INSTRUCTIONS VERY CAREFULLY.
Just a couple of things. First, the PPC Geeks website is getting pounded and is currently down. However, there is a lot of good info on the XDA Titan site (linked below)http://forum.xda-developers.com/forumdisplay.php?f=384
Also, the patched SPL (bootloader) doesn't work with the 3.16 ROM. There is a new 2.40 patched version that you must use. The downside is that the newer 2.40 is not backwards compatible with pre 3.16 ROMs.
There is really too much data to provide in this post, so check out PPC Geeks or XDA.

This is certainly exciting news for me.....I am ready to wipe my phone and start fresh again. I hope that this is a sign that what HTC posted on their PPC 6800 ROM download page is still on target:HTC is currently developing a separate ROM update which enables the EV-DO Rev. A and GPS capabilities that are already built into the Mogul hardware. Sprint and HTC plan to make this software ROM available in early 1Q 2008. Please bookmark this page for easy reference.
I am going to wait for the official release though, because I can't be without phone long enough to play with any possible bugs a prerelease version might have.........official releases can be buggy enough.

Yeah, happy to hear that it's out there, but sad to hear that it may be MARCH before we get the official version.

Will the Verizon xv6800 support EVDO Rev. A and GPS?

PPCGeeks is getting pounded and is currently down.
Check out XDA for some more info as well as a Verizon version made by DCD.http://forum.xda-developers.com/forumdisplay.php?f=384

For those who are adventerous enough to try out this leaked ROM upgrade......here is all the info you need to use GPS on the PPC 6800 by TalynOne:
[CENTER][URL="http://forum.xda-developers.com/showthread.php?t=363431">[SIZE="3">The Titan Internal GPS FAQ [/SIZE][/URL][/CENTER]This was originally posted on the PPCGeeks.com forums, but they seem to be having hosting troubles lately, and I've received requests to repost this somewhere else, so here we go...
I have made several discoveries/hacks concerning the GPS in the new leaked ROM. I don't have time to really put in everything I've learned so far. Check back on this thread every once in a while as I'll be updating this post.Setup
To use the Mogul's built-in GPS you must be running a ROM version of at least 3.16.651.0 with a radio ROM version of at least 3.27.00 (to find your ROM version go to the "Device Information" application found in Start->Settings->"System" tab).
Make sure that in the "External GPS" app (found in Start->Settings->"System" tab) matches the following settings:
[list]
[*] Under the "Programs" tab, the "GPS program port:" is set to "COM4".
[*] Under the "Hardware" tab, the "GPS hardware port:" is set to "None", and the "Baud rate:" is set to "4800".
[*] Under the "Access" tab, the "Manage GPS automatically (recommended)" option is checked.
[/list]
Make sure that your phone's location setting is set to "ON". You can do this by launching the "Phone" app (found in Start->Settings->"Personal" tab), then:
[list=1]
[*] Under the "Services" tab, choose the "Location Setting" item in the listbox, and press the "Get Settings..." button.
[*] Make sure the "Phone: Location Setting" is set to "ON"
[*] OK everything, and soft reset your phone
[/list]My ROM version is older than the one listed as required above, where do I get the new ROM?
If your ROM versions are lower than the ones specified above, you have to load the new leaked test ROM first.
If you're on Sprint, and want the stock ROM, and you're running Windows XP, then look here:http://forum.ppcgeeks.com/showthread.php?t=16806
If you're on Sprint, and want the stock ROM, and you're running Windows Vista, then look here:http://forum.ppcgeeks.com/showthread.php?t=16886
If want dcd's custom Titan ROM, or if you're on Verizon, Alltel, or Telus, then look here:http://forum.xda-developers.com/showthread.php?t=362566NOTE: After the update some are experiencing loss of phone functions (dial in-out). To recover from this, before updating, make sure you record your MDN and MSID. First go to your dialer and dial ##MSL# (where MSL is your unique MSL code for your phone). The MSL unlock code is used for programming your phone yourself, and is unique for every phone. You can retrieve the MSL for your phone by using the GetSPC application. It's essentially a keygen that calculates what the MSL should be from the hexadecimal ESN (case-sensitive). You can get your hexadecimal ESN from several places including the back of your device if you remove the battery. You can download GetSPC from HERE. Otherwise you can call Sprint technical support, tell them you're a developer, and you need the MSL number for your phone. The MDN should be your phone number. Finally, go to your dialer again, and dial ##3282#, your MSL is the unlock code, then make sure you record the settings there. The important things are your username and AAA password (HA password should be 'secret').Which GPS enabled applications work with the Mogul's built-in GPS?
Pretty much any GPS application that supports the NMEA 0183 protocol (almost everything). You may have to set your GPS application to connect to COM 4 with a baud rate of 4800. I have successfully tested the built-in GPS with:
[list]
[*]Sprint Navigation v1.0.21 (Telenav) (free 2 day trial, downloads maps from an active Internet connection, $10 a month, not included as part of SERO)
[*]Google Maps Mobile (free, downloads map/navigation data from an active Internet connection)
[*]Microsoft Live Search (free, downloads map/navigation from an active Internet connection)
[*]IGuidance 4 (My prefered program for USA navigation, has text to speech for street names).
[*]TomTom 6.030 (My preferred program for European navigation)
[*]iGO My way 2006 Plus (Has maps available for some areas that no other navigation software has, such as Egypt).
[*]Holux GPS Viewer (free, starts communication with GPS module, gives GPS satellite status)
[/list]Why does my application never find (or find slowly) my built-in GPS?
It seems that the way the gpsOne chipset is implemented, through Microsoft's Intermediate GPS driver, requires it to be primed/started in way not all GPS applications support. Some people have been using Google Maps to prime the GPS so it can be used with another application, such as TomTom. I've found a much better way to prime the GPS application, using the freely available Holux GPS Viewer v1.5, which you can get HERE. Once you run the application, make sure, under the Setup tab, that the Com Port: is set to COM4:, then just press the "Open GPS" button. You should start recieving a scrolling list of NMEA protocol messages in the listbox below.
You can check the satellite status by going to the "GPS Status" tab. For an accurate fix you must have a signal to at least 4 satellites (at least 4 blue bars).
Once you have a lock you can start the application you wish to use the GPS with, such as TomTom. Once your application is working with the GPS you can exit the GPS Viewer application if you wish. The GPS may stop working if the GPS Viewer application isn't running, and your device goes into standby mode. You can leave GPS Viewer running the background, so that the GPS restarts on wakeup, but this sucks up around 5% CPU power and uses about 1MB of program memory. Hopefully someone can find/program an application that runs as a service in the background taking minimal CPU power that does the same thing that GPS Viewer does (GPSGate does not work).
I was a little annoyed that I had to reselect COM4: every time I started GPS Viewer, so I created a hacked version that preselects COM4 for you, which you can get HERE.UPDATE 1 ( 1-27-08 ) - Baffles and tekmaven are working on a background service which will keep the GPS running on demand. It should have support for either keeping it going all the time, when you tell it to, or by detecting when GPS-using apps are running.UPDATE 2 ( 1-27-08 ) - Some have also reported having good luck with VisualGPSce, which uses around 320KB program memory, and around 15% of the CPU when running in the background.UPDATE 3 ( 1-27-08 ) - Baffles has just released BAF's GPS Launcher v0.1-test. Mirror HERE (post by yacko). The launcher, will set up/connect to the internal GPS, then launch a specified GPS app (TomTom,iGo, etc.). It's pretty basic in functionality, but it gets the job done for now. The next revision of this will end up being a background service on the phone that automatically enables GPS as needed, but for now, this is a better solution than running Google Maps/Holux GPS Viewer/etc in the background.How can I keep my GPS alive in the background?
I have found no way of keeping the GPS alive while in standby mode. So your best bet, if you want the GPS always running, is to make sure you don't turn off the Titan (which puts it into standby mode). Instead, just turn off turn off the display back light (to maximize battery power). I recently found a program I prefer over Holux GPS viewer, for running in the background to keep the GPS alive. This program, while running, also restarts the GPS when the phone comes back from standby mode. This great piece of freeware software is called TurboGPS. It takes about 828KB of program memory, and when configured properly only uses 2-3% CPU power when running in the background. To configure TuboGPS for the Titan:
[list=1]
[*] Pressing the "Tools" button (right soft-key)
[*] Choosing the "GPS" menu, then the "GPS Setup..." submenu item
[*] Setting the "Port" to "COM4"
[*] Setting the "Baud" to "4800"
[*] Making sure "Simulation" is unchecked.
[*] Making sure "Use GPS Api (WM5+)" is unchecked.
[*] Press the "OK" button.
[/list]
[list=1]
[*] Pressing the "Tools" button (right soft-key)
[*] Choosing the "Options" menu, then the "TGPS Options..." submenu item
[*] Making sure "Auto Connect" is checked.
[*] Making sure "Keep backlight on" is unchecked.
[*] Pressing the "OK" button.
[/list]
So that the application uses minimal CPU power when running in the background you should switch it to the Waypoints dialog by:
[list=1]
[*] Pressing the "View" button (left soft-key)
[*] Choosing the "Waypoints" menu item
[/list]
For my setup, I created a Mortscript that starts TurboGPS, switches to the Waypoints dialog, and minimizes the application. I put a shortcut to this script in my device's "\Windows\Startup" folder so that my GPS turns on whenever my device is soft reset. For those who are interested, I've made a copy of this script available for download HERE. Instructions on how to install/use the script are in the included "TGPS Startup.mscr" Mortscript file. The only annoyance of this solution is that TurboGPS plays a beep sound whenever it connect/disconnects to the GPS, or gets/loses a satellite lock. Oh well, I'll live with it for now...It takes too long to get an initial lock on the GPS satellites (cold boot), is there a way to make it faster?
Our HTC cousin, the Kaiser/Tilt/TyTn II, also with a gpsOne based GPS, included an application called QuickGPS. QuickGPS downloads current orbital satellite locations from the Internet, helping the GPS get its initial lock faster. It requires an Internet connection to download the orbital data, it does not initiate an Internet Connection for you (so you may have to connect to the Internet yourself first).
You can get QuickGPS (ripped from the Kaiser ROM) : HERE. Make sure you install this into main memory.
After tapping the Download button in QuickGPS, the status bar would reach 100%, and then gave me a "Connection failed" error. It seems the ephemeris orbital data (xtra.bin) is downloaded to the "\Temp" folder, but never copied to the "\Windows" folder. I was able to fix this by, first making sure my QuickGPS registry settings matched the settings shown HERE, and hacking the QuickGPS.exe as described HERE
I have included a patched version of QuickGPS, along with a Resco Regedit export of my QuickGPS registry settings for download HERE (copy the "QuickGPS.exe" into your mobile device's "\Windows" folder).
I have no idea if QuickGPS actually helps/works, since I haven't really had to opportunity to test it yet.How can I find GPS radio status information?
[list=1]
[*] In your dialer (Green handset button), dial the Debug code ##33284# (this just runs "\Windows\FieldTrial.exe").
[*] In the application that opens, press the "Debug Info" button (left Soft-Key). In the menu that pops up, choose "GPS".
[/list]What kind of GPS device is inside the Titan?
The chipset the Titan uses is the Qualcomm MSM7500. As part of this chipset there's an embedded gpsOne GPS module.
The gpsOne can operate in 4 modes:
[list]
[*] Standalone - Your handset has no connection to the network, and uses only the GPS satellite signals it can currently receive to try and establish a location.
[*] MS Based - Your handset is connected to the network, and uses the GPS signals + a location signal from the network.
[*] MS Assisted - Your handset is connected to the network, uses GPS signals + a location signal then relays its 'fix' to the server, which then uses the signal strength from your phone to the network towers to further plot your position. You can still maintain voice communication in this scenario, but not 'Internet/Network service' ie Web Browser, IM, streaming TV etc..
[*] MS Assisted/Hybrid - Same as above, but network functionality remains. Normally only in areas with exceptional coverage.
[/list]
I'm guessing (not verified) that ours runs in "Standalone" mode since the GPS stays on and keeps getting data if the phone is off (to turn off just the phone part of the Mogul, go to the Today Screen, hold down the red hang-up button for 3-4 seconds, and then let go).Observations:
The GPS turns off when the mobile device goes into standby mode (would be nice if there was a way to keep the GPS alive even in standby mode).Other reading:How Quick GPS WorksMore info on how Quick GPS WorksDetailed article on AGPSWikipedia Article on AGPSWikipedia Article on gpsOne chipsetGeneral GPS InfoOther Apps:MMeteo (AccuWeather.com + Wetter.com in HTC today and GPS Ephemeris synchronization (same as QuickGPS), haven't tried it)VisualGPSce (does what GPSViewer does, only 320KB running program memory, around 15% CPU usage when running minimized)Globalsat GPSInfo (does what GPSViewer does, haven't tried it)HTCGPSTool.exe (preproduction tool, download link at the bottom, doesn't work too well, but might be of interest to some).Credits:duttythroy for providing the QuickGPS cab from the Kaiser.McHale for his QuickGPS registry discoveries.Ruptor for his QuickGPS.exe hack.vetvito for his rip of 3.16.651.0's EXtROM (included CAB install for Sprint Navigation).Baffles for BAF's GPS Launcher

Yeah, happy to hear that it's out there, but sad to hear that it may be MARCH before we get the official version.As usual when talking about release dates with Sprint, that depends on who you talk to when.....Here is the latest from The Buzz:
[URL="http://forums.buzzaboutwireless.com/baw/board/message?board.id=SmartPhon...">Re: New Mogul ROM with GPS and RevA is out (unofficially)[/URL] Customer Equipment
Sprint Employee
01-28-2008 03:52 PM
Sprint is developing a software update for the Mogul by HTC to enable EV-DO Rev. A and GPS capability and anticipates making this available to customers in late February. When the final version of the software is fully tested and ready for customer use, it will be posted on the authorized software download websites (www.america.htc.com/mogulupdate or www.sprint.com/downloads) Only officially distributed versions of the software are supported by Sprint and customers are strongly encouraged only to download versions from these authorized websites. Any unauthorized versions may contain bugs that could cause performance problems with your device. We should start a pool going....I have heard everything from the first week in Feb through March.

As usual when talking about release dates with Sprint, that depends on who you talk to when.....Here is the latest from The Buzz:
[URL="http://forums.buzzaboutwireless.com/baw/board/message?board.id=SmartPhon...">Re: New Mogul ROM with GPS and RevA is out (unofficially)[/URL] We should start a pool going....I have heard everything from the first week in Feb through March.
Of what year?
Sorry... couldn't resist. :D

heh. The official ROM they will probably lock down the GPS for Sprint Nav only :p

heh. The official ROM they will probably lock down the GPS for Sprint Nav only :p
That happened with the Q9h and the Blackjack and Paul at MoDaCo was able to unlock it and assign com4 to it very easily - so it might not be a big deal either way.

Here is an interesting post from the Buzz from an apparent Sprint Employee:
The_Tick
Sprint Employee
01-31-2008 09:42 AM Posts: 2
Registered: 01-31-2008 Message 16 of 20
Viewed 327 times
So, I have been running this ROM for a few weeks now...There are intermitten issues that have been reported to HTC.
Also, I believe SprintTV is going to be included in the update. We've had it working for a while, but other carrier's customers were using the service (which we don't like) and had other issues to work out.Originally the update was supposed to be out this week, but I think it was delayed to include other stuff (perhaps a WM upgrade)...Not sure about this.
Interesting stuff.....all I can say is I want it!

heh. The official ROM they will probably lock down the GPS for Sprint Nav only :p
Won't matter now, the cat is out of the bag. Since we now have a ROM (3.16) that can access the GPS, if they lock it down again all it would take is some industrious snooping through both ROMs to find the functional differences, and create a new custom ROM.

will it support the graphic card:confused:

hi..
Won't matter now, the cat is out of the bag. Since we now have a ROM (3.16) that can access the GPS, if they lock it down again all it would take is some industrious snooping through both ROMs to find the functional differences, and create a new custom ROM.:p

hello to all, heres a nice hack i used to boost the power and accurecy of the a-gps unit in the mogul ... anyways on ur ppc run regedit go to hklm,software,htc,sulpagps and change enable smartgps to 1 change gps mode to 2 or 4(4makes it work almost everywere eaven in the basment) change qos accuracy to 70 and qos performance to 99 this will make ur gps run full out without all the bull shit. i use gpstoday and i usaly have a fix after 2 sec on softreset and accuret enof that i can find it when i loos it in the couch so enjoy ps as a note the gps usaly runs in mode 3 for telus i find that mode 1 (standalone) works awsome when im out in the bush but 2 and 4 are better for in town and also that smart gps works better on gps mode 1 so play with the setting till u find the ones that work for you ... i have a telus p4000 wm6.1 in a titanium case best thing since sliced bread