Monitor your home office in real time with this $39 Wi-Fi camera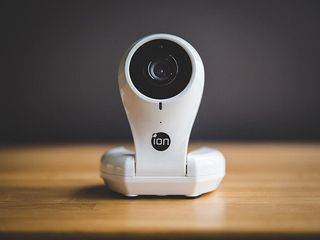 You can't always be at home to make sure that things are going smoothly, but wouldn't it be nice if there was a way to easily check in on things? Sure, you could run home on a lunch break, or have a neighbor stop by, but that gets old quickly, and there has to be a better way. Well, there is with Wi-Fi cameras, but some of them are crazy expensive, but luckily not all of them are.
Grab this home security camera for just $39
Meet the iON the Home HD WiFi Camera, a fantastic way to easily stream 720p video from your home right to your smartphone. That's right, you can view it from anywhere, and it holds archives in 24-hour time blocks so you can go back and check on things you may have missed. The app will allow you to view up to 5 cameras at the same time, so you can put them around your house and still control them from one place.
Some of the other features include:
Stream 720p HD video to your phone to keep an eye on your home or business
View video footage at night w/ night vision & infrared sensors built-in
Record & archive 24-hour chunks of time directly to the cloud for free
Control cameras remotely & receive text notifications w/ the app
Wide-angle lens lets you capture an entire room from one strategic location
View up to 5 cameras in the app
Save 69% right now!
Normally, this camera would set you back nearly $130, but right now you can pay a fraction of that. You can grab one for just $39.99 or two for $74.99, which makes it so you can almost grab four of these for the price of what one would normally cost. This deal won't last long, so be sure to act quick if you are interested.
Windows Central Newsletter
Get the best of Windows Central in your inbox, every day!
But there is no Windows app for this.

You don't expect them to do any research on something they recommend, do you? It's sad what's happened to this website (and pretty much all over the MN portfolio really) over the past year or so. Whenever they post a recommendation, buying guide or best of, the only thing you know for sure is that they're making money off the recommendation, not if it's actually a good product or even the right one for its readers. It's almost like the Mobile Nations brass doesn't care if their recommendation doesn't carry any real weight.

Yes, there is a windows app, read the listing on Amazon "Check in on the people and places you love whenever you'd like with our free mydlink app, available for iOS, Android and Windows devices."

Are you sure? The app you mention seems to be for dlink cameras. If you search for "ion the home" on Amazon, the product listing only mentions iOS and Android. If you click through the link into the Windows Central shop, it only lists iOS and Android. What's worse though, is that if you look at the reviews on Amazon, they're mediocre at best. Reviews for the app on iOS and Android are paint a bleaker picture, indicating that recent updates have rendered it nearly unusable. Finally, if you try to go to the vendors website, it appears they've been hacked. Doesn't appear you can even log into your account anymore. Would you really trust a cloud video service when they can't even keep their own website from getting hacked? Best case scenario here, WPC is recommending Windows enthusiasts a mediocre product that doesn't even work for the platform that''s the basis for their editorial content. Worst case scenario, they're recommending something that's a brick. Absolute worst case scenario, they're recommending a cloud based video solution that's been hacked and could expose your sensitive data. But, he'll, why should any of that be of any concern when they're getting a cut of the action, right? Editorial integrity FTW!

Is it web based so you don't need an app?

Wow, this would be perfect....if it ran on Windows.

So this doesn't work on windows phones?

Noticed it said 'By WindowsCentralShop" Not by any named individual. They get samples for review and share details of what they do not sponsor, but NOT for what they actually sponsor... Makes no sense and realy sad.

Why post this on Windows Central when there is NO Windows App?????

Although it might be web based, there isn't a browser on windows phone, that can access it. It probably needs some sort activex control. I have another wifi cam, and no browser on my phone can access it. Also, it would be nice to know ahead of time, if it's eligible for international shipping, because up here in Canada, were on another ****ing planet. Instead of making waste my time?

This camera has a windows phone app. http://a.co/8n7L4Jv

Not anymore - it doesn't work on Windows 10. :|

Why can't the full article appear in the app? Not sure why we get this swipe right to view in browser thing all the time.

Ring Doorbell and cameras have a working Windows 10 Mobile app! We have the Doorbell Pro and will install a second standalone camera shortly, but yeah...they support Windows Mobile!

What are the best options for a wifi cam for Windows users? I'm ok with just web access to the video stream.