Monopoly, Radiant, and Phototastic are your Red Stripe Deals of the week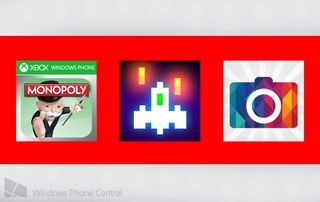 Another week, another set of deals in the Windows Phone Store. If you've been following the Red Stripe Deals you've probably been saving a few bucks on apps you otherwise might not have had. As usual, we have two games and an app for you – Monopoly, Radiant, and Phototastic. Links and prices after the break.
Monopoly (with Xbox Live)
Fun fact, I've been banned from playing Monopoly with any friends or family, mostly because after three hours of play relationships quickly deteriorate. So since I can't play in real life, I find myself playing the digital version on Windows Phone from time to time. The version on sale isn't the new Nokia exclusive version, which is called Millionaire, but the regular Monopoly available for all. In the past Monopoly for Windows Phone has fluctuated in price from $2.99 to $4.99, but you can get it for a cool $1.99 this week. Go grab it in the Store or use the QR code below.
Radiant
Fun fact #2, I love Radiant (and basically any game the guys at Hexage make). I already have it, but you can grab it now for the cool price of $0.99 for the next week. Radiant is a great way for you to play some Space Invaders type gameplay on Windows Phone. Plus the graphics are color and fun in a retro kind of way. Grab it in the Store or use the QR code below.
Phototastic
The app featured in this week's Red Stripe Deal is Phototastic. It's a pretty darn good photo editing application that's been around on Windows Phone for quite some time. It recently received an update bringing some cool features for Windows Phone 8 like higher quality image output, UI improvements, and lockscreen support. The app also allows you to edit images and share to a variety of networks like Flickr, Twitter, and Tumblr. It's an impressive app and worth checking out. There's a free version in the Store that is ad-supported, but the ad-free version is the Red Stripe Deal. Normally going for $1.99, you can now get it for just $0.99. Go to the Store to grab it or use the QR code below. (Note, on my phone the "free" version showed up in the Red Stripe slot in the Store, but for the other guys at Windows Phone Central the paid version showed up.)
Get the Windows Central Newsletter
All the latest news, reviews, and guides for Windows and Xbox diehards.
Tip:

When you beat Radiant, start over and try doing it without the missiles. So much harder . . .

Monopoly Americanized? What about Paddington Station, Park Lane? Tee Hee

Monopoly should have been a $1.99 game from the start, I might actually buy it now.

It was onsale for I believe $0.99 at one point...I grabbed it then for cheap achivements...

Boring. Come on MS, try a little harder. Give us something good.

So no new xbox live game again this week??? 2 releases (Halo/Chaos) in the last 6 weeks is shocking!!

Halo may be the last WP Xbox game released for good. Its all over.

Doubt it with 3 (or 4) Gameloft titles still to be released from the list of 12.

As i already said many times.Xbox branding on WP needs to be something like GameCenter on iOS and GooglePlay Services on Android.MS need to give the oportunity to every developer to apply his game so that it will receive the Xbox branding!The certification needs to be more lax cause it s**ks.It takes months for a game to pass the certification process and after all it's broken (like many gameloft and miniclip game achievements and BUUUUUGSSS! )
If you agree with me please vote for my suggestion!http://windowsphone.uservoice.com/forums/101801-feature-suggestions/suggestions/4163745-windows-phone-xbox-live-more-something-like-gamece

Seriously? It needs 1 GB of RAM to run Monopoly? :/ I'm usually the last to bitch about RAM, but c'mon...

It's a common issue with WP7 games because WP7 and WP8 deal with RAM differently. Can't be helped, sadly.

Yes, streak goes on and on...already got Monopoly, has been on sale before...!

Hard to justify $1.99 on Monopoly when it has no online play, in my opinion. I'd probably jump on it for $.99, but playing the AI over and over alone would get a bit tiresome.

Radiant is such a good game. Highly recommended.

Radiant, and almost all the games from Hexage, oozes quality.

It's a shame they jacked up all the prices after their $0.99 launch :\