Monster Burner, Jetpack Joyride, Angry Birds Space get Windows Phone updates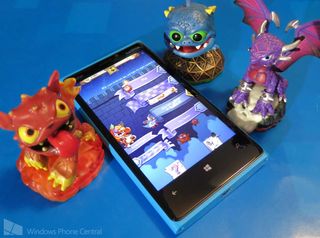 Sometimes when the Xbox Windows Phone title updates rain, they pour. Today is one of those days, as three games from three different publishers just received the update treatment: Ubisoft's Monster Burner, Halfbrick's Jetpack Joyride, and Rovio's Angry Birds Space (Windows Phone 8 version).
Title updates are almost always good news. But in the case of the Monster Burner update, some will consider it a mixed bag. Depending on how far along you are in the game, you might want to avoid it! Find out why after the break.
Monster Burner version 1.1
At launch, Monster Burner listed a total of four modes for players to unlock. Oddly, only Survival Mode could actually be purchased though. The other modes seemingly appeared on the purchase screen simply to taunt the player.
Well, the update finally makes all three extra modes available for purchase. They cost 25,000 coins apiece. I only had enough scratch in my virtual bank to try "Revenge of the Enchantress." It plays a lot like Survival Mode – one long, fast moving stage. But it also overflows with princesses, the most dangerous "enemy" in the game. Shoot one by mistake and you'll lose a unit of health. What's more, these princesses appear out of nowhere, as if by magic.
Cheat buster
That's the good news. The bad news is the update also fixes the trick for easily repeating Gold Rush stages. As our "Super-fast coin trick" guide explained, this trick allowed players to repeat Gold Rush stages over and over simply by tapping the Back button after completing the stage. This allowed many players (including yours truly) to bypass the normal 6 hour time restriction on Gold Rush and earn money far faster than otherwise possible.
Post-update, pressing Back at the Gold Rush results screen just takes you back to the main menu. It's a drag to see the exploit fixed, but also completely understandable. Ubisoft wants to sell players coin packages for Microsoft Points, and they can't do so much of that if people are cheating!
If you're inclined to finish Monster Burner's Achievements in a hurry, I recommend avoiding the update for now. But if you've already purchased every upgrade in the game, you might as well grab it so that you can try the new modes. Don't have the game? Read our review!
Monster Burner – Windows Phone 7 and 8 – 33 MB – 99 cents – Store Link
Jetpack Joyride version 1.1
Near as we can tell, this update consists solely of bug fixes. We're aware of four bugs that have plagued this game since launch: loss of all coins, all store items temporarily unlocking, the player randomly becoming invisible, and the title screen menu popping up during gameplay (pictured above). Our review goes into more detail on some of these problems.
I would guess the update at least fixes the coin and title screen bugs, but we won't know for sure until the community plays the updated game more. If you still experience one of the aforementioned issues after updating, let us know in the comments below.
Jetpack Joyride – Windows Phone 8 – 29 MB – FREE – Store Link
Angry Birds Space version 1.5.2.4
I'm not going to lie to you. I haven't actually played Angry Birds Space, so I can't say what has changed in this update. If you guys find any changes, speak up and we'll update the article.
Update: According to reader KillAchievement, this update adds the new Pig Dipper set of levels and and a different song to the game!
Angry Birds Space – Windows Phone 8 – 19 MB – 99 cents – Store Link
Thanks to Josue Mendez for tipping us on Jetpack Joyride and Angry Birds Space!
Paul Acevedo is the Games Editor at Windows Central. A lifelong gamer, he has written about videogames for over 15 years and reviewed over 350 games for our site. Follow him on Twitter @PaulRAcevedo. Don't hate. Appreciate!
Good to see update. Sometimes I wish it were more frequent. Though its annoying to a point on Android. I get updates constantly. Not sure if its just to fix constant bugs or what.

Ugh, wish I'd read this before updating Monster Burner :(

I usually wait a week or so before updating, just in case of something like this. Also that gives time for user reviews to be inline with the update. To know whether the update causes more/different problems to said app/game. I never update an app just to update it. I've had some updates waiting since February.

I wouldn't fret. I found I got more coins and a higher score (contributing to the 1,000,000 point achievement) from doing Survival Mode. Maybe I have a terrible strategy, but I think I capped out with a more recent Gold Rush at around 9k coins. My top for Survival Mode is closer to 11k, plus a significantly higher score.

Gold-rush is 4-5k in 2 minutes - that's 8-10k with the 2x multiplier. Survival takes 2-3 times longer, is far more stressful, and I typically only end up with 2-3k more gold. Although on some survival levels you have to fight so much just to stay alive that you end up with very little gold at all. I'd much rather play Gold Rush endlessly - especially as it's a lot more fun!

cinemagrap updated today?

Still no love for windows 7.8 :(

Monster Burner runs on WP7, and there is a non-Xbox Angry Birds Space for WP7. ~ ~

Thank you for telling me that again , cuz i already knew it . My point was "Jetpack Joyride"

How could we miss the name of the game in your post?

Be a little more specific next time and you'll get the replies/info you want.

Exactly. Being vague surely has many advantages, but there are some downsides too.

I wasnt waiting for a response !

Do you still have no love for windows phone 8

yes,pity the windows phone 7.8

Good job I thought to check WPCentral before updating Monster Burner :D

Started up the game of Jetpack Joyride after updating and the first thing that happened was the start screen menu came up when I changed the volume right after starting a new game.

So that bug hasn't been fixed yet.

Restart the app (game). Fixed it for me.

I honestly seldom used the Gold Rush trick. And here's why: you can get way more coins in survival mode (which you can play over and over again) than in the Gold Rush. So don't be all that sad ;) I was also hoping they added the "mute" controles to the game but unfortunately no...=\

Yes, I was hoping they'd have a mute option as well!

Monster Burner must add mute option... It's unplayable as is...

Engadget also updated. Now videos play with native player rather than Youtube link that's always failed. Little annoyed about MB cheat fix but i atleast got my 200k coins needed for massive fireball upgrade :)

So you didn't mention if you can still exploit the time? To bypass the 6 hours that way. Specifically the June 3 2013 glitch?

In monster burner that is

I assume that would still work. Lemme know if it doesn't.

I assume that it would too, but maybe not. I dont have the game installed anymore. but other wise it really just would add more annoyance to getting the acheiement for maxing out. maybe an extra hour on top of 5-10. not too bad. hahahah developers.

Arrr, saw Skylander figures and got excited that Activision finally gave us some love.

Jetpack Joyride is still buggy... Noticed that my gadgets are what they were a week ago, switched them back, then my clothing is reset, fixing that then resets my gadgets...
That's within the first minute of playing with the update. I'm sure there's more... Oh well. I still enjoy playing it.

Hopefully AB Space fixed the bug with deleting all progress. I had this happen to me twice and I haven't played since.

AB Space changed the theme song on opening and added the Pig Dipper world, that's all I noticed off the bat.

The link for Jetpack Joyride doesn't seem to be working; it links to Monster Burner.

Um guys I updated jetpack joyride and for some reason I have everything unlocked now lol..

The menu pop up still hasn't been fixed.....here's a screenshot: https://skydrive.live.com/redir?resid=E5A64580A07F85A5!2215&authkey=!APX...

Finally some game updates. WP games are updating usually very rarely if at all. Monster Burner update was a let down. Nothing new. Not even new levels.

It actually did add 3 unlockable levels, as stated in the article.

I'm full aware of those 3 unlocked bonus levels which I already unlocked yesterday morning. Those are bonus levels, not real new levels / worlds. I have all the orbs in all the worlds so there is nothing to play with this new patch.

Your logic is flawed. Saying there was "nothing new" and then saying you're aware of the 3 new bonus levels contradict each other.
But aside from that, yes there's no further content. I will stop playing completely once I have the final achievement for maxing out all the upgrades.

I was hoping that the Jetpack Joyride update was the same one I just got in iOS. They added new jetpacks, outfits and a new vehicle. I think we're two versions out now from the iOS version.

I wound up getting a huge amounts of coins and everything unlocked in jetpack joyride. Next time I played all was gone and had no more coins, this was 2 days ago.

PRINCESSES!!!
HATE PRINCESSES!!!!


By the way, Angry Birds - Star Wars for Windows 8 was also updated.

Yes it did. But for me it crashes right after the first splash screen loads. Is this happening for anyone else?

Had all mentioned bugs on jetpack, seems fixed now

I unlocked Spider Lair, and it's full of those fast-moving green spiders (Speederz). No princesses or other monsters... I suggest buying some Slow Potion items, as it can get insanely intense and it's difficult to pick up all the loot and stay alive at the same time!

i noticed that the medium size tile of jetpack joyride have sharper image quality than before.. if i'm not mistaken.. :)

So they update Joyride, but not Fruit Ninja :(

Fruiit Ninja is better if HalfBrick re-port it as an WP8 only title like what Rovio did with the Classic Angry Birds
The era of WP7.X is slowly coming to an end!

I emailed them a while ago and halfbrick said they will at somepoint

Let's hope "somepoint" means pretty soon and not 2016 and later!

Jetpack Joyride is making my phone incredibly HOT and drains all my battery from 100% to 0% in less than 3hours like shark dash and a few more other apps and games.I ve sent my device for a service through my warranty and the hardware looks ok.So i guess it's all about bugs and bad porting.They my fix this ASAP cause this is causing big problem to many WP8 users!

Jetpack just got buggier.

i just want subway surfer

I was hoping this update would fix monster burner crashing on launch issue
Windows Central Newsletter
Get the best of Windows Central in in your inbox, every day!
Thank you for signing up to Windows Central. You will receive a verification email shortly.
There was a problem. Please refresh the page and try again.