MonsterUp Adventures free until Sunday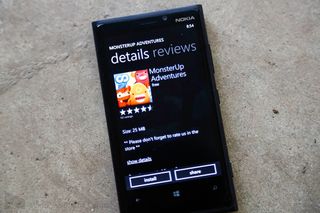 MonsterUp has been around for as long as I can remember on Windows Phone. Paul reviewed it over two years ago to give you an idea. Since then, it's received continued support from the developer in the form of updates and feature addictions. Its sequel, MonsterUp Adventures is even more addicting than the original and adds a story element to it. And now it's free until Sunday.
MonsterUp Adventures features gameplay made popular by Doodle Jump, you basically control a little monster as he jumps up platform after platform. Highly addictive gameplay that is great at killing time when you need a break. Here are some of the features outside of jumping straight up:
A crazy story mode
20 different levels
boss fights
achievements
online scoreboards
8 different monsters
all new unique special powers
saved games
awesome artwork from Ilias Sounas
original amazing soundtrack from Marietta Fafouti
unlockable game ringtone
hours and hours for fun for all!
It's a really great game and there's no excuse to not download it when it's free until Sunday.
You can grab MonsterUp Adventures for both Windows Phone 7.x and 8 here in the Windows Phone Store, use the QR code below, or swipe right in our app.
Windows Central Newsletter
Get the best of Windows Central in your inbox, every day!
Been interested in this for a while. Of course I have to grab it for free.

Got to try it seems as its free!

FREE HUGS!

I tried this game a while ago and couldn't stand it. Maybe it gets better as you progress, but the first few levels seemed to take forever and never end.
Great to try it out for free. No reason not to download.

Yep. I tried it the trial, and really wanted to like it, but the length of the levels were just to long. I even considered downloading this for free, but I get the impression that the levels will still be too long.

FYI, the level lenght was cut in half about 2 updates ago:) The game became significantly easier too:) Also, it's free and awesome updates with new features are coming!

I just came here to post about how the levels are too long. It's certainly easy though. I guess this game is just too simplistic for me. I need to be engaged more...

I got this while it was free a couple of months ago. It's an entertaining game but it does get repetitive after playing for an hour or so. Hopefully this is a sign that the developer will be releasing another game soon.

Am i the only one really not impressed with the monsterup games?

no. this game is ridiculous.

finally! i hope other old games would come up as free for a limited time as well. :D

Give it a few hours. Sometimes it takes a while to propagate to all markets.

Great little game, for free it's a no-brainer if you like fun, casual but still challenging little games with attractive "toony' graphics.

Hmm, what's the difference between Monster Up, and Monster Up Adventure? I have Monster Up, and I still need to pay for the extra monster...

edit: NVM, looks like they are different only in terms of goals, etc. Cool game.

Yes there is a big difference:) MonsterUp Adventures has much better graphics, gems to collect, levels to finish, bosses to defeat and really unique powers for the monsters.:)

I played it once before, and found it entertaining...but, didn't want to spend $1.99 on it, Now I grabbed it for free. Thanks WPcentral !

I got the original MonsterUp and didn't really like it. The game was too easy, to the point of merely being tedious. It was made worse by unlockables that take too long to acquire. But I got it instead of MonsterUp Adventures, because at least the gameplay made sense. MonsterUp Adventures has that weird gem acquiring mechanic. It's too bad because visually the game looks decent. The problem is that I don't think the develoeprs invested nearly enough effort in game balance. And there's only so much you can do with a Doodle Jump clone. Still, you can't go wrong with free.

I must be really dumb but for the life of me how the hell do I control the guy?

duh...I see it works with motion control...

I don't know how many apps and games I've downloaded for free because of WPCentral...I love you guys!