If you like moody Microsoft Surface trailers you'll love this one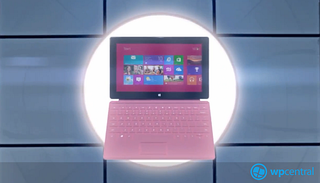 When Surface was first shown off it came with a dark and moody trailer but since then we haven't seen anything like that.
Microsoft has just released a new commercial in a very similar style. Out with the dancing and in with the future tech theme.
The music sounds like the same used in the original trailer "Surface by Microsoft" and it has the same brooding tone. We're not sure if this is mass market appeal here but will certainly sate the tech crowd who seem more switched on by these segments.
We're in a Windows 8 and Surface party mood today so we'd like to hear your thoughts on all things launch day. Sound off in the comments bellow.. We are listening..
Windows Central Newsletter
Get the best of Windows Central in in your inbox, every day!
I really like this ad. Much better than the iPad commercials!

That says "You will want to touch me!" Yes, yes I do.

Nice!! Has a mystical feel to it. Like some amazing alien technology has landed.

I loved what they used at the beginning of the presentation today!

Pointy hand = creepy. Perfect for Halloween.

I disagree. This was completely shit in comparison to everything else theyve ever put out regarding Surface. I guess it's not bad per se, but theres nothing special at all about this. The others were in many ways remarkable though.

Did anyone else notice the background's color change with the color of the keyboard? Is that part of the system or put in for the commercial?

They showed that from day 1 when Surface was announced.


Without being snarky, yes, that one if the features :-)

I want to finger bang Surface after watching that :-P

Finger Bang!..... Bang! Bang! Bang!

Did I just get mind f*cked?
They should show this after an Episode of Fringe.

I think the surface might scare walter.

Im going to echo what everyone said and say that was fucking awesome. Sometimes keeping the features a mystery raises the curiosity factor. This does a great job at that. Give me all the fucking colors please...

Wonder if Microsoft will release a compilation with all the music used in the Surface ads. ;)

While I think this commerical is completely awesome, I do think they should also run commercials of people actually using Surface side by side with this one. This type of commerical is good for getting people to notice it and actually watch the ad while a usability commerical shows people why this is special and how it's different than an iPad. Two different commercials with two different purposes.

+1. Because there is no button for it.

I loved the Surface ad (with the steel bouncing marbles) when they first revealed the Surface. Has Microsoft ran that commercial on TV?

... I don't know. It's nice, and somewhat thematically similar to the original from June. But it also feels very 'Droid'. And between this and well received (at least by the mainstream ... and me) dancing one, I'm not sure what unified message they are sending out about Surface.

I got the email saying the 2nd of November release date was a mistake, just checked my order and my surface isn't being dispatched till the 2nd, suggest others check :(

Doesn't look like any have shipped in the UK yet. Latest rumours are they might ship tomorrow :-(

Random launch day thoughts:
1. I like the ad. After the dancing ad and this, I think they've got our attention. Now there need to be some here's what you do with it ads as well.
2. Did none of you tech guys who attended the launch actually get a picture of Panos dropping the Surface? I've seen nothing anywhere. He held it long enough for everyone to get ready. That was cool and certainly nothing you've ever seen from that other tablet maker.
3. The New York Times app being announced was a special treat. Not only because I am a fan of the New York Times, but because David Pogue's review of the Surface dinged RT for several things, including the so-called app problem. He even noted there was no New York Times app. I guess he didn't bother to check with that department of his own paper first.
4. Did the audience members who got the Surfaces get to keep them?
5. We had seen most of what was announcved today before. But I liked the demo of using the Surface to be able to be in your own video's. And the demo of how you can still use the kickstand when the Touch Cover is folded back was great because some snarky commenter somewhere (I can't find it now) mentioned the kickstand appeared to have limited use if one of the covers was attached.


The ad, is very smooth. I'm excited about the surface not because it's some lean mean machine, but this is for us to move around the house better it can sit anywhere Nice little app for me, perhaps controlling some in-home functions from.

look like the rooms in the movie "cube"... but seems that "surface device" wont kill you :-D

I thought the Surface was being held prisoner by the Umbrella Corp. ;)
Windows Central Newsletter
Thank you for signing up to Windows Central. You will receive a verification email shortly.
There was a problem. Please refresh the page and try again.