Flaming Fowl Studios shows off more Fable Fortune gameplay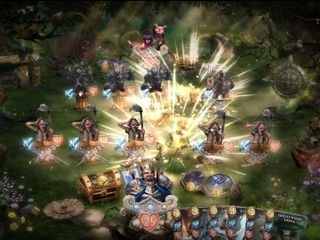 A new video from developer Flaming Fowl Studios shows off more gameplay from Fable Fortune, the upcoming collectible card game based on Microsoft's Fable franchise. The team is currently raising funds to make the game via Kickstarter. which is planned for a PC and Xbox One release in early 2017.
The video shows over six minutes of gameplay combined with commentary from Flaming Fowl team members Mike West and Craig Oman. Games in Fable Fortune will begin with the player taking on a quest, which is dependent on the location he or she is in. So, if the player is in an Arena map, the quests will be themed around combat. Quests will have different objectives, which will end up with the player getting new cards.
As with other games in the Fable series, there's a choice for the player to choose whether he or she will play as good or evil, and that affects the kinds of card they will be able to use.
At the moment, the Fable Fortune Kickstarter campaign has raised just over 10% of its minimal goal of $365,385 with 27 days to go.
Glad to see fables not entirely dead, but would have been happier if this was coming to mobile as well.

Commence your Home Business right now. Hang out with your Family and Earn. Start bringing $60/hr just over a computer. Very easy way to choose your Life Happy and Earning continuously. Begin here… .50timeextra.comllllllllllllllllllllllll
Windows Central Newsletter
Thank you for signing up to Windows Central. You will receive a verification email shortly.
There was a problem. Please refresh the page and try again.