Motorola Announcing the Q10 at CTIA? They Need It.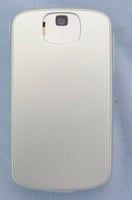 Unwired view points out that Motorola was pretty much a non-starter at this year's Mobile World Congress in Barcelona, but that they might be planning a big splash at CTIA in Las Vegas, starting April 1st (Yes, WMExperts will be there, baby). One of the phones we've been waiting for, the "Mystery Q," which many are hoping is the Q10. The Q10, like its lower-numbered bretheren, will be a QWERTY keyboard device, but it's also rumored to sport a touchscreen!
Oh, look, a youtube video is after the break, featuring this little tidbit I grabbed and threw at the top. Looks like a Q10 to me. Another couple of shots from the video after the break as well!
The Q10 would be good news. See: Motorola could really, really, REALLY use some good news right about now. We've avoided talking about much of the doom and gloom surrounding the company lately if only because we don't like kicking a dead horse when it's down (mixing metaphors, though, we're cool doing that). When we told you on February 4th that the "MotoCoaster was just getting started," we didn't lie. Motorola decided to not spin off their handset division, but instead to find somebody to head it (New CEO Greg Brown said he'd do it himself, but apparently changed his mind). With all that fuss going on, it wasn't much of a surprise to to us to hear that president of Mobile devices Stu Reed quit (not to mention their chief marketing officer). And do you remember how investor Carl Icahn was trying to take over the board with people that, er, didn't act like the Keystone Kops? He's on his way towards that goal with a vengeance, moving from owning a 1.4% share last year to a 6.3% share earlier this month. So expect another round of hijinks as Icahn tries to oust some folks from the board (again).
So, yeah, bring on the Q10 and bring it on quick, Motorola. The Q9h (see our full Q9h Review) is too beautiful a device to be chained to such a screwed up company, we want more of that.
Windows Central Newsletter
Get the best of Windows Central in your inbox, every day!
the touchscreen rumor looks to be false - that's clearly standard edition.

It also has the Smartphone/Standard button layout.

Way more importantly than having a touchscreen. It appears it has a dedicated backspace button on the keyboard!