Puzzle game Move from iOS and Android makes its way to the Windows Phone Store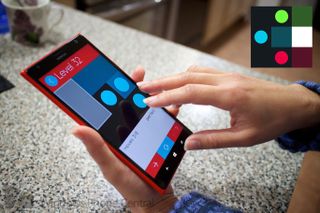 An awesome puzzle game from iOS and Android has just made its way to the Windows Phone Store. We previously covered a similar title, but it was not the official version. This is the real deal. Let's check out Move by Nitako.
The game is simple. The goal is to move the dots onto the target squares. They all move together in the same direction unless they are blocked.
Here's the official game trailer (from iOS and Android):
Move starts out really easy. On the first level, there are three dots on the screen and you swipe once to get them inside the squares. It gets tougher as you go to the next levels. Later on, you'll need to match the colors of the dots with the colors of the squares. The only physical actions required from you are swipes. Swipe left, right, up, or down to move the dots. The other requirement is, of course, your thinking ability.
The number of moves is displayed at the bottom of the board. The lower right corner tells you the perfect amount to get the perfect score of three stars. Just completed a stage in six moves? Try it in four.
We love the simplicity in this game. The colors are bold and the sounds are soothing. We can see ourselves playing this game for a long time.
Move is a free game. There are 3 packs available with 100 levels each. There are 9 other packs within the game that can be unlocked. You can pay $0.99 for each pack, or buy all of them at once for $3.99. We're still playing in level 30, so we have 270 levels to play that are free. If you play a lot faster than us, then the extra packs could be a great purchase for your new $20 voucher from Microsoft!
Move is compatible with Windows Phone 8 devices. Grab it for free from the Windows Phone Store and let us know what you think in the comments!
Windows Central Newsletter
Get the best of Windows Central in in your inbox, every day!
Looks interesting. I'll give it a try

Where's PVZ2, Subway suffer, WP7 Tentacles....

Not to mention the infamous Citibank app...

What does that have to do with this game?

Quick! Let's get the other guy to make some more clones, get them super popular, and then convince the original developer to publish theirs on the WP store! I like the interface on this one much better. It has 100 levels per pack too, good, because I moved really fast in the other version.

Oh dawg can u pls publish something other than puzzle games developers? How many puzzle games can we play!! We need trending games like tt2 and ss and all ccs for gods sake tired of begging :'(

Man games look nice on that 6".

Happy to see more popular games come to WP quicker than earlier. This last 1-2 months is very good for WP8 in apps/games department.

Please stop using the 1520 in your pictures, it makes me not like my 920.

We all know that feel bro :'(

I'm with you there. My 928 suddenly seems out of place.

I wouldn't mind buying it, if I hadn't coughed out 650 euros for my 920. If I buy a 1520 before my 920 dies, It'll just feel wrong.

@Corvodin... I agree with you. My 928 is suitable to carry me through Q2 2014. That 1520 makes my stomach weak though.

yeah!! my 720 looks like a kid against this handsome hunk

Just keep saying, ONLY 16GB, ONLY 16GB, ONLY 16GB... heh Gets me through waiting for the next 930 or whatever, hopefully 5" 1080p device in 2014...

Can't do that. I'm from Europe, I don't have AT&T to F*** me over.

I know what you mean. I think I saw the grim reaper putting my L920 back on my wireless charger. Its coming.

Another game from IOS and Android. . . . Will miracles ever cease!!

Cool, how about candy crush next so my co-worker will stop complaining?

I read Candy Crush is currently in private beta for Windows Phone. Safe to say, its coming.

Good to know. Where did you read that?

I'm the developer and yes it's in private beta. Now I must confirm with my wife, Morgan Fairchild about our dinner arrangements. Btw, my name is Tommy.

We will get all games except subway surfer and tr2...they are just rumours untill we get it

Downloading.. But... Where's Minion Rush? Temple Run 2? Oh god.. Someone has an ETA?

They will be available after 8.1 release.hahahahaha

Downloaded! Pretty awesome! A welcome addition to our marketplace :)

Why do games need my 'owner identity'?

It's for nsa's recruitment department. They are always looking out for brilliant minds.

Always wondered this. Sometimes it deters me from downloading.

WP needs more sports games like cricket fifa14 from EA sports.There r enough puzzle games on WP.

Atleast the fake version worked on WP7.

Cut the Rope: Time Traveler? WHEN

Still need that awesome sonic game that's on ios and plants vs zombies 2

Where the hell is Minion Rush?

Superb game. Sounds get a tiny tiny distorsion at times. Only noticeable because of the great, and clean sound effects of choice. Smal thing to point out but this game is so great one want it 100% perfect.

I want Plants Vs Zombies 2, FIFA14, Zombie Tsunami and Pou.

Not available in Brazil - why is that?
Windows Central Newsletter
Thank you for signing up to Windows Central. You will receive a verification email shortly.
There was a problem. Please refresh the page and try again.