Movie Maker 8.1 gets transition video-effects and much more in today's big update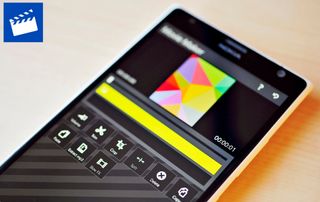 Movie Maker 8.1 is a well-received video editor app for Windows Phone 8.1. It's also the first one in its category, being made by Venetasoft, and the app has been receiving a steady stream of updates, including two in the last 24 hours. One of those updates brought with it a lot of new features that users have been demanding, including those transition effects.
As usual, we have the full change log with details not found in the Store and even a few more secret codes to giveaway. Head past the break to get in on the action!
Movie Maker 8.1 (1.1.5.0/1.1.5.2)
Titles – the user can add beautiful titles choosing the font type, size and color, and the background (from a solid color, an image from his phone library or a frame extracted from the movie)
Transitions – six types of transition (others will come shortly), including four 2D transitions (fade in/out/cross, slide, stripe) and two 3D transitions (Twirp3D, Fold3d)
Ken Burns Effect (Pan & Zoom) effect to apply on any image/title/still frame.
(Transitions and Ken Burns effect are in beta, speed will be improved in next updates)
New tools including cut, merge (two or three contiguous clips), merge all clips
First in the Market: some phone models (Lumia 1020 for example) with Windows Phone 8.1 preview suffer from a bad "tick" noise recorded on the final mp4 or mp3. This should be solved with Cyan and new native audio drivers. It happens when you encode images with a background audio (exactly when a new image begins in the timeline, the audio seems to "rewind" for some milliseconds, causing a "tick" noise). This has been solved via software with this update, making this the only app to not suffer from this problem
Export to 'Movie Maker for Desktop' Thanks to the collaboration with my friends at http://www.acquariusoft.com, we are developing a plugin to allow a user to transfer his Movie Maker 8.1 project to their PC, and continue to edit it with Microsoft Movie Maker for Windows. Currently you need another app now (trial version is available) but it will be completely integrated in next update. It is in beta too, so only small projects entirely composed by video/images present on the phone gallery will be available (not effects or titles), but the final version will be complete.
New UI with accent colors and a more touch-friendly interface for small screens, specifically tested on Lumia 630
Bug fix: share, Lockscreen, audio-only editing (mp3 project), some others
As you can see, this is quite a big update for those of you who like to edit videos on-the-go. The best part is there's more to come.
If you want to see some of the new effects in action, make sure to watch the demo video above to see how they look on a YouTube video.
Unlock code time!
As usual with these big updates, we like to collaborate with Venetasoft, so here is a secret code open to the first 100 of you to unlock the app for free (if you already did not purchase it):
To unlock, the Easter egg is: Click 20 times on the red rectangle "deleted part" on the 'Trim' page (just add an image/video and click the 'Trim' toolbox item).
Remember, this will expire on the 101th attempt, so act fast!
Pick up Movie Maker 8.1 with the all new transitions and effects here in the Store. Free trial, $1.99 to buy
Windows Central Newsletter
Get the best of Windows Central in your inbox, every day!
Daniel Rubino is the Editor-in-chief of Windows Central, head reviewer, podcast co-host, and analyst. He has been covering Microsoft since 2007 when this site was called WMExperts (and later Windows Phone Central). His interests include Windows, laptops, next-gen computing, and for some reason, watches. Before all this tech stuff, he worked on a Ph.D. in linguistics, watched people sleep (for medical purposes!), and ran the projectors at movie theaters because it was fun.
Got it! (the full version)

Why it got to be black Lumia? Lol

I want one too. Edit: Got mine this time. Woohoo...what a relief.

We posted directions, so...

Got it! Thanks! My daughter's spring musical can get edited now!

Hey Daniel ...Whatsup these days u r so busy posting and even regular.....thats good..and the update ..let me grab it now..

I like to think I'm the hardest working Windows Phone supporter around ;)

I love your hard work and your 110% accurate information Daniel keep it up. WPCentral is the best website for WP fans

Got it this time! Thanks :)

Got it! Full version! Thank you! :D

Before it is going to download on my 2g network it is going to expire

I unlocked it last time :3

Says invalid key code, does that mean it's already hit the limit?

Nope, should say 'expired' if limit hit. Make sure you are using the '_' and typing it correctly.

Write the code, maybe you copied it with an extra space

Also getting invalid code. :( OK, we were getting invalid because we had not updated yet. By the time I updated it was sold out. Every time! :(

make sure wp_central w not W and (_) underscore

No, that wasn't the issue. I cheked that several times.

Wohoooo... Unlocked.. WPC rocks!!

Unlocked Thanks developer for this great offer :D

Woo Hoo!!! "Movie Maker 8.1 is now fully unlocked :)" Thank you WPC and Venetasoft! My daughter just graduated Highschool and now I can fully edit and assemble a montage and more on my Nokia Lumia 1020!

Got it! I like free stuff! Thanks!

Yippi got it thanks a lot wpcentral

got it !!!! thanks wpcentral !!!!

doh.. its not recorded as a purchase. I put it on my 1020, but it says if I need to reinstall I have to download the trial again and do the easter egg again (I guess up to 100 tries). No biggie. I'll likely purchase it for my 1520 once I play with it instead of taking a 2nd unlock code.

You are right, the "unlock" is a little trick to let the app think it is purchased, but it is not.
So you will always see "buy" on the Store page, as the app is techically a "Trial", but is acts exactly like the full, paid version.
If you format/reinstall your phone, just be sure to be connected on teh net the first time you will encode a video, and it will auto-unlock.

So even after hardreset or changing the phone, i should download the trial and put the same code ? or will it automatically after downloading the trial unlock itself ? and thanks for the awesome app ! :)

Code changes if you change your phone only....But in that case just write me an email and I will send you a new code :)

Hi...I want to purchase it...But My Paisa pay BOB ATM not working with store payment. I hope here i will ger unlock code ....but still bad luck.... Can u pls Send me Unlock Code.... Will purchase it soon....applied for VISA debit card. if you give 100 of peoples than give 1 for me pls....i badly required. Amirphp.2007athotmaildotcom thanks.

You can easily have a code, just read my previous comments :)

I always get "Invalid keycode"... :(

Oh thanks WP central. Got it this time.

:( no more unlock codes available. Thanks though.

Paid cash money. Very nice update. Movie Moments for desktop? What? Where? When?

Oops not for me still in wp8 no 8.1 ...:crying:

Seems it can't open or find the last project I was working on when I select "Continue last project". Ughhhh

Did you unistalled the app ? I save some files (transictions for example) on the app temporary folder.
This folder is deleted if you uninstall the app... Next update will add an option to customize temp folder location to avoid issues on reinstallation/updates.

I did not uninstall the app. I just did the update. It must have purged the temp file during the update. Btw new splash screen is much better. I've been slowly using this app over the last week to put together a small movie. It's been great so far.

I think instead of "No open projects missing..." You mean to say "No open projects available to load..."

My mistake...Noted, thank you !!

Missed it I guess#uninstall

Slammed down the money on day one! Well I tapped/clicked it! :) I love this update and want to go film something! I hope there is fading out (audio and video), so my vids don't have to come to an abrupt end.

Fade in/out is supported for videos, as you can see from the demo posted above. I am working for audio fading too. Stay tuned for the next updates!

I'm tuned in! :) I also had trouble adding the Burns effect because I didn't see it as an edit item in the menu. Right now it only works when you bring in one still image at a time, right? I've bring in a group of pictures, there is no way to add that effect as far as I can tell.

Yes, to apply the Kenburns effect you have to first select an image and tap the change duration button. This is a beta release, all filters and effects will be fully customizable.

If oyu get invalid code, make sure there are no capital letters, I got that with Wp_central instead of wp_central

So glad I purchased this app as soon as it came out. We need more developers like these guys!

Great update! 3D Transitions are just awesome!! :D

This idea, together with many many others, comes from wpcentral users feedbacks :)

Again sold out. I was playing game when I saw notification about this news came out. Haha

Always miss this opportunity...

"tick noise" I get tick noise when I fast forward or rewind playing videos.

I think that is a known issue with 8.1dev

Haven't heard or seen anyone addressed it. Unless I'm slow at news.

The "tick" bug affects the final encoded mp4/3 file. During the preview it is normal to hear it because you are changing speed/directions.
I noticed it only thanks to user feedbacks. I tested MM with L1520, L920, L820 and L630 and they are free from this issue.
Then I tested with a L1020 and there it was !! Fortunately I was able to remove it with some magic ;)

Oh sorry, I mean with the 8.1 preview, not MM.

XBM on WP8.1 has this issue. If you move the scrubber, it produces this odd noise. Same the case when changing tracks.

If you own an L1020, just create a movie with 10 pictures and add a hard rock music audio track. Set picture duration to 5 seconds.
Than save as mp4 or grab as an mp3 (disabling the tick removal option ;). When you play it, you ca hear a "tick" noise at the beginning of every image.

Just tried with my 1020 with both Movie jax and Movie Maker. Movie jax is still affected by this issue, but Movie Maker with the new tick removal tool does not have it anymore.
Great! :D
Even without using "hard rock music track". :P

Just try, if your phone is not affected, don't enable it :)
L630 with Cyan fw is perfect, I suppose this issue will be fixed with official wp8.1 driver updates.

And I wish I was rich, don't work for living, and get my apps update themselves... Free app = Slow development = No grow = No more Apps
Anyway is easy to get a free code, just carefully read previous articles and comments, it's free :)

You really burned unlock codes quickly :D
Were late...? Just show some love to Movie Maker 8.1 leaving a nice review on the Store page. Then just screen-shot and send me an email, and I will send you a new free code :)

DAMN IT!!! I missed the code again, this is the third time :( venetasoft told me last time if I left a nice review and sent a screenshot, he'd send me a code but I messaged him the screenshot and he never got back to me. I love this app but can't buy the full version due to having no debit card. I really want this full version :(

Did you received it :) ? If not, please write me again...Or try to use my website contact form...

Can't download it.not even the paid one.its pending since the last 1hour on a 3g network.

i seriously love thisprogram.

There are 94 Comments, but there are100 codes. and its not available already.huhuhu So Sad.:-( Free One Please. :-( huhuhuhu

I think I have the full version even though I never entered the code or was prompted for one even after following Daniels instructions, is that possible? I have all the effects and don't see anything indicating a trial? Either way very cool app!......update never mind its showing as sold out

try to save. if it limits to 10sec, then it is a trial. :-)

It would be great if venetasoft add features that allows you to add photo in the middle of video, still an excellent app!

You actually can :) !
Just select any point of the timeline first, that click + and choose what media (image, video, title) to insert exactly there :)
This is one of the features that differentiates MM from others, total freedom in composition.

Oh, thank you so much! MM is such an amazing app

But, i still using the trial version, can you send me a code?

Just show some love to Movie Maker 8.1 leaving a nice review on the Store page. Then just screen-shot and send me an email, and I will send you a new free code :)

I love using this app, especially to edit my videos of me learning to kittens how to smash a potato with their right hand

Windows RT version puleeez??? The Metro video editing apps are horrific.

It is showing NOT AVAILABLE FOR YOUR DEVICE. why?