Movies, TV, and music we're into this week
'Tis time for the latest batch of media recommendations from Windows Central's editorial staff.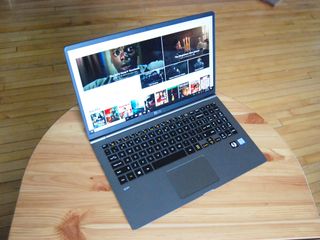 It's the last weekend of August, and we're in the dead of the doggy days o' summer. In many locations, it's H-O-T, hot, outside, making it a perfect time to stay inside with a good movie, show, album or book.
As we do every week, our writers and editor put our heads together to come up with some great recommendations for you. This time around, we have a movie about a couple of high school honor students who realize the error of their non-partying ways, a TV show with some Scottish dudes with really amusing accents, and an album that'll have even the quietest of listeners gettin' loud.
Everything included here is worth a look. Promise. But if nothing grabs ya, hit the link below for many more recommendations from the past.
More media recommendations from Windows Central
Movies
Can you smell the circus, Georgie?
Recommended by Daniel Rubino, executive editor

I'm not really into horror, but I do like creepy and Stephen King's IT from 2017 checks all the right boxes. Great acting, a cast you care for, and a dancing, scary clown who happens to like murdering kids. I remember seeing this film in Maine (where the story takes place) on a dark quiet night.Like The Shining (1980), The Exorcist (1973), and Rosemary's Baby (1968) IT will easily go down as a classic in horror. Will the sequel be any good? Who knows, but you can now relive this excellent movie before you see it. The best part? For the next few days it's on sale for $7.99 and that includes the 4K UHD version (if available in your market).
Makin' up for lost time
Recommended by Al Sacco, managing editor

I watched this movie last weekend, and I loved it. It's a unique take on the high-school comedy drama, which more often than not seems to be geared at a male audience, or at least focused more on male characters. "Booksmart" does everything I love about the genre well, but it flips it sideways by focusing on two female protagonists. And unlike many similar films, it doesn't overdo it with the juvenile humor.The gist of the film is that two young women who busted their asses through four years of high school to get good grades and secure a future realize it was all for naught. Well, maybe not for nothing, but all the kids who chose partying over studying seem to be just as well position for the future. So the two heroines decide to make up for lost time. It's a smart, authentic, well-written and genuinely funny film I know I'll end up watching again.
TV
Welcome, to the world of tomorrow!
Recommended by Sean Endicott, news writer

Futurama is one of my all-time favorite shows. It's quick-witted humor centered around a dimwitted protagonist, Fry. The show takes place in the year 3,000 after Fry is frozen on New Year's Eve 1999. In the distant future, Fry is an intergalactic delivery boy who gets into all sorts of ridiculous situations. Just a few of his escapades include accidentally becoming the ruler of a planet after drinking its emperor and delivering a package to a planet of killer robots. The writing staff of the show has numerous doctorates and degrees, so the writing is more clever than the premise sounds.
Space cowboy
Recommended by Dan Thorp-Lancaster, news editor

Cowboy Bebop is heralded as one of the greatest anime series of all time, and for good reason. Everything about it is unique, from the delightfully jazzy soundtrack to the pace of the action and depth of the overarching plot.Taking place in the year 2071, Cowboy Bebop follows a crew of bounty hunters who are always struggling to just get by as they traverse across the galaxy in search of their targets. But the show is a lot deeper and far less sci-fi than that short description might suggest. It's got a very noir quality to it, and it's hard not to find yourself deeply invested in each character's arc.
Get us a pint
Recommended by Cale Hunt, staff writer

By luck I stumbled on Still Game, a Scottish comedy that revolves around two aging pensioners, Jack and Victor. Their spouses long gone, they rely on each other for company and for getting in and out of trouble in their hometown of Craiglang, once a nice place but now, in their words, "a shitehole."The humor is dry, the writing isn't too predictable, and the cast of characters around them each have a strong personality and can take on an entire episode's plot. If, like me, you're not used to the thick accent and unique phrases and terms, use subtitles for the first season to get a hang of it.
Music
Never forgotten
Linkin Park — Road to Revolution
Recommended by Richard Devine, Reviews Editor

Linkin Park supplied the soundtrack to my teenage years, and while the band's life was ended by tragedy, the greatness will live on forever. I've been fortunate enough to see them live multiple times over the years, but this one was easily the best. One of the finest live shows I've ever been to.Road to Revolution was recorded at Milton Keynes in the UK 11 years ago, the band headlining their own mini festival that also featured the likes of NERD, Pendulum and Jay-Z. Linkin Park will always be special to me, and the icing on the cake was seeing for myself a little snippet of the infamous Collision Course collaboration right at the end. A live album that never slows down, never disappoints.
Get the Windows Central Newsletter
All the latest news, reviews, and guides for Windows and Xbox diehards.