Want Firefox to sport a Modern UI? Mozilla releasing Windows 8 version on December 10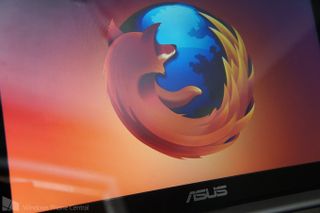 Mozilla is looking to launch Firefox on Windows 8 with a Modern UI (Metro to you and I). Think of Internet Explorer, but a browser made by Mozilla and you get the idea. If you're a huge fan of the popular web browser and have been using the desktop version (or own a Windows RT tablet), fear not as you'll soon be able to enjoy all the features and functionality with Microsoft's simple look and feel. ETA? December 10th.
Billed as the "Preview Release," the touch-friendly version of the web browser will be bundled with Firefox 26 for the desktop, which will be released on that very day. If you're interested in trying out the new version before the final release, Mozilla is said to be planning to pair the Modern version with the browser's "Aurora" and "Beta" channel builds, which will roll out on September 16 and October 28 respectively.
By taking part in both above builds, you'll be able to help shape the final product by supplying feedback and reporting on bugs to be exterminated.
Earlier build of a Windows 8 Firefox app
This will provide an interesting challenge for Mozilla to overcome as only the default web browser will run in the Modern UI environment, which is Internet Explorer. This can of course be altered by the consumer to likes of Google's Chrome or Firefox, but it's making consumers switch to use its web browser all the time that the company will have to look at seriously.
We previously took a quick peek at a nightly build released earlier this year to see what Mozilla had been up to regarding Firefox and the Modern UI. We liked what we saw thus far and already believe the Chrome version for Windows RT is a neat addition to its desktop counterpart, so not much can go wrong for Mozilla. We're excited to see how the final build of Firefox will perform on both PCs and tablets.
Windows Central Newsletter
Get the best of Windows Central in in your inbox, every day!
Rich Edmonds was formerly a Senior Editor of PC hardware at Windows Central, covering everything related to PC components and NAS. He's been involved in technology for more than a decade and knows a thing or two about the magic inside a PC chassis. You can follow him on Twitter at @RichEdmonds.
Adblock plus support hopefully!

Awesome news! And it would be nice if I could simply replace IE with this on the Surface RT...
Lets see. Oh if only MS weren't suck d*cks about other web-browsers on WP...

What? If they release an RT version, I'm faitly sure the system will spot it and tell you there are more ways to 'open that file/link' and you'll be able to set a default browser.

I'm not sure I even understand what you tried to say...anyway, let me be clear: I hope that I can uninstall IE from the RT and replace it with Firefox. That's basically what I said. Not that the metro UI of IE for RT is bad...I simply don't like it. Firefox is my favourite browser and if I can have it as my only browser, I'll be happy.

Like with all versions of Windows, you can disable IE in "Turn Windows features on or off" section of Programs and Features. It does not delete IE just in case you need it, but you will no longer see it on your PC.

Ok, so the RT is not locked like the WP version. Good.

Well WPCentral is lying now. You cannot have another browsers like Firefox or Chrome on Windows RT, they are talking about WinRT which is not the same thing. WinRT is Windows Runtime, which means the Metro environment. Custom browsers need to be installed from the desktop and that feature of WinRT is not supported on Windows RT. If they do release a Windows RT version, it will be just IE with Firefox bookmark sync etc.

I think you are misinformed jessenic. You can define which modernUI App or desktop program should take over a specific role on your device by default; this is also true for Win8RT. And yes, you can also deactivate the IE on Win8RT as other here have already explained how.

No I'm not. Sure you can change the default browser, but Windows RT does not allow real 3rd party browsers, only IE skins. On Windows 8 a desktop browser app can register itself as a metro app too, but that would not be in the Windows Store (except in Desktop apps)

Jessenic is correct. This version of Firefox is only available when installing the x86 application and setting your default browser to Firefox. Full browsers using Microsoft's x86 APIs to run their own rendering engines are not allowed in the Store. Hopefully in the future Microsoft loosens some restrictions on desktop / browser programs RT or builds out WinRT APIs for those kinds of apps. You can think of it Firefox as Windows Phone, Mozilla as Microsoft and Microsoft as Google and Windows RT as Youtube. Firefox can't access the APIs it needs to build an app for the Windows Store.

A more simplistic way to put it.. 2 apps with same functionality.. Windows ask you what to use as default.. 2 browsers? Same deal! You're not forced to use IE. You want to remove it? It's possible! That's all.

Yes, between 8am tomorrow an 2019.

No, but at 1020 BC (Real Fox)

Will it have 1GB RAM usage too?

Has it done that since FF3.6 days? I'm used to browsers using a lot of memory as I usually have 30-50+ tabs open

It did when I decided to ditch it for good, maybe a year and a half ago? Or more. Never cared to go back, happy with IE.

Now we just need Firefox and Opera for Windows Phone.

Lets hope this is true!
http://wp-hub.blogspot.in/2013/08/opera-mini-team-says-that-they-have.ht...

Can't wait. As an alternative to IE nothing compares to the good ol fox

Cant wait....Installed 8.1 and 1/2 the webpages I use dont work....installed my fav browser firefox and it sucks for a touch screen display.

Awsome !

sigh...
its obvious some sites wont recognize IE11 as IE thats why they dont displey correctly and while there is no "compatibility" button anymore. you can still use and add sites to compatibility list. sometimes it fix it...
but i still dont get (again) why people like you even try a preview if you expect stuff to work always fine, yeah, IE always has this problem, IE10 preview had it and IE9 preview as well... you always had to or compatibility mode or test the site with an older version of IE in F12.
its obvious some sites wont support IE until it doesnt hit RTM, while other do with the preview. like Grooveshark, one day it said flash didnt load properly, and i had it in compatibility mode, i remove it from there and it loaded nice. (obviously i put in in compatibility because that was the only way to work before when preview was released).
for example, if you go and check your flash player version it will say "your browser: None" and if you put it in compatibility mode it will say Internet Explorer. so yeah... some sites just cant recognize it yet and that causes problems sometimes. especially if it needs a plugin or something


Team Emi! haha!. It's always great to read your posts! Keep up the good work!

haha!
thank you! :P. its good to know someone likes my comments! guess they can contain useful information sometimes! ;)

take care! :)

Is chrome coming on windows phone 8?

That'll be a cold day in hell.

MS should require Google to write it in HTML5/JS :)

It will start Cold war between MSFT and google #sorryenglish

Official Google answer: "not this year", see here
https://code.google.com/p/chromium/issues/detail?id=153802
Star it if you like, it's closed for comments though.

I've never had a good experience with Firefox. Maybe this will change some things. But im pretty happy with IE. Its served me well so far.

Same here, plus the I can't stand the talk head at Mozilla. He drives so many users away.

FireFox is my favorite next to IE.. So it would be nice to have it on Windows Phone! Google Chrome I don't like, the performance is good, but not the scroogleing :P

The only nice thing about the Chrome Browser is that is underneath the webadressbarr you can have a favorite's barr ...... I wish Internet Explorer also had this instead of pinning it to the left ...


Have you tried right clicking the top bar of IE and selecting "Favorites bar"? :P lol

Wow thanks for letting me know, thanks so much! Byebye Google Chrome lol

Really taking their sweet time on this.

I mostly stick with IE10, but this is why I use Firefox rather than Chrome when I need an alternative browser (for testing or whatever). Firefox's main goal is helping their users, not screwing over another competitor.

Hope Mozilla has any love for Windows Phone users... :3
Anyway, Internet Explorer is way better than its predecessor in the past, and I appreciate its developers' effort for making IE the best browser ever, after Firefox exactly (sorry Chrome) ;)

Thanks Mozilla! Now you only need to port it over to Windows Phone 8, as Mini Opera is also working on a browser for our lovely platform ....

Agreed, like IE on my 920 also.
Even faster with gdr2 :)

Fuck Chrome. If you want a real browser experience its Firefox. Man, Firefox is so awesome. :) hope they made a WP version.

Does this run extensions? The only reason I haven't moved to IE10 from Chrome is the lack of extensions. If FF 'metro' allows those, I'll give it a go!

Good. On both my PC and my Iconia W510 I cannot get nightly to boot to metro. It starts to, but simply crashes at the splash screen. This update can't come soon enough.

Uhh... Firefox does NOT run on Windows RT. It doesn't now, and the upcoming version in December won't either. Just because the new app has a Metro UI mode doesn't mean it will run on RT, as much as I'd love to try it on my Surface.
Check this:
http://support.mozilla.org/en-US/kb/does-firefox-work-windows-8-and-windows-rt#w_does-firefox-work-on-windows-rt

Firefox +addons would be most welcome on windows Rt.

Firefox is not coming to Windows RT, only IE is allowed there. It's coming to WinRT on Windows 8 though.

I have been using the desktop Firefox version after upgrading to Win8.1. IE11 is unadulterated junk at this point. It is incompatible with virtually every website; I can't believe they releasted it even in beta form.

And wp8 ??? Why no body supported it

I like my internet explorer on my windows RT but I would try Firefox if it came out.....

Get ready Windows resource hog on the way!

No thanks. I program plugins for ff and if I will see a ff browser in 10000 years it will be to soon
Windows Central Newsletter
Thank you for signing up to Windows Central. You will receive a verification email shortly.
There was a problem. Please refresh the page and try again.