Mpow Armor Bluetooth Speaker - a portable music solution for the beach or poolside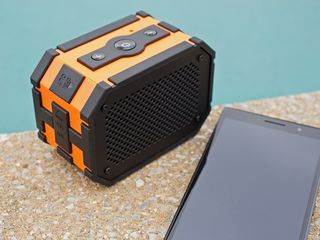 The Mpow Armor Portable Bluetooth Speaker comes across as a very formidable Windows Phone accessory. The specs offer a rugged speaker that should be well suited for the beach, poolside or while out camping in the great beyond.
The 5W speaker is listed as waterproof, shockproof and dustproof. Battery life is estimated at 10 hours for playback time and you have the added bonus of using the 1000mAh battery as an emergency power source should your Windows Phone need a little boost. We took the Mpow BT speaker out for a test drive this past weekend and was rather impressed with the build quality and sound performance this little speaker offers.
The tour around the device includes your control panel positioned at the top of the device and your ports running along the side of the speaker that includes a USB output (for charging your phone), micro-USB charging port and an auxiliary port.
The Armor is trimmed in rubber with rubber covers snugly covering both port sections. The rubber trim helps the speaker survive minor bumps and scrapes, while the rubber covers keeps things nice and dry.
The tell of the tape has the Mpow Armor measuring approximately 2.75" high, 4" wide and 2.12" deep (69.85mm x 101.6mm x 53.85mm). The weight is almost non-existent coming in at 6 ounces/ 170 grams. In practical terms, the Mpow Armor is about the size of a softball or maybe a coffee mug.
The Mpow Armor, is Bluetooth 4.0 compatible and waterproof at an IP65 level. Breaking down the IP code means the device has a level 6 rating for solid particle protection (dust tight) and a level 5 rating for liquid ingress protection (water jets have no harmful effects). Immersion protection starts at level 7.
What does this mean in the real world? The Mpow Armor should be safe on the beach lying in the sand, getting splashed by the incoming waves or poolside as the kids practice their cannonball dives. I just wouldn't submerge the speaker in the bathtub, pool, ocean, etc.
The Armor comes packaged with a 3.5mm audio cable, a micro USB to USB charging cable and an instructional manual.
Performance
Activating the pairing mode with the Armor is simple. Just press and hold the power button for four seconds and the LED indicator will begin to flash red and blue. Follow the steps to complete the pairing from your Windows Phone and you are in business.
The control panel consists of the power button that doubles for a play/pause button and +/- buttons to control volume and playback. The Armor lacks any phone features but will pause play while you are on your Windows Phone chatting it up.
Should you get into a situation where your Windows Phone battery needs a boost, the Armor has an emergency 1100mAh battery that can be accessed through the USB outlet.
The 5W driver and bass radiator on the Armor offers some nice sound quality from such a small speaker. Sound quality is a little bassy but nothing disastrous. As far as battery life is concerned with the Mpow Armor, I pulled about ten hours of use from a single charge over the span of a few days with the Mpow Armor, which is what the manufacturer predicted.
Overall Impression
The Mpow Armor Bluetooth Speaker is a decent option worth considering if you are looking for a wireless speaker option. While it lacks phone features, it does an admirable job with music playback.Add being able to use the 1000mAh battery to help keep your Windows Phone battery charged and the versatility expands further.
The Armor is also rather versatile due to its water and dust resistance. You can take it to the beach or poolside without worrying about it getting wet or dropped in the sand. It is also safe enough to use in the shower, out camping or just about anywhere else where dust and water are a risk. The Armor is not submergible, but it can take a decent dowsing. As far as being shockproof, I wouldn't try to bounce the speakers off walls but it should survive an accidental drop.
Overall, priced just under $40, the Mpow Armor isn't a bad option to consider if you are in the market for a portable speaker. You can pick up the Mpow Armor from various third party retailers such as Amazon.com. If you take the plunge and pick up a Mpow Armor, let us know what you think of the speaker in the comments below.
Mpow Armor Bluetooth Speaker (Amazon.com) (opens in new tab)
Update: Many have asked if the Mpow Armor has a separate battery to use as an emergency power source. The product description does give the impression that the speaker has a separate battery but in reviewing the documentation that came with the Armor, only one battery source is listed in the specifications. We have reached out to the manufacturer for clarification and while it appears the Armor has one battery, being able to pull from a single battery to charge your Windows Phone is still a nice feature.
Windows Central Newsletter
Get the best of Windows Central in in your inbox, every day!
George is the Reviews Editor at Windows Central, concentrating on Windows 10 PC and Mobile apps. He's been a supporter of the platform since the days of Windows CE and uses his current Windows 10 Mobile phone daily to keep up with life and enjoy a game during down time.
Does it hurt to make a little video with your reviews?

Does it hurt to show a little respect?

A video for an audio device? Pictures will suffice.

oh so you can hear the quality of the speakers through pictures. good for you. unlike me i need a video to atleast tell how loud it is and the audio quality. :-P

No. I just understand that if they made a video then the audio quality is dependent on the microphone used, audio source, room acoustics, etc. Them, you'd be listening to them through your computer's speaker setup. Additionally, it is a $40 monaural 5W speaker, so at best the sound quality will be like listening to an 8-track in a '77 Pinto with the volume turned down low...

still...........a video would be nice

It is safe to get splashed by wet waves but it is not safe to get carried away by the big waves.

Tsk tsk tsk. A speaker review that mentions everything except the sound. What does it sound like?

"sound quality is a little bassy but nothing disastrous"

The 1000 backup battery, it is a separate battery or do you use the speakers battery? I understood you as there was a extra battery added on top of the regular one so you don't use the speakers one, but not 100% sure I understood. (English not my native tongue).
Thnx in advance.

I am wondering the same thing :)

As I understand things, it is a separate battery. Spec sheet is at the house and I will double check when I get home later today. Update: Okay. I stand corrected. Apparently there is a single battery that can be tapped into to give your Windows Phone battery a boost. The description says that an additional emergency power supply of 1000mAh is available, but the spec sheet that comes with the speaker only lists one battery source. It's still a nice feature, but it appears the speaker only has one battery. If we hear anything different from the manufacturer, we will pass it on.

If this floated, it would be perfect for floating down the river this summer! Maybe I could make up a "life jacket" for it, just in case it falls in the water. Sam's Club has one (can't remember the brand) that's a bit bigger, and it floats. But it's also $150, which isn't terrible I suppose....

Looks really good... I should have waited for this one....just last week I purchased Eton's solar powered waterproof speakers.... Sound quality is not so good :(

Just tried to purchase this online, it is SOLD OUT EVERYWHERE!

That's the power of Windows Central! lol

Love the MPOW, pairs fast with my android phone. Great sound for such a little feller... BUT: Shows "paired"---but NO SOUND when paired to my (Windows10) laptop. Have looked endlessly for a solution, but to date have not found anything.
Windows Central Newsletter
Thank you for signing up to Windows Central. You will receive a verification email shortly.
There was a problem. Please refresh the page and try again.