MrMobile tells us why the Lenovo Yoga Book is like living in the future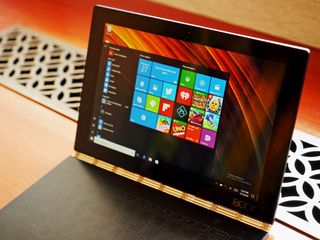 Earlier today, Lenovo garnered a lot of interest in their announcement of the ground-breaking Yoga Book. The two-in-one tablet hybrid with 'Halo' keyboard finally merges pen computing with a portable and nifty PC (or Android, if you're into that).
MrMobile aka Michael Fisher got his hands on the Yoga Book and posted a new video tour of this exciting tablet. Considering the Yoga Book was our highest trending story of the day, I figured you would want some more delicious footage from our tech companion MrMobile.
Lenovo Yoga Book
Category
Specs
OS
Windows 10 Home or Windows 10 Pro
Dimensions
256.6 x 9.6 x 170.8 mm
10.1 x 0.38 x 6.72 inches
Weight
690 g (1.52 lbs)
Processor
Intel Atom x5-Z8550 Processor
2M Cache
Quad-Core
Up to 2.4 GHz
Display
10.1" FHD IPS (1920 x 1200)
Color Depth : 16.7 Million
Color Gamut : 70%
Brightness : 400 nits
Memory
4 GB LPDDR3
Storage
64GB
Expansion
microSD
Audio
Sound Dolby Audio Premium
Sensors
Haptic-vibrate
G-Sensor
Ambient Light Sensor
Hall Sensor
GPS
Camera
Rear 8 MP Auto-Focus
Front 2 MP Fixed-Focus
Battery
8500 mAh
Up to 13 hrs
Connectivity
WiFi: 802.11 a/b/g/n/ac (DC 2.4 + 5 GHz)
Optional: FDD-LTE, TDD-LTE DC-HSPA+, TD-SCDMA, EDGE
Slots
Nano SIM Card
Material & Color
Magnesium and aluminum alloys
Carbon Black
Price & Availability
$549
October 2016
While it remains to be seen just how well the device comes together, the Yoga Book is certainly very intriguing.
Watch the video and let me know what you think in comments. Oh, and don't forget to subscribe to MrMobile for further IFA coverage and random futurology tidbits from the tech world!
Daniel Rubino is the Executive Editor of Windows Central, head reviewer, podcast co-host, and analyst. He has been covering Microsoft here since 2007, back when this site was called WMExperts (and later Windows Phone Central). His interests include Windows, Microsoft Surface, laptops, next-gen computing, and arguing with people on the internet.
I once bought an Atom tablet PC, and have vowed to never do that again. That alone makes this a non-starter for me. It would be awesome as a $300 continuum device.

I have a Surface 3 (atom based) and it is more than competent. I've even played Dragon Age Origins on it.

"I once bought" <- keep in mind that Atom processors are far far better than long ago. I bet this latest Atom-x5 Z8550 is about as powerful as an Ivy Bridge U i3/i5, so you should have no trouble with normal computing, multitasking, and even 2010 gaming.

That's a bet lost. http://cpuboss.com/cpus/Intel-Core-i3-3217U-vs-Intel-Atom-x5-x5-Z8500 http://cpuboss.com/cpus/Intel-Core-i5-3337U-vs-Intel-Atom-x5-x5-Z8500

To be fair, the x5-Z8500 is about 10% weaker than the one referenced here, the x5-Z8550. I don't know how it fairs on some of those benchmarks at CPU Boss, but but the newer one does beat that 3rd gen i3 (Ivy Bridge) on Geekbench multi-core (3,160 vs. 3,037), but still loses to it on Geekbench single-core (966 vs. 1,441). So probably not as good for any particular application, but maybe better at multitasking.

Well, Intel Atom have come a long way since their inception in the netbook era. They are far more powerful these days. I bought a Windows 8 powered Atom tablet once (though it came with 10 pre installed, as it was after the launch of 10. And retailers just updated devices before selling them here. But I didn't care as I thought 10 was what 8 should have been all along!) It came with the Atom generation before the one currently in the Surface 3 and it was a champ. It did basically everything I expected from a tablet (and more, as it ran 80% of steam's library) even did reasonably (anyhow as reasonably you might expect a sub €300,- device to do that) well with running Android under 10. The only thingh it didn't do to my satisfaction is running Civilization V (it did ran though, and was playable but not to any satisfactory rate. Might just have been my device though as it kept crashing. Maybe 4GB's of RAM would have done the trick as my tablet came with 2GB), which I wanted to ply touch first on the couch. That's why I decided to sell the extra money out for the Surface Pro 3 128gb/4gbram (instead if the regular Surface 3), but I bought one second hand of, off marktplaats.nl (translates to marketplace.com: which is a Duch competitor of Ebay and marketleader in my country) and got it relativaly cheap: €800,- (Including the Typecover 3, a sleave and HDMI adaptors, total new worth of €1350,-) something I can advise anyone to look into. My SP3 has been a absolute champ (and it came with warranty till dec 2016, it transfered the warranty of the device to my Microsoft account, so thank you Microsoft!) and have been in love with this little champion ever since! Comming back to Atom. In a nutschell, if you are in the market for some cheap ultra poratble Windows 10 (or Android for that matter) device and do some light webbrowsing, UWP app using (or playstore apps), light steam gaming (not on Android), so basically any 'light' work, a Atom based device would be perfect for you. If you want to do anything considered a 'heavy' task? Well then you're better off getting a Surface Pro or some OEM (core i5/i7 based) alternative.

Well, although I agree about the Atom having evolved a lot, the performance difference between a Surface 3 (Atom x7) and a Surface Pro 4 (Core m3) is more than significant and is actually day and night for day to day use. But Lenovo's choice was easy to make. -Atom x5 is 2W and $35 / 1000 units.
-Core m3 is around 4.5W and $281 / 1000 units.

"I once bought an Atom tablet PC" So... From that one experience you've basically written off all future/past Atom devices! The CPU within the latest few releases is pretty damn good. eMMC, on the other hand, can suck. Maybe read a few reviews.

That's how bad experiences usually work... ITunes was utter crap on my pc back in the iPod days, and it kept me from even considering an iPhone.

I'm inclined to agree with you here. I think this is an awesome evolution of the 2 in 1 form factor, but the internals are not up to spec for whom this might appeal to: graphic designers and artists. I've got my venue 8 pro, and for simple sketches, it works. Not well, but it works.

I had that design back in 1989. Contacted people at Intel, Microsoft about the idea, all came back... "Can't do it" My idea actually had two screens on each side. You could use it like a real book, or you could set one side to take notes (with something like OneNote now), or you could flip it like Lenovo did and have a keyboard displayed to type.

Doesn't surprise me. Things were huge back in 1989, so of course they couldn't accomplish what they can do today.

I actually got in touch with Toyota back in '92 about a car design I'd been thinking about.
It was to have lithium ion batteries, a 300 mile range and 0-60 of 6 seconds...with a full glass roof and autopilot.
They told me to stop pulling their chains.
Damn Musky nicked my idea :)

The part of being told that: "Can't do it" , is the reason am partnering with my friends to do it.

Acer and Toshiba BOTH release machines with two screens.

Yeah....I don't understand why having a touch screen and a pen enabled second bit that isn't a screen would be appealing. If the keyboard could change according to how your using it,or could be rearranged, or what have you, then I think it could be a neat feature. But now I just kind of look at it and ask why?

Completely Agree! Make it two identical screens - THEN we could find a new use case for it. People would start putting it to totally new uses.

No Core M 3 at least? Posted via the Windows Central App for Android (LG V10 or Nexus 5x)

That'd make it too expensive, probably in the $800 to $900 range. Also, The Verge did an in depth look at the development of this, and it was only going to be an Android device, not Windows 10 as well. Since Android doesn't need as much power a core M3 would provide, it makes sense they stuck with the Atom. Posted via the Windows Central App for Android

Ah I see thanks Posted via the Windows Central App for Android (LG V10 or Nexus 5x)

The keyboard will be subpar. It reminds me of the typing experience on the original Surface Touch Keyboards. Notably, those were discontinued when MS realized people preferred the Type Covers.

Honest question, did those covers have haptic feedback? That may help bridge the gap. Posted via the Windows Central App for Android

no they did not (though spectacular pressure registry). You could actually type really well on them, but for long typing you miss the physical presence of the keys. That is why there are so many add on keyboards for iPads. Flat screens, no matter the haptic feedback lack the 'feel'

It is rather interseting why they actually still want to push something like this, which is we know that it won't be good for typing. At least though, it's really have more purpose than that which is showcased on the video. We can use that surface as a built-in graphic tablet (though I really prefer to directly draw on the screen, if the digitizer is really that good though like minimal latency). I wish they will just go further than that and just put a touch screen instead, having dual-screen laptop which isn't new at all. Acer did this with Iconia 6120 Dual Screen laptop several years ago. Sadly it wasn't a success, but the issue is because of several factors like software (Windows even now will just treat it as dual monitor, not optimized for dual-screen book-like device), weight, battery and price. Having it dual-screen with that size, weight, and thinnest would be a real-life courier-like device. The only big missing on the puzzle is to have Windows 10 to full utilize that kind of device. It would be a completely new form-factor, a new type of PC. It should not be treated as a laptop with dual-monitor on it, but a book-like device that have two touchscreens as main interface. Seriously though, when will Microsoft realize this potential. Its not like nobody in their research labs came up with a starting concept....cough...courier...cough...

Does the gold one come with a windows version ive only seen the black one on windows on all youtube vids Posted via the Windows Central App for Android

I think the Surface Phone may end up with something like this. Just smaller.

This is a rather interesting and innovative device!

function over form! That keyboard looks like a major pain in the....

Interesting idea but it's bad IMO. They give you a pen to write and to draw and stuff like that. But you cant see where you're writing or drawing, which would have problems like overlapping of words and making them unreadable or not knowing the position of a certain part of a drawing. At least that's how I perceive it from the video.

I believe that they had 2 goals: thin keyboard can write to paper and digitize at the same time Maybe it's easier to make good digitizer off-screen? Designers and artists are used to that way. Combining digitizer to screen is quite new thing. If there were other stencils (using lightguides or monochromatic filters) for drawing etc, it could make better sense ;)

For 500$ device it's just sad to see Atom in it. Not the future.

Kbd? Enough for mobile. At home you can allways add a full size bluetooth kbd and keep the pen surface...

So does the windows version also come with cellular?

They should have made the touch area rotate. Keyboard one side, pen input the other.
As it is, this is a niche inside a niche...with no real hook for the wider market.

I think it's an interesting device. Obviously it's not for gaming or long sessions of typing. But for note taking, sketching or diagramming I can see real world applications. I work in Structural Engineering, this could be useful on the job site for sketches and notes while still powerful enough to run Navisworks or Bluebeam PDF. Neat really and cheap. Posted via the Windows Central App for Android.. But waiting for the HP Elite so I can get rid of this junkie Galaxy S5...

Sorry I reported your post while trying to like your post, damn buttons are too close

The specs are terrible. It's a glorified Facebook machine.

Terrible compared to a $1200 laptop? sure. Compared to other NEW devices in its price range? Not so much. And before you start comparing it to an AMD A8 driven, plastic walmart special for $299, please consider that this is in the same league and being marketed against the Microsoft Surface 3 and similar devices.

What I really do not understand is when a reviewer takes away points or docks a small device, in this case a 10" screen for being "Only Full HD"? It still comes out to 200ppi, for crying out loud! I'm sure there are some out there that would challenge this, but I doubt with standard visual acuity of the normal human being, anyone would be able to distinguish a "Full HD" and a "Quad HD" 10" screen from the appropriate reading distance, all other things being equal. Most TV demonstrators really crank up the brightness and HDR to sell those 4K TVs also. I applaud a company that takes the heat from reviewers and builds a sensible device that focuses more on usability and battery than on gee-whiz features that noone will use. Of course, this device has a stupid keyboard very few people will want....

Does the Pen only work on the "halo" pad, or does it work on screen too?

Reminds me of the dual screen acer iconia laptop.

I WILL have the cellular version of this and maybe, finally, retire my beloved Lumia 2520. (Kinda breaks my heart to even consider it lol )

I'm all for innovation but I don't understand how this design is better than a 2-in-1 with a removable keyboard. This keyboard is obviously worse than any 2-in-1 keyboard and for the few people who want the drawing surface an optional accessory could've been sold. For example there is no reason why a Surface or Transformer Book couldn't have an attachable accessory with identical functionality for drawing. They severely compromised the functionality of the keyboard for a feature that most people don't even need. I greatly prefer the design of the Lenovo Yoga Tab devices to this design.

Wonder how is the Lenovo hardware quality nowadays, I have had a Lenovo laptop, a thinkpad 8 and a thinkpad 10 and all of them gave me a lot of problems
Windows Central Newsletter
Get the best of Windows Central in in your inbox, every day!
Thank you for signing up to Windows Central. You will receive a verification email shortly.
There was a problem. Please refresh the page and try again.