Blast from the past as Microsoft releases MS-DOS and Word for Windows source code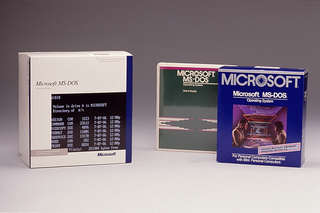 Sometimes we get so involved with Windows 8, Surface, and other products from Microsoft that we forget about their humble beginnings. Microsoft itself has not forgotten where it came from though and has released the source code for early versions of MS-DOS and Word for Windows. If you wish to step into a time machine and travel backwards to the 1980s where the adventure began, read on after the break.
The Computer History Museum in Mountain View, California is helping to make the code of early versions of MS-DOS (short for Microsoft Disk Operating System) and Word for Windows available for public viewing. The museum itself has generations of content and knowledge that aim to help preserve four decades worth of computing history; established in 1996, the museum remains non-profit to this day.
Microsoft states that the move to display the code publicly is intended to "help future generations of technologists better understand the roots of personal computing". The code certainly is a mind-turning perspective for students today; the original MS-DOS had only 300 KB of source code to accompany it (that is less than 0.002% of the minimum required space to install Windows 8).
For those who do not know the history of Microsoft, we strongly recommend watching the movie "Pirates of Silicon Valley" with Noah Wyle and Anthony Michael Hall; it is a necessity for all geeks around the world to view this film.
Otherwise, the super short story of MS-DOS coming to life comes from a partnership Microsoft formed with IBM in the early days of personal computing. Unlike many other operating systems that where produced during that time, Microsoft requested that they keep the ability to license out their software. Because IBM believed that all of the money was in the hardware and not software – they agreed and the rest is history.
For more information, visit the Museum of Computer History's website by clicking here.
Trivia Question: Microsoft actually bought the base source code of MS-DOS from Seattle Computer Products developer, Tim Paterson – how much did they pay for that source code in 1981?
Source: Microsoft
Get the Windows Central Newsletter
All the latest news, reviews, and guides for Windows and Xbox diehards.