Ms. Splosion Man for Xbox LIVE finally becomes available for Windows Phone 8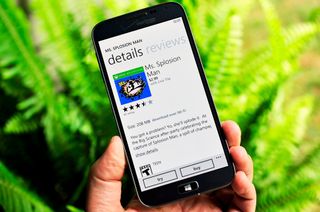 Back in April 2013, Ms.Splosion Man arrived for Windows Phone users with Xbox LIVE support. The game is based on of the famous – and hilarious – XBLA game originally developed by Twisted Pixel. The only problem is the game is only for Windows Phone 7.x, meaning those with Windows Phone 8 were unable to partake in the wacky platformer adventure. At the time, Microsoft informed us that they had no intentions to update the game for Windows Phone 8, making this game almost dead in the water upon release.
Last night, Microsoft re-published nearly 40 Xbox LIVE game titles for Windows Phone with two new features: support for Windows Phone 8.x devices, or support for 512 MB Windows Phones, or both. One of those games we missed is Ms. Spolsion Man and yes, for $2.99 (and a free trial) you can 'splode your way through the challenging levels of this exciting game.
Perhaps with the ability for a whole new audience, including those with 512 MB phones, to try out Ms. Splosion Man, this game can finally get the chance it deserves. Make sure you watch the bizarrely entertaining trailer too.
Thanks, Kyle S., for the tip
Windows Central Newsletter
Get the best of Windows Central in your inbox, every day!
Daniel Rubino is the Editor-in-chief of Windows Central, head reviewer, podcast co-host, and analyst. He has been covering Microsoft since 2007 when this site was called WMExperts (and later Windows Phone Central). His interests include Windows, laptops, next-gen computing, and for some reason, watches. Before all this tech stuff, he worked on a Ph.D. in linguistics, watched people sleep (for medical purposes!), and ran the projectors at movie theaters because it was fun.
Reportedly that is being updated too at some point.

That's gd news. Is it also true that order and chaos is getting an update?

I need Dodonpachi Maximum :)

Yes! Tentacles, DoDonPachi, Orbital, and The Harvest. Those are the WP7 games that should've been ported over long ago. Glow Artisan is good too, but they need to fix the save bug.

Yes! Tentacles, DoDonPachi, Orbital, and The Harvest. Those are the WP7 games that should've been ported over long ago. Glow Artisan is good too, but they need to fix the save bug.

I also tried to reach out to Namco on updating a few of their titles that do not work properly on 8/8.1. 'PAC-MAN Kart Rally' and 'Pool Pro Online' have been made available for 8/8.1 but the graphics are buggy as hell.

I got this entirely different

Republished 40 games. Just woah.

Two more:
OMG: Our Maniac Game
Link:
http://www.windowsphone.com/s?appid=df4abd67-abd9-df11-a844-00237de2db9e Fable: Coin Golf
Link:
http://www.windowsphone.com/s?appid=788c002f-5649-e011-854c-00237de2db9e

FINALLY! I can't describe how happy I feel right now T.T

Got canned in the ratings. Think I'll give it a miss.

it's got a solid 70% rating in the U.S. store. That's not getting 'canned'. And the Xbox 360 port it's based on has a solid 85% rating.

2.5 stars in the UK store. Just read the last 10 reviews. "Lame", "Boring", "Worst load times since my Atari ST". Not performing too well.

Well, I would suggest to just download the free trial and see for yourself, but I just tried doing that and now the game isn't showing up as downloadable for my device anymore. Hmm..

Tentacles please :-\ Posted via Windows Phone Central App

I wish this was a universal app/game. I own this already on my 360 ...

Glad the WP7 back catalogue is conning to WP8. Good show MS.

Still waiting on DoDonPachi MAXIMUM

Forget all new apps and games that are being announced everyday for WP and Windows and the hope for success of WP in general, what happened with Hidden Gems?! The winners are supposed to be announced today!

I think today is last day of entering in hidden gem contest. So the contest ended today. And tomorrow should be the date of results(i think).

Now where is splinter cell???

http://www.windowsphone.com/en-us/store/app/splinter-cell-conviction/47d...

I assume he means for WP8 and above. I've been waiting for that since the day I traded in my 900.

Sadly I don't think we will be seeing that one get updated since its Gameloft and they've dropped Xbox support. But one can always hope, that and Ghostscape (which is back on WP8 but kinda glitchy) were the two main games I had on my Focus that I really miss on my 920.

Yay, tip credit. I feel special. I started playing the game, and it seems pretty solid, although the controls aren't exactly the best, but I assume one can get used to them.

MS, this is your platform so please give these for free or make it 1$.

It's about time! Better late than never I say.

2014......! What a remarkable year for Xbox games for WP
Hope this momentum grows faster...!

Very good news with all those games coming back, never would have thought that, there is still some hope for Xbox on WP.
Ms. Splosion man is one super difficult game, loading times were horrible. Lets see how it performs on WP 8.

All right. It's been 3 hours. So how is it on WP8?

Loading times seem faster, game still looks the same but plays a bit more fluent in my opinion.
Only problem: Crashed after the first level and since then I haven't checked again. Played on Lumia 920 with WP8.
Next time I'm gonna check it on my 8.1 925.

And just like that it's gone from the store for me! I rushed home from work to start the download and bam...says it's not compatible with my device. WTF, they pulled it already?

I can confirm this, gone from the store for me as well.
Man it would be nice if there was any communication from MS.
Updating nearly 40 games and not a single word, don't get it.

I know, right? How hard is it to have a PR guy release a statement? Mind boggling. It sounded like Ms. Splosion Man was crashing for a lot of folk. Maybe they got a flood of complaints and just pulled it right away. Now, the question is, will they fix it and put it back in the Store?

surely microsoft arnt begining to support xbox on WP again are they?! WOW
iso far ive lost de Blob, Project Sunburst, Hydro Thunder Go, Doodle Jump, Mini Squadron, Chickens Cant Fly, Carcassonne, Monster Burner since i got my first WP, an omnia 7 & Glow Artisan is the only game on this big list that has come back.
wonder what chance of any of the other coming back.

Twin Blades? Hydro Thunder Go? I bought them years ago and they are excellent Xbox enabled games.

While google offers free games. Microsoft hankers after money. Some games like lies of astaroth, I didn't pay a dime (didn't even buy a single inapp purchase available) but Its seamlessly addictive and I have been playing it night n day without a miss for the last 2 and a half months now. On the other hand gameloft released a similar game chaos n order duel. It sucks as a free to play. Unless u pay u cant enjoy the game each aspects of this game requires u to use runes which in turn u need to buy from inapp purchase, The point of saying all this is that Microsoft n developers much make free to play if not free such that users can enjoy the game. Google on the other hand gives most big titles for free. Obviously ppl will move to android ( one for lack of app and other is the price tag) Even a great game plant vs zombies is not free. Most people are not rich. Microsoft must keep that in mind.

Since when google develop games ? i've never seen any google games if the game has Xbox logo, doesn't mean MS developed it Big Gameloft games went free for some Lumias, they weren't free on IOS or Android

Cool story bro. But you are way off @ hiro

dafaq did i just see in the video?

It would make more sense of you had seen the Xbox tutorials. They're all done in a similar style. I laugh everytime I see them.

Store seems down... just me?

better late than never, but for the life of me I can''t understand how microsoft doesn't release this sooner for its own fing platform.

Not a nice looking as 360 version

Yes yes yes!!! MS Studio doesn't like Brazil!! Thanks for forget us.

For some reason, Plants vs Zombies and Bejeweled Live are no longer available for my phone (HTC 8x). Another user reports the same on his Lumia 920. Yet they are not delisted. Anyone know why this is happening? Newer PopCap games Bejeweled Live + and Zuma's Revenge are still available.

They're both back for me now. I guess it was a temporary issue.

Ah Not Available for Indonesia

Hell yeah, life even better !

Come on...I got this on my Xbox 360. Lower the price for the current owners...

BEWARE WHEN DOWNLOADING. IT RUINED MY ACCESS TO THE STORE, I CALLED SUPPORT AND THEY RECREATED THE ISSUE. I HAD TO HARD RESET TO FIX, AND SO DID THEY. IDK IF IT'S INTERNATIONAL BUT IF YOU'RE IN CANADA DO NOT DOWNLOAD.

Glad to see it available on WP8 finally, but at the same time it's a pretty terrible port.

That video though!!! LOL!!

Can't download for some reason :-/

Ok this won't download because its restricted to 480x800? It started downloading earlier this afternoon.

Won't download on my Lumia 1520 resolution not compatible????

yeah getting the same resolution error. L1520

Features that are not available on your phone....? Never seen this before.

Yep, got that message as well. Lumia 1020

Awesome! I got exited when I saw ms splosion Man for windows phone and then incredibly bummed when I couldn't play it. Instant download.

Doesn't work on my 920 with 8.1. It sites that the screen is to large

I don't think that they actually updated these games, more than Microsoft just doesn't give a crap that they don't work anymore. Ms Splosion Man crashes on my 1020 every 3 plays or so, has graphical glitches, and altogether plays terribly.

It always looked like shit, even on wp7. Shame that they rushed this out only to have it fail immediately today. I'd stick with the 360 version.

The Game is not available anymore :'(

Doesn't work foe US 920. And video is agonizingly bad.

It allowed me to pay for it, but won't let me download due to the resolution bullshit. WTF!!!

Email support and get your money back. It was available earlier (on a 1020) and now it says its not compatible with my phone. BS!

Yep, same here, same error

Microsoft, if you are bringing back WP7 games, gimme Orbital!!!

Great that Microsoft is finally fixing some stuff with Xbox Windows Phone.

The game looks horrible on modern devices, like they upscaled a 320x240 resolution or something. I would have preferred this unoptimized mess to stay in its grave.