MSI's backpack PC for VR gaming is now much thinner and lighter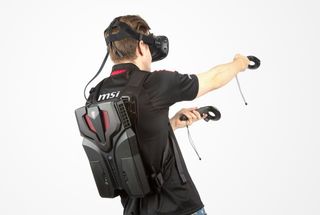 MSI has announced the VR One, a backpack PC made for virtual reality gaming and optimized for the HTC Vive headset. The backpack weighs close to 8 pounds, much less than the 12 pound prototype backpack PC that it showed off at Computex in June. It's also thinner than that older version.
MSI says the VR One will give gamers about 1.5 hours of gameplay with its two on-board batteries:
Unfortunately, MSI has yet to reveal a release date or a price for the VR One PC.
Windows Central Newsletter
Get the best of Windows Central in your inbox, every day!
Should be great to play Vanishing Realms :) Though I think walkable games should be better for some kind of AR. At least to know when you're bumping into something.
But that is the kind of game I'd want to play. Maybe the Hololens can do something like "turn your house into a fantasy dungeon".

I can see why this could be a thing, but for me it highlights one of the drawbacks of vr headsets your either tied to the console or wandering around blindly while playing a game that's going to make you move.

If you haven't used a VR headset like the Vive yet, you may not be aware that there is an in game warning system that will let you know when you're approaching a predetermined boundry. And the cables are more than long enough that for an average play space, being tied to the PC/Console isn't really that big of a deal.

It does? Nice! The Vive is great! Lots of detail.

Yeah, it's pretty cool. You trace out your play area ahead of time using one of the controlers, then when you get near the edge of your playspace, a transparant blue wall appears in the headset. I've had my Vive for about 2 weeks now and I can barely take it off it's so much fun!

Most games also have a teleporting system. You use one of the handheld things and point to a spot on the floor and then teleport there. You don't really have to walk if you don't want to. It's also not that jarring visually to teleport, there is a fade in/out.

Maybe gaming friends should spin you round three times to add to that crashing into the TV fun. I'll wait for HoloLens

They need to develop a (good) Ghostbusters VR game to be packaged exclusively with this backpack.

I approve of this man's thinking!

I can see the why and the how, I just can't yet picture the 'who' for the VR One. For me, it's a great solution in search of a problem (and a market).

Just think if you could network several of these togethter for mulitplayer...

They would all be hitting furniture and walls together!

This is some serious Ready Player One or Feedback Loop stuff :)

Don't realize how far ahead Microsoft is thinking with their truly portable untethered HoloLens, until you see something like this in action.

Thinner, and lighter, but you won't look any less nerdy.

You might not look as nerdy but at least you might not punch someone in the face by accident.

For me the battery life alone would make me not buy this. Something in the battery realm needs to happen in general. Also 41 is not So quiet. At least if you have multiple ones.

This proves how advanced HoloLens is ;)

Oh, good grief. I will laugh at and ridicule the first person I see with one of these ridiculous getups.

Nobody would just walk around with one of these. This would be something that you can pack up with the Vive and bring it over to a friends gathering. Guaranteed no one will care what it looks like once they try tjat VR.

What's funny is, this post or similar posts will probably be referenced in ten years for the jokes about the evolution of VR or AR. This thing looks ridiculous, and I look forward to laughing at these even more in ten years.
At least they're innovating in some capacity. Posted via the Windows Central App for Android

So, this plus blustacks/duos, and I can catch all the pokemons?