MSN Weather app on Windows 10 adds news section to homepage
You can now quickly check in on the weather news in your area through Microsoft's weather app.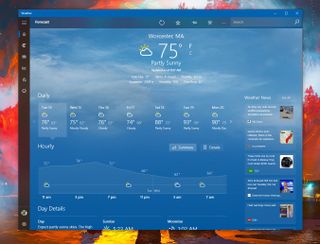 (Image credit: Windows Central)
What you need to know
Microsoft's Weather app now shows weather news on its front page.
The feature allows you to easily browse through and expand weather news.
The feature appears to be rolling out gradually.
Microsoft's Weather app now shows a weather news section on its front page. The feature allows you to browse through weather headlines and expand stories to read more about the weather in your area. You can browse through the biggest stories on the homepage or click "See All" to see more weather news stories.
The feature appears to be rolling out gradually or to be in testing. The update comes when the app bumps from v 4.36.201714.0 to v 4.43.21842.0. One member of our staff saw the update as part of a general release, while another has not seen the change yet despite checking for an update. The system that did see the update was not part of the Windows Insider program.
(opens in new tab)
This free weather app provides a clean interface and makes it easy to stay up to date with the weather. It now features a weather news section on the homepage to provide more information.
News Writer and apps editor
Sean Endicott brings nearly a decade of experience covering Microsoft and Windows news to Windows Central. He joined our team in 2017 as an app reviewer and now heads up our day-to-day news coverage. If you have a news tip or an app to review, hit him up at sean.endicott@futurenet.com (opens in new tab).
Gosh, please don't. At least in my region, most "weather news" are clickbait trash.

Agree
Microsoft have this obsession with the news. I have to moan at the Bing team all the time to not shove the news down our throats.
The news is toxic, depressing evilness. I like to esacpe the mess that is the outside world, by gaming or my PC - the last thing I need is real life intruding. If MS are listening, STOP THIS!
Nobody asked for news in their f weather app.

Hopefully this means we'll stop seeing ads for MSN News. But probably not.

Well, the button on the bottom of the navigation bar does seem to be gone.

Ick. Already has a News button on the menu. That just clutters up the forecast screen.

Well, there goes the last half-assed useable app in Win10. More consumer driven crap wanting to see everything in one place.

That's WC way of saying MS introduced ads into its apps.

It's not, these are not ads, and the app already has a news tab. Sure makes you sound edgy, though.

In between the articles that show up on the front page? In that case I stand half corrected - only half because, since there are no ads on the screenshot above, it would not seem to be intentional framing from the author, as Abinav_Shankar insinuated.

Correction, I do see the ad now. My apologies.

Showing ads in between news is not a problem but MSN page on edge has an ad banner on every alternate row which is 1 ad per 7 article. Besides that MSN has no local content in Asia. So whatever they show is somewhat irrelevant to me. I don't want that to ruin my apps.

I see an ad too. I'd like a paid tier, hopefully covered by M365. I actually like the weather app.

You aren't going to get that. M365 does not cover news, or Weather or Politics, etc. This is just taking items off the news page in Weather. which come from Weather on MSN and sticking it on the front page, where it doesn't belong.

That looks horrible. I bet there's no option to turn it off because that would make too much sense. Time to uninstall the last decent app made from Microsoft.

I clicked on your comments history by accident. Have you noticed? You're like the saddest puppy ever.

Whats wrong with wanting Microsoft to do better? There should always be options to toggle off these changes. Microsoft really don't know how to make proper software anymore. All Windows 10 in house apps have been a total failure.

I don't see the issue. I mean Bing has used something similar for years. It's a convenience if anything. What I'm hoping is that MSFT makes their Weather mobile app look like their Windows app. MSN weather was my "go to" weather app on Windows phone along with the entire MSN suite. The android version looks terrible.

The Android version is worse than that - it's buggy and unstable. <sigh>

The issue is it detracts from a nice clean forecast page. It takes up space that previously was well used, another day or hour of useful information.

If I have to look at news and ads cluttering my weather app interface, then hopefully I'll at least be able to curate the news provider list as with the News app.

The real question is, why is the MSN weather app so bad on android? Constantly being asked to login or merge an account when i open it. I would use the launcher weather only, except that it doesn't list sunrise and sunset times.

I used it a couple of times, but it was not that accurate, I don't know where it gets the weather from. I will stick to the met office, more accurate than any other to be honest, also i know what the weather is when I look out of the window.
I certainly would not use it now.

This sucks. Clutter up what was a nice clean functional screen with nonsense - complete with Ads!

Weather WAS one of Microsoft's nicest Windows 10 apps. Someone probably got a gold star for shoving ads in there, but I have zero interest in overly broad weather news and ads cluttering up my weather display. Because of this, I've already replaced Microsoft Weather on all W10 devices with "The Weather 14 days". Other than the "Full Forecast Today" feature being very slow to load, it's pretty good. I'm open to other alternatives.
Windows Central Newsletter
Thank you for signing up to Windows Central. You will receive a verification email shortly.
There was a problem. Please refresh the page and try again.