Smile, Mush is this week's Xbox Red Stripe Deal on Windows Phone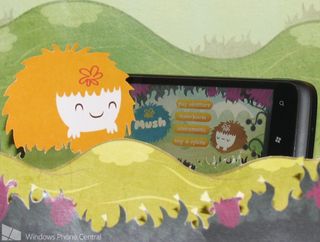 Last week's Red Stripe Xbox Deal gave us a fine sale on Sonic CD, a game that had never been discounted before. This week's game has never been a Deal of the Week before, but many of us picked it up during the Black Friday sale last year. That's right, Mush from Angry Mango will be the new Red Stripe Xbox game starting on Thursday. It's going on sale for 99 cents, down from $2.99.
Getting mushy with ya feelings
Mush is a bright and original platformer that plays a bit differently from the norm. The titular character gains unique abilities based on his emotions. Draw a smile and becomes so elated that he floats; make him frown and he sinks way down low. By switching between the four emotions as necessary, you'll help Mush solve puzzles and win a game of hide-and-seek with his friends.
As the description implies, Mush is both innocent and great for kids. But adults will still enjoy the beautiful storybook art style. The characters are all colorful, creative, and endearing. Everything has a flat, paper-textured look. And yet the backgrounds have plenty of depth thanks to excellent use of parallax scrolling. Basically, Mush makes your eyes feel like they're eating a banana split.
Achievement hunters will want to grab Mush as well, because this is one easy game. You can't die or lose, just like ilomilo. The only real challenge comes from grabbing all of the collectibles. Most are out in the open, but you'll probably have to hunt for a few. Check out our full review for more details!
Prepare to turn that frown upside down
Mush is a 24 MB download and runs great on both Windows Phone 7 and 8. It will be on sale for 99 cents for one week only starting Thursday, April 25th. You'll find it here at the Windows Phone Store. Check back tomorrow when we'll report on all three Red Stripe Deals!
Paul Acevedo is the Games Editor at Windows Central. A lifelong gamer, he has written about videogames for over 15 years and reviewed over 350 games for our site. Follow him on Twitter @PaulRAcevedo. Don't hate. Appreciate!
C'mon Paul you're killing us!!!

Copy and Paste from Bing search lol.

Definitely running late this week

I have updated the spreadsheet post on the Windows Phone App Forum to include this title.
"Red Stripe Deals Updated Weekly"

I bought this game long time ago, downloading Ice Age Village now

Link please, even though I hate Freemium junk.

Here ya go http://www.windowsphone.com/en-us/store/app/ice-age-village/f9d4703c-60f...

God this looks worse than bug village and those achievements for 7g, 12g, 22g are a big no no for me...... Not worth the time and energy from me on this

lol, at least I welcome the game

I'll only welcome the game if you can time glitch. Other than that I'll let the wife play, but I'm not wasting any time on it.

Is this our Wednesday game???

This is an awesome game. A bit slow paced, but heaping with charm.

Still playing Sonic CD from last week. There are simply way too many levels in Sonic! But I will finish it

Bought this game and pretty much lost interest within minutes because of its slow natured style. But hey some of you may like it so check it out.

Beautiful Game :) really beautiful visuals and Music, you dont go wrong with this one.

Mush is one of my favorite WP games. Pure class and charm. This is what touch screen gaming is all about, not fps.

Heh, somebody sounds like a broken record today. ;)

I picked this game up during the Christmas sale. Haven't finished it, but I really like it - it's different in a pleasant way.

Pretty good game. Low on challenge but it's not overly long, and pleasant throughout. Easy recommend for a buck.

Am still happy on the way they developed the game. Glad I picked it up when it was first released. I think MS had a .99 special as well, I don't remember, or maybe I paid the $3. Whatever, it's a great game.

Loved this game.! Finished it last month.. Highly-recommended for those users who want a very enjoyable stress-relieving casual gaming. Hope there would be a Mush 2. :)

Love Mush! That reminds me I still have a few minimotes to grab in order to finish this one out.

Its a brilliant game imo! :)

Finished this wonderful game for quite some time already, the not so wonderful part is that they never release any updates or new levels until now....sigh~~

It's so nice to actually have DOTW again even if I can't buy any of the games.
Windows Central Newsletter
Get the best of Windows Central in in your inbox, every day!
Thank you for signing up to Windows Central. You will receive a verification email shortly.
There was a problem. Please refresh the page and try again.