Movies, TV, music, and books we're into this week
Once again, weekend time is nigh. Need a good movie or TV show to watch? How's about an album to listen to, or a book to dive into? Team Windows Central has you covered.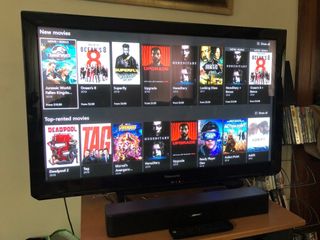 Call us lazy, but after a long workweek, Windows Central's writers and editors kind of just like to chill out. That often means curling up on a couch with a loved one or two, along with a good flick, show, book or set of tunes.
Below you'll find our latest list of wicked weekly media recommendations. Hit the link below for all of our past recommendations, in case nothing grabs your fancy in this week's version. You're sure to find something you like.
More media recommendations from Windows Central
Movies and TV
Avengers: Infinity War
Recommended by Richard Device, reviews editor
Deadpool 2
Recommended by Cale Hunt, staff writer
Warcraft
Recommended by Jez Corden, Xbox editor
Castle Rock
Recommended by Al Sacco, managing editor
See at Hulu (opens in new tab)
Music
Shotgun Willie — Willie Nelson
Recommended by Cale Hunt, staff writer
Department of Classics - Trance
Recommended by Rich Edmonds, reviewer
Books
The Death of Mrs. Westaway — Ruth Ware
Recommended by Al Sacco, managing editor
Monkey: Folk Novel of China – Wu Ch'êng-ên
Recommended by Dan Thorp-Lancaster, news writer
See at Kindle ebook Amazon (opens in new tab)
Get the Windows Central Newsletter
All the latest news, reviews, and guides for Windows and Xbox diehards.
"It's more of the same adult themes — this probably isn't one for the kids — with plenty of action, blood, and gunplay" - that'll be why it has an R rating (15 in the UK). Just because kids CAN watch R rated films doesn't mean they SHOULD - the US ratings should be more like the UK's where the films are given an age-appropriate rating

It what they're watching this week.
The guidelines are pretty clear in U.S.
G. General.
PG. parental guidance.
PG 13. parental guidance + at least 13 up
R. 17 up
I didn't see a (NC- 17 ) on this list

But with an R rating, an adult could take a 5-year old into the movie. A 15 movie in the UK is exactly that - you can't go to the movie if you're under that age and yes cinemas will ask you to confirm your age if they're not sure.

Ugh, thank God we kicked King George's butt.

Ok if a, parent think there kid/young teen can handle it then that's their decision to make.