Must-Have Xbox Live games for your Windows Phone
Best Xbox Live Games for Windows Phones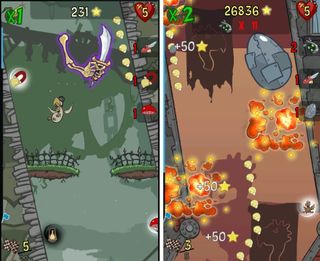 Today WPCentral is pleased to bring you a new entry in our 'Best apps for your Windows Phone' series. Past installments have included Must-have Games, Word Games, Free Apps, Photography Apps, Weather Apps, and Must-Have apps. Our Must-Have Games and Word Games articles already covered a ton of great Windows Phone titles, so where do we go from here? Let's focus on just the top few Xbox Live games this time out.
If you're new to Windows Phone, the distinction between Xbox Live games and regular ones (usually called indie games here) might seem confusing. Xbox Live is Microsoft's multi-platform gaming brand/service. Xbox Live debuted on the original Xbox console but really came into its own with the Xbox 360, where downloadable games are called Xbox Live Arcade games. Xbox Live titles on Windows Phone are basically the equivalent of XBLA games: high-profile downloadable games that (usually) undergo a rigorous certification process. On Windows Phone, the chief advantages of Xbox Live games (beyond increased marketplace visibility) are Leaderboards, Achievements, and occasional connectivity with Xbox 360 titles (which we'll save for another article).
Head past the break for more Xbox Live primer plus our picks for the top five best Xbox Live games!
Before we discuss Leaderboards, allow me to explain Gamertags. Whether you play games on the Xbox 360, PC (where Xbox Live is called Games for Windows Live), or Windows Phone, you'll need to create a Gamertag. This is your persistent profile that identifies you to everyone you meet online, friends or otherwise, and tracks your gaming accomplishments (Achievements). Once you've created a Gamertag, you can send friend requests to your fellow Xbox Live users. You can then send Xbox Live messages to them through the Xbox Live Extras App (located in the gaming hub), Xbox.com, or on Xbox 360 consoles.
Just about all Xbox Live titles (regardless of platform) feature Leaderboards: online high score tables. On Xbox 360 or PC, these can usually be sorted by global Leaderboards (ranking all users of a game) or friends Leaderboards (a ranking of the people on your friends list who play a game). For some reason, Microsoft hasn't established a global Leaderboard API for Windows Phone Xbox Live games yet (a few games like Toy Soldiers Boot Camp use a workaround). But all mobile Live games do feature friends leaderboards, so you'll want to have a few Windows Phone gamers on your friends list. If you don't know anyone with a Windows Phone yet, why not visit our forums and introduce yourself?
Now, Achievements are the key selling point of Xbox Live games for many people. Achievements basically provide a record of your endeavors, whether they're basic tasks like completing levels in a game, or optional tasks like playing on the highest difficulty or performing difficult challenges. It might take a while to see the appeal of Achievements, but they basically add more value to games by providing those extra goals that you can your friends can see even when you're not playing. Trust me – Achievements are so popular and compelling that they've inspired huge community websites like TrueAchievements and Xbox360Achievements.org.
Without further ado, onward to our top five Xbox Live picks! Don't see your favorite Live game on the list? Let us know in the comments below.
WPCentral's list of the best Xbox Live games for your Windows Phone
Chickens Can't Fly ($2.99): This Windows Phone exclusive from Amused Sloth puts players in control of a hapless chicken as he's harangued by cruel scientists. In each level, the chicken falls (not flies) through massive obstacle courses, trying not to get sliced, fried, or electrocuted along the way. Great tilt controls, sharp artwork, and a subversive sense of humor make Chickens Can't Fly a joy to play.
Not only do the 61 levels spread across five environments provide a ton of variety, but each environment has an endless version as well. Chickens Can't Fly suffers from occasional difficulty spikes, but the developers have promised to fix those in an update. Problematic levels aside, this chicken makes for a goofy good time.
Ilomilo ($4.99): In this tale of two friends, the goal of each level is to reunite ilo and milo. You'll need to switch back and forth between the pals, exploring all sides and angles of their strange cuboid world and solving a variety of puzzles along the way. The touch-screen controls are a cinch and you can't die, leaving the clever puzzles to provide the challenge. Ilomilo packs some of the most creative and endearing visuals on Windows Phone and a very catchy soundtrack to match.
Pac-Man Championship Edition DX ($6.99): Not only does this stand-out title suffer from a high price point, but it's never gone on sale, either. Still, if we overlook the price, Pac-Man CE DX is a terrific game. It builds on the foundation of the original Pac-Man, adding three new mazes with selectable visual styles and background music for variety. The gameplay has evolved a bit too, with Pac-Man now able to chomp dozens of ghosts in a single chain or use bombs when things get hectic. Numerous gameplay modes add loads of replay value as well. Pac-Man CE DX is the only portable version of the fantastic XBLA game, and belongs in the library of all avid Pac-Man fans.
Plants vs Zombies ($4.99): You can't throw a rock without hitting a tower defense game these days, even on Windows Phone. But Plants vs. Zombies stands out as the best one ever created, and my current-all-time favorite of any genre. Each of the main game's 50 levels requires players to keep a house safe from hordes of comical zombies using a vast arsenal of attack plants.
Once the main game is over and you've enjoyed the fantastic credits song, an amazing variety of minigames await as well. The minigames, which range from bowling to Bejeweled-with-zombies, provide just as much fun as the main game, if not more so. Plants vs. Zombies overflows with creativity, charm, and variety that every gamer should experience.
Review – Developer Interview - Marketplace Link
Wordament (Free): This title started life as an indie game before graduating to Xbox Live status. Microsoft must have known they had a hit on their hands, because Wordament truly is one of the most addicting games on Windows Phone. Trying to find as many words as possible from a field of 16 letters while pitted against hundreds of other online players just never gets old. Best of all, this killer app is completely free and supported by unobtrusive ads, so anyone and everyone with a Windows Phone can get in on the competition.
...
Narrowing the field of Xbox Live games down to just five titles wasn't easy. In fact, our previous Must-have Games list includes far more titles, so be sure to check it out if you're looking for further recommendations. What do you think of these five games, dear readers? And which other titles would you have included in the list?
Get the Windows Central Newsletter
All the latest news, reviews, and guides for Windows and Xbox diehards.
Paul Acevedo is the Games Editor at Windows Central. A lifelong gamer, he has written about videogames for over 15 years and reviewed over 350 games for our site. Follow him on Twitter @PaulRAcevedo. Don't hate. Appreciate!