Must-Have Xbox Live games for your Windows Phone
Best Xbox Live Games for Windows Phones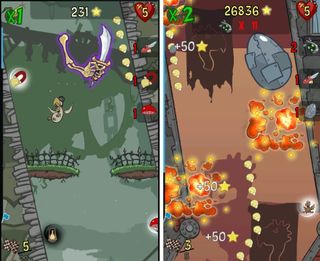 Today WPCentral is pleased to bring you a new entry in our 'Best apps for your Windows Phone' series. Past installments have included Must-have Games, Word Games, Free Apps, Photography Apps, Weather Apps, and Must-Have apps. Our Must-Have Games and Word Games articles already covered a ton of great Windows Phone titles, so where do we go from here? Let's focus on just the top few Xbox Live games this time out.
If you're new to Windows Phone, the distinction between Xbox Live games and regular ones (usually called indie games here) might seem confusing. Xbox Live is Microsoft's multi-platform gaming brand/service. Xbox Live debuted on the original Xbox console but really came into its own with the Xbox 360, where downloadable games are called Xbox Live Arcade games. Xbox Live titles on Windows Phone are basically the equivalent of XBLA games: high-profile downloadable games that (usually) undergo a rigorous certification process. On Windows Phone, the chief advantages of Xbox Live games (beyond increased marketplace visibility) are Leaderboards, Achievements, and occasional connectivity with Xbox 360 titles (which we'll save for another article).
Head past the break for more Xbox Live primer plus our picks for the top five best Xbox Live games!
Before we discuss Leaderboards, allow me to explain Gamertags. Whether you play games on the Xbox 360, PC (where Xbox Live is called Games for Windows Live), or Windows Phone, you'll need to create a Gamertag. This is your persistent profile that identifies you to everyone you meet online, friends or otherwise, and tracks your gaming accomplishments (Achievements). Once you've created a Gamertag, you can send friend requests to your fellow Xbox Live users. You can then send Xbox Live messages to them through the Xbox Live Extras App (located in the gaming hub), Xbox.com, or on Xbox 360 consoles.
Just about all Xbox Live titles (regardless of platform) feature Leaderboards: online high score tables. On Xbox 360 or PC, these can usually be sorted by global Leaderboards (ranking all users of a game) or friends Leaderboards (a ranking of the people on your friends list who play a game). For some reason, Microsoft hasn't established a global Leaderboard API for Windows Phone Xbox Live games yet (a few games like Toy Soldiers Boot Camp use a workaround). But all mobile Live games do feature friends leaderboards, so you'll want to have a few Windows Phone gamers on your friends list. If you don't know anyone with a Windows Phone yet, why not visit our forums and introduce yourself?
Now, Achievements are the key selling point of Xbox Live games for many people. Achievements basically provide a record of your endeavors, whether they're basic tasks like completing levels in a game, or optional tasks like playing on the highest difficulty or performing difficult challenges. It might take a while to see the appeal of Achievements, but they basically add more value to games by providing those extra goals that you can your friends can see even when you're not playing. Trust me – Achievements are so popular and compelling that they've inspired huge community websites like TrueAchievements and Xbox360Achievements.org.
Without further ado, onward to our top five Xbox Live picks! Don't see your favorite Live game on the list? Let us know in the comments below.
WPCentral's list of the best Xbox Live games for your Windows Phone
Chickens Can't Fly ($2.99): This Windows Phone exclusive from Amused Sloth puts players in control of a hapless chicken as he's harangued by cruel scientists. In each level, the chicken falls (not flies) through massive obstacle courses, trying not to get sliced, fried, or electrocuted along the way. Great tilt controls, sharp artwork, and a subversive sense of humor make Chickens Can't Fly a joy to play.
Not only do the 61 levels spread across five environments provide a ton of variety, but each environment has an endless version as well. Chickens Can't Fly suffers from occasional difficulty spikes, but the developers have promised to fix those in an update. Problematic levels aside, this chicken makes for a goofy good time.
Ilomilo ($4.99): In this tale of two friends, the goal of each level is to reunite ilo and milo. You'll need to switch back and forth between the pals, exploring all sides and angles of their strange cuboid world and solving a variety of puzzles along the way. The touch-screen controls are a cinch and you can't die, leaving the clever puzzles to provide the challenge. Ilomilo packs some of the most creative and endearing visuals on Windows Phone and a very catchy soundtrack to match.
Pac-Man Championship Edition DX ($6.99): Not only does this stand-out title suffer from a high price point, but it's never gone on sale, either. Still, if we overlook the price, Pac-Man CE DX is a terrific game. It builds on the foundation of the original Pac-Man, adding three new mazes with selectable visual styles and background music for variety. The gameplay has evolved a bit too, with Pac-Man now able to chomp dozens of ghosts in a single chain or use bombs when things get hectic. Numerous gameplay modes add loads of replay value as well. Pac-Man CE DX is the only portable version of the fantastic XBLA game, and belongs in the library of all avid Pac-Man fans.
Plants vs Zombies ($4.99): You can't throw a rock without hitting a tower defense game these days, even on Windows Phone. But Plants vs. Zombies stands out as the best one ever created, and my current-all-time favorite of any genre. Each of the main game's 50 levels requires players to keep a house safe from hordes of comical zombies using a vast arsenal of attack plants.
Once the main game is over and you've enjoyed the fantastic credits song, an amazing variety of minigames await as well. The minigames, which range from bowling to Bejeweled-with-zombies, provide just as much fun as the main game, if not more so. Plants vs. Zombies overflows with creativity, charm, and variety that every gamer should experience.
Review – Developer Interview - Marketplace Link
Wordament (Free): This title started life as an indie game before graduating to Xbox Live status. Microsoft must have known they had a hit on their hands, because Wordament truly is one of the most addicting games on Windows Phone. Trying to find as many words as possible from a field of 16 letters while pitted against hundreds of other online players just never gets old. Best of all, this killer app is completely free and supported by unobtrusive ads, so anyone and everyone with a Windows Phone can get in on the competition.
...
Narrowing the field of Xbox Live games down to just five titles wasn't easy. In fact, our previous Must-have Games list includes far more titles, so be sure to check it out if you're looking for further recommendations. What do you think of these five games, dear readers? And which other titles would you have included in the list?
Windows Central Newsletter
Get the best of Windows Central in in your inbox, every day!
Paul Acevedo is the Games Editor at Windows Central. A lifelong gamer, he has written about videogames for over 15 years and reviewed over 350 games for our site. Follow him on Twitter @PaulRAcevedo. Don't hate. Appreciate!
I have 2/5. Love plants vs zombies, and wordament. Been playing wordament since it release. Great game. So Addictive =D Only other one im interested in is chickens can fly

good list. got all of em except for Pacman..
Chickens Can't Fly is by far my favorite and along with Wordament make the best exclusives for the platform. honorable mention: Parachute Panic!

I've been waiting for Pac-Man to go on sale since the day I bought my phone!
$6.99 is just too high a premium for that game - even $4.99 would be pushing it. It's visually stunning and has terrific gameply but I'm going to wait for a price drop before I bite the bullet.
Maybe this article will help 'lean' on the right people to get it on sale.
I own Ilomilo, PvZ & Wordament and have tried Chickens can't Fly - all great games.

Same here, been waiting for Pac-Man sale or price drop since it was released. I'll bite for $5 though

It is worth the money, game has a ton of play/replay value. Besides it is still cheaper than the arcade version on Xbox so all in all a deal.

On the other hand, the XBLA version has 7 more mazes/graphical themes/songs and a free play mode thast are missing in the phone game. That's why I don't consider the WP7 version to be much of a deal, despite its quality.

I agree with the price. Fantastic game but I refuse to pay that much for pacman. I have purchased certain titles like tentacles just to support the IP and developers for quality and unique WP7 titles. But, 6.99 it too much in my opinion. 2.99 I would buy right now.
I also purchased every single 99 cent title depsite the quality. I will bite on anything for a buck as long as it is not broken

I can't agree with that, I refuse to buy crap just because it's cheap, let alone waste my time on it. On the other hand I don't feel bad to pay premium price for a game if it actually deserves it. I'm all for value not price.

I can't seem to ever fully enjoy a WP game. I am always flirting with low memory on my VZW Trophy, and my phone once in a blue moon erases app data thus deleting all my progress. I have heard of 1 other person having this issue with a low remaining storage device. Anyone else?

Nope none of those things have ever happened on my trophy.

same, other than not looking as cool as a nice Lumia, my Trophy's been pretty rock solid and I really do like it.

Same here, no problems with mine. While I do admit to having a bit of gear envy for the Nokia's and the Titan II, I still love my Trophy. Best phone I've ever had. Fingers crossed for a new Nokia device on Verizon after Apollo drops but I'm happy with what I've got for now.

Haven't heard of those issues with the Trophy. You might've gotten a bum model. If you have the protection plan it might be time for your phone to have an "accident" so they give you another.

I would agree with the others. I've been using a Trophy for a year now and have never had issues with memory or games.

Sorry to hear, probably bad memory or flash.

Wordament is a great game, high quality, entertaining and addictive and you just might learn some new words too. Besides its free, so you've got nothing to lose to try it out.

Nothing to loose exept pride :-P

When I purchase my first WP device, PvZ will be the very first app I download! Love that game :)



Shuffle Party is the perfect mobile game. Little bits of play. Good use of the XBL avatar. Best of all, free!

Yeah I totally agree about Shuffle Party - I thought it was going to be lame, but after playing it for hours while I was on a flight. It's awesome - so many game modes, the challenges are fun, bowling is fun, tons of replay value.

Hydro Thunder GO is the rare Windows Phone exclusive game that friends can't get on other platforms. Plays great and shows off the graphics.

I think rocket riot is a great exclusive too that came from 360.

I believe Rocket Riot was released for iOS some time ago, after the WP7 version

You're right. It was released on iOS in November

I really like Hydro Thunder..

I was very close to including it on the list... Definitely one of the better mobile Xbox Live games.

I also like tentacles, at least I enjoy it anyway. Never tried chickens can't fly so I may give that a shot if it goes on sale. I'll never pay for the $5 and $7 titles so I'll never know about those lol

Tentacles is another amazing exclusive. PvZ is easily worth $5, but I can see your concern for paying that much for a mobile game.

It free to try chicken can't fly.

I love Tentacles. It's my fav. I got 200 gamerscore on it. It really isn't that hard. It's challenging but not impossible. I purchased the DLC but still haven't had the chance to finish it

Tentacles is one of, if not the best WP game.

I would highly recommend downloading 'Portal 2D' as well. It's not a xbox live game but it is incredibly fun and challenging.

I second that! really great game.

I prefer geoDefense to Plants vs Zombies as a td game, but you might as well ignore me.

Geodefence and the newly released Geodefence swarm are the mutts nuts!

geoDefense is great too; it just has way less content and personality.

Breakout and Breeze are my very good too. First games I dl when I got my Focus S. Very addicting.

Ilomilo is simply awesome. Only WP7 game I got all acheivents for.

Armed needs to become an Xbox live game

Awesome list! Mine would be #1 Plants vs Zombies, #2 Solitaire, #3 Pac Man deluxe, #4 Wordament, #5 Bullet Asylum

Bullet Asylum is one of the worst... You can literally just slide your finger back and forth very fast and win everything. Try dodonpachi, 2 months of play, maybe an hour a day, and I still can't beat 4d. 1. Ilomilo
2. Dodonpachi
3. Tentacles
4. Hydro Thunder GO!
5. PvZ

Not if you want all the achievments.. I love this game, but then again I love button mashers too haha. To me it is fun! Dodonpachi is ok, kind of hard to see what is going on.

Tentacles and Rocket Riot should be on the list. They are PERFECT examples and models for what an xblc game should be.

Chickens Can Dream is a free prequel to Chickens can fly. It was pretty good... It has touch controls you can use instead, otherwise I wouldn't have bothered with it (hate accelerometer controls).

Well that game is no longer available.

Nfs hot pursuit. Best driving game.

Ouch... It has nice graphics, but I didn't think i was a very strong game (see our review).

If we're specifically calling out Xbox LIVE games we should mention Fable Coin Golf since it helps you earn money in Fable 3 on the Xbox 360. I'd love to see more integration like that. Example: a Halo phone game where you could earn stuff for Halo 4 like weapon drops, armor, etc.

agreed. With the release of Halo 4 later this year it would be great for some type of halo title that has connectivity with Halo 4 in some way.
I also like the idea of the phones and playing kinect titles with family on it (demo shown months ago of adventures)

Seriously DonDonPachi should've made this list...oh and its exclusive too!

At first the list was going to have 10 games and it was on there... Just whittled it down to fewer games with more general appeal.

1.Tentacles
2.Rocket Riot
3.Wordement
4.ilomilo
5.PAC-MAN CE DX

I'd like to suggest 'Radiant'! Not an xbox live game but I am amazed that it isn't

I like Z0MB1ES (on teh ph0ne). Awesome controls and I love putting my friend's faces as Zombies and shooting them! Plus it has that awesome Viking game, too! And I picked up IonBallEX when it was on sale and it's pretty good, too!

I think Circus could be another sneaky favorite once it matures.
Neat game, great colors, safe for kids.....just need more levels ! And of course make it a little harder with more enemies and hazards....

worst list ever... 8~X
only PvZ is actually a good game.
others that need to be on any wp7 games list:
- tentacles
- civ rev
- farm frenzy 2
- geodefense (NOT SWARM! swarm suckz!!!
those are just some of the games i keep playing over and over... ;)

Well, thanks for the useless rebuttal. Actually, all game quality is subjective. Your opinions of what's good and what's not don't affect what other people enjoy. This should all be obvious already, but the internet...
Windows Central Newsletter
Thank you for signing up to Windows Central. You will receive a verification email shortly.
There was a problem. Please refresh the page and try again.