Must-have games for your Nokia Lumia 900
WPCentral's list of the best games for the Lumia 900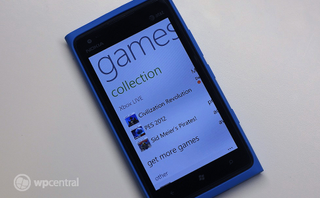 You've read our Must-have apps for the Nokia Lumia 900, now it's time for the games...
One of Windows Phone's most attractive features to gamers is its Xbox Live integration. All Xbox Live games feature Achievements and online friends leaderboards, making it easy to compare and show off your progress with your pals. Every Wednesday Microsoft releases a new Xbox Live title, which come in the following price ranges: free, $2.99, $4.99, and $6.99.
With over 100 Xbox Live titles released so far and many more on the way, new users like those who've just picked up the Nokia Lumia 900 (review) might have a tough time deciding which games to grab first. Factor in the abundance of indie games and there's even more to choose from. Fear not, friends – I've played nearly every single Xbox Live game on Windows Phone, and reviewed most of them for this very site. If anyone can help, it's WPCentral.
Read past the break to learn what I think are the best...
Best games for the Lumia 900
Here are my suggestions, divided by category…
Freebies - First you'll want to pick up the free Xbox Live titles. Most are supported by ads and offer 50 GamerScore of Achievements, though Bug Village has 200 GamerScore and relies on optional microtransactions rather than advertisements. These are all the current free games, roughly in order of quality from best to worst:
Casual – Games that anyone can pick up and play, regardless of age or gender. These are usually great to pick up and play for a few minutes at a time. Some of these could fit within other genres, but I've placed them here since they have that extra simplicity and appeal.
Hardcore – Looking for a challenging, console-like experience? Dodonpachi Maximum is a vertically-scrolling bullet hell shoot-em-up from Japanese developer CAVE. With 15 ultra-challenging stages, you'll need a ton of practice to unlock its secrets. Zombies (on the Phone) is actually three games in one. All three are twin-stick shooters (with virtual sticks, obviously) and a great sense of humor.
Physics puzzlers – Physics-based puzzle games are in surprising abundance – even games like Angry Birds fall into this genre. Assuming you've already got that game (or want something a little more puzzley), the two best physics games are Gerbil Physics and Tiki Towers. Both are just loaded with charm. Gerbil Physics is a little rough around the edges at the moment, but the developer is planning an update to fix up its minor problems
Racing – Windows Phone doesn't have a ton of racing games just yet. Of the few on offer, Hydro Thunder GO is easily the best. It features fast-paced, arcade-like gameplay, fanciful tracks, and impressive water effects. If you like the Xbox 360 version, you're sure to love playing Hydro Thunder on the GO.
Sports – Like racing, there aren't too many sports games to pick from at the moment. Still, these two selections easily hold their own in quality. Let's Golf 2 is a highly-polished arcade-style golf sim, very reminiscent of the Hot Shots Golf series. It does have one broken Xbox Live Achievement, but otherwise it's a must-buy. Pro Evolution Soccer 2012 (also known as PES 2012) is Konami's highly realistic soccer/football simulation. If you're serious about your soccer, don't hesitate to grab it.
Strategy – Windows Phone has several great strategy options, and even more like Carcassonne on the way. Zombies!!! is a unique horror-themed board game that's slated to receive online multiplayer in a future update. Civilization Revolution may not be easy on the eyes, but it packs an incredible amount of depth. Taking your civilization from the dawn of time all the way into the future just never gets old, provided you can get your head around the interface. Finally, Plants vs. Zombies is the best tower-defense game ever created and my personal favorite game. Use an arsenal of attack plants to keep your house safe from hordes of comical zombies. You'll be amazed at how many clever minigames PopCap squeezed in on top of the main game.
Indie – While Xbox Live games are Windows Phone's special draw, the platform also hosts a multitude of interesting indie titles. Even GamerScore hunters owe it to themselves to check out the cream of the indie crop.
Armed! is a turn-based strategy game from Sickhead Games that features impressive 3D graphics, an unparalleled user interface, and best of all – online play. It easily matches Xbox Live games in terms of quality.
Dragon's Blade is one of the very few Japanese-style turn-based RPGs on the platform. Not only does it provide a series role-playing experience, it even has online play to boot. With both a paid and free version, RPG fans have no excuse not to try it.
Words by Post is an online Scrabble game. There are actually several such games to choose from, but its cross-platform multiplayer gives it the edge.
Rainbow Rapture is a clone of Tiny Wings on iOS but oh so much better. The story is you're a cloud-rainbow who's unhappy with the world. So you've decided to eat everyone. Yes, it's misanthropic, colorful, challenging and hilarious. By diving and flying high, the physics in Rainbow Rapture and the 60 FPS makes a fun, casual game. See our hands on here to get an idea. And if you like it on Windows Phone, you'll love it on your Xbox 360.
Last but not least, MonsterUp is a Doodle Jump-like endless jumping game from Karios Games. In many ways it surpasses the original, thanks to the bright, cheery monster designs and highly honed gameplay.
Armed! - $3.99
Words by Post - $2.99 or Free
Wordament - Free (Now an Xbox Live title)
Rainbow Rapture - $1.49 or Free
MonsterUp - $1.29 or Free
Survivalcraft - $3.99
Are those all the best games for Windows Phone and the Lumia 900?
There you have it – my personal favorite Windows Phone games in a variety of genres. Did I miss one of your own top picks? Let me know with a comment.
Get the Windows Central Newsletter
All the latest news, reviews, and guides for Windows and Xbox diehards.
Paul Acevedo is the Games Editor at Windows Central. A lifelong gamer, he has written about videogames for over 15 years and reviewed over 350 games for our site. Follow him on Twitter @PaulRAcevedo. Don't hate. Appreciate!