Must-have apps for your Nokia Lumia 900
WPCentral's list of the best apps for the Lumia 900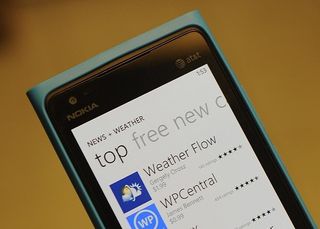 Although veterans of this site will know what are some of the best, must-have-apps are for Windows Phone, new users coming to the platform with the Lumia 900 (review) will not. So for our new friends, we'll get you started on some of the most popular, useful and impressive apps for Windows Phone.
Sure, we "only" have around 70,000 apps but that's still a heck of a lot to sift through. And since we've personally installed over 1,200 apps and games on our Windows Phone, we think we can lend a hand.
So without further ado, here's our list...
The best games for the Lumia 900
Twitter - There are literally dozens of Twitter apps on Windows Phone and everyone has their personal preference. Here's a few worth looking at ranging from free to pay:
YouTube - The official YouTube app is but a portal to the site. But something like YouTube Pro will knock your socks off with HD video, background downloading, favorites, login into your account, comments, uploading of new video and more.
Facebook - Well, besides the built in Facebook capability (which is limited) there's the official Facebook app which gives you nearly 100% access and control of your Facebook account and features to interact with your friends.
Foursquare - Yes, there's an official app but the third party version called 4th & Mayor is the better choice. Both are free.
Netflix - If you enjoy watching movies on the go and have a Netlix account then this one is a no brainer. Go pick up the official Netflix app for free in the Marketplace and enjoy streaming over 4G LTE.
Pandora - While there is not an official app for Pandora you do have three unofficial apps that are even better.
We're also going to give a shout out to the incredible iHeartRadio app (free) which not only gives you Pandora-like features but also lets you stream live radio. Plus it even works on your Xbox 360 (opens in new tab).
Photos - There are quite a few photo editing apps including the free Nokia Creative Studio. But if you want more, then our recommendation would be:
Instant Messaging - There are quite a few messaging solutions for Windows Phone including
Skype Beta - Though it can't run in the background and is still in beta, you can go ahead and use Skype on your new Windows Phone with voice, video and chat capabilities. In fact, the audio is really good for phone calls.
Weather - Like Twitter apps, there are quite a few really nice weather apps available. Everyone has their preference but here are some of the best and most popular:
For those wanting a very visual weather experience, you'll definitely want to try
News and RSS Readers - If you follow a lot of websites and need something to handle your RSS feeds or just want the latest news, then you have a great selection from these top-shelf apps:
Google Services - If you use a lot of Google stuff, you'll want to try
Miscellaneous - Some other official or noteworthy apps include
We're sure we missed a bunch of apps, so if you have any that you can recommend, sound off in comments!
Windows Central Newsletter
Get the best of Windows Central in in your inbox, every day!
Daniel Rubino is the Editor-in-chief of Windows Central, head reviewer, podcast co-host, and analyst. He has been covering Microsoft since 2007 when this site was called WMExperts (and later Windows Phone Central). His interests include Windows, laptops, next-gen computing, and for some reason, watches. Before all this tech stuff, he worked on a Ph.D. in linguistics, watched people sleep (for medical purposes!), and ran the projectors at movie theaters because it was fun.
Thanks from a new windows phone user Daniel.

Personally, I think the not mentioned Wonder Reader is better than Nexygen. Both are good though.

Cardinal SIN that you didn't mention USA Today, quite possibly the most beautiful news app.

Fair enough, I'll add it. It's really hard to remember every app, lol.

If any users looking for an Instagram type service I recommend Fhotoroom!

Also WPcentral perhaps you can do an article to help firstcommers set up things like msn messenger. No one seems to know how to use that!
How to use Skydrive to sync docs to the phone



Good ideas. We're already working on such things too.

Also, if you're looking for dedicated news apps, there are - USA Today (official), Fox News (official), BBC (unofficial, but really good), NY Times (official, requires subscription), and a few more. Welcome new Windows phone users!

Thank you for including SurfCube in the list! Both SurfCube and Rowi are on sale for a limited time, celebrating the launch of the Lumia 900 in the US. Get them for $0.99 now!

Shazzam, SoundHound (for when Bing Music can't find it), AccuWeather is very full featured, Across the room for office fun, Bandwidth, imdb, insider, newsy, my fitness pal, unit converter, stopwatch.

Here's my Daly Dozen! :)
1. You guys always leave off the Twitter app that I use: MoTweets
2. A great photography app is fhotoroom - it's what iSheep WISH Instagram could be. It also has a great alternative camera app that gives you more control of your shots.
3. For News - try Newsy. It has short videos that pull from multiple sources/perspectives to give a well rounded story to each topic.
4. Evernote - get organized and keep track of everything (better than OneNote, in my opinion)
5. AppDeals and Marketplace Deals are both good for finding apps that go on sale or go free!
6. Windows Phone News - all of the platform blogs in one spot. This is where I find reviews, new apps, update announcements, rumors, etc.
7. ESPN ScoreCenter - sports scores, schedules, news
8. Pageonce - personal finance (look for your bank specific app too...I use USAA and Navy Federal...USAA has an app, Navy Fed doesn't, so I use PageOnce to keep up)
9. Pinsation - the WP app for Pinterest (now the 3rd largest social network)
10. SkyDrive - store and share your stuff with 25GB of space (How'd you miss this?)
11. Super Dialer - alternative to the built-in phone dialer. This one lets you search the phonebook by dialing (smart dialing) and also supports group text.
12. GoGetter - get organized with this Getting Things Done (GTD) based app



I know this doesn't really include games but I think Taptitude is an app you have to try

Insider is a must for any new user to WP. Tips, wallpapers, ringtones, deals. All for free.

Oh wow! So in other words, despite Apple having 350,543 more apps than WP7, I have access to the apps I actually use! WIN!


That is an amazing list! Great apps, don't think I saw Fantasia Painter though which is my favorite mobile app!

WordBook ... best dictionary! Bit expensive but worth the money. It allows you to tag words as "Favorite". I use this feature to keep track of words that are new for me and to help me to expand my vocabulary.

Ooops...for my Daly (Baker's Dozen), I'll add AP News for news. It's been redesigned and looks really great. Great news app.


2 great productivity tools every user needs until the next version of Windows Phone: Add to Contacts & Calendar Search.

extensive (possibly too extensive) list. only one I'd ads is 8ttacks, a great app and far better service than Pandora.

I personally like Fantasia Painter for photo editing. Its literally like having Photoshop on the go.

Can't have iheart radio without recommending Tunein Radio.....

Another vote for TuneIn Radio. Iheart is great but TuneIn has more actual real live stations from my home market and other markets.

I recommend the following apps: 1. FlashVideo for WP7 ($4.99) - this app allows you to play videos from streaming sites/servers such as PutLocker, SockShare, ModoVideo, GorillaVid, VideoWeed, VideoBB, Videozer, etc. Not only can you stream on your phone, but you can also download the videos to your phone as well. Granted this app is pricey, but to be honest I use it every single day, and it has never failed me once - especially on websites such as tv-links. Moreover, the developer seems to be really committed to this app, when something fails he's on it immediately for fixes. He's still adding more server/streaming sources as well. 2. IN+ Networking (free) - A pretty good unofficial LinkedIn app. 3. GO Info (free) - For Ontario users who regularly use the GO (train & bus), this is a neat app, it loads in all scheduled departures and arrivals. 4. Timmy Tracker (free) - Canadian users, Tim Hortons, enough said :) 5. Tango (free) - A Skype/Google Voice type VoIP app.
Official Microsoft Apps: 1. SkyDrive
2. Microsoft Lync 2010
3. Translator
4. Unit Converter
5. Weather
6. Shopping List
7. Level
8. Face Touch - Take photos of people, mess around with their facial expressions.
9. World Clock

Fitness apps:
* Sports Tracker
* RunKeeper
* HealthVault
* Livescape Anti-healthy apps, lol:
* Pizza Hut AVOID LIKE THE PLAGUE: Endomodo and Marathon

What's wrong with the Endo?m

What's wrong with Endomondo?
I use it, it's great. No problems.

I've been happily using Marathon for quite a while now--makes me wonder if I'm missing something? :(

Yes, whats wrong with endomondo? I would avoid Runkeeper like the plague. In fact, I dumped Runkeeper in favor of Endomondo. Their latest update was prettty awesome.

Why are there no Business/Traveler app recommendations? Windows Phone needs a bigger business section, and one way to start this is pointing more users there. It's bad enough that the business category is all the way down on the list in the Marketplace, even though it starts with a "B." Microsofts "Metro" ordering of things is very annoying - alphabetical is the best way to go.

Connectivity shortcuts for adding a tile for WiFi, Bluetooth, etc. Has a good amount of customization for the tiles to add some variety to your home screen.

I'm gonna add Freda ,favorite ebook reader and Words by Post avail on both iOS and Android scrabble-esque game.

For those looking for a Words With Friends equal try Words By Post. It calculates your score for you prior to making a move and find your friends from Facebook, Android and IOS to play against. There is a paid and free version. WordFeud is available too.

A Hanging with Friends substitute, Get High with Words

WPCentral is too cool to recommend their app strongly but I love it for the WPCentral app for news, apps reviews & podcasts. Its a must have if you have a windows phone!! Its great!!

Gonna definitely give my endorsement to the USA Today app. For photo editing, no one beats Thumba IMO. For those who like instagram, I do like fhotoroom. But only since recently has it been usable. Maybe its just issues with the Focus, but it would restart my phone 100% of the time. They've done alot to fix the crippling bugs and its usable now. But far from perfect. Also, I've noticed alot of questionable pictures being uploaded that i know from experience you would not see on instagram. So I'm hoping they reign that in. Otherwise, a good app. If you are a big TV watcher, Prime TV is a good one to keep track of your shows and even gives you notifications similar to the calendars (along with live tile support) on when your favorite shows are airing

RSS Central is a great RSS reader and Accuweather for weather.

Yep agreed RSS Central very powerful.

With a Forward Facing Camera, you should really get Video Journal ;)

Not only can you record private video using the FFC and upload to Dropbox and SkyDrive, but you can also share the video to ANY connected account including Twitter, Facebook and LinkedIn. Plus live tile, reminders, jumplists and more...

Here it is http://windowsphone.com/s?appid=3b9e30b5-752f-4a09-adff-2140563d7e16

And if you really want to be an Enthusiats, then you need to give "WP Enthusiat" a try. :-) It bring all your Windows Phone news to you and blogs from top Windows Phone Devs.

Maybe silly question, but why is Skype Beta not in the marketplace at the moment???

Just a guess, but since it is in beta Microsoft doesn't want any averge joe to download it. It is available by direct link
http://www.wpcentral.com/skype-windows-phone-app-hits-beta

Found it thanks, damn I thought the beta test was over... Ms better finalise it soon, not a good look hehe

For photo section, I recommend Apict, giving you instant LOMO camera feeling, $0.99 and... hey where's WPCentral?

Apict is awesome, I agree.

Can't see Netflix in UK ?

Anyone who uses mail-order is going to want Parcel Tracker--it works fantastic for most of the world.

Game News Now and WP7 news are excellent aggregators by the same developer.

Pulse and News360 are excellent general news aggregators.

Star gazers will want SkyMap, Satellites, Space Weather, LunaSolCal and Meteor Shower.

I don't know about elsewhere but In Canada, Flixstr works way better than IMBD for showtimes.

NumberGuru for looking up unknown numbers.

Marketplace Deals and App Flow are worth checking out but I noticed that App Flow completely missed the Xbox Live Easter sales this weekend whereas MarketPlace deals had them immediately

+1 for Flixster. It is my go to showtime/box office movie app.

I've come to prefer InstantReddit over Baconit. Just seems a little faster and more fully-featured. Both are great options, though.

If u like a slick and beautiful todo app try Clearer. If u want to find games, GoodGame is a game discovery app that also allows u to see what your friend has downloaded. Or if you are feeling adventurous, make your own app for your phone using AppBuilder!

Here are some more
1. WNM Live
2. Picolyrics
3.Supertube,Supermusic,easyring.
4.Artist info.
5.Wp7applist
6.Yivosoft recorder.
7.Emoti,Last.fm,slapdash podcasts.
Enjoy! Happy noking.

Here are a few more from my personal collection:
-Speed Dial Tiles - Create a list of Favorite contacts to call. You can call anyone with a single tap (two actually as you must say "Yes" to the prompt, or tap & hold to see a list of "all" numbers and email address for the contact. Sure, you create a Group of Favorite contacts for free, but you might want to give this a try. Includes Dropbox backup/restore although setup for a dozen contacts yesterday (loading on my L900) took all of about 2 minutes as all the infor gets imported automatically.
CleverToDo - The best tasks app I have found in Marketplace. Includes a beautiful, informative Live Tile, recurring tasks, reminders and full backup capability to their server or Dropbox. Loaded it up on my new L900 yesterday, imported my data,and didn't miss a beat.
Tile Notes Pro - Only found this recently, but it is fantastic. Aside from being able to manage quick post-it type notes, you can pin a tile to your Start screen and after tapping, dictate a short reminder. Speech recognition is excellent. It will create a new tile with your message. Tapping the tile allows you add a date/time reminder if you need it. Also, don't know how the developer pulled this off, but I installed the app on my new Lumia yesterday and the four notes I had on my Surround instantly appeared. Still can't figure that out, but I like it.
Two-Tap Reminder - A very efficient app for setting quick reminders. Opening the app allows you to set a quick reminder w/o a message, a reminder with a message or a recorded message. You can pin any of these three types of message as a quick launch button. So you tap a quick launcher, select or type your message (you can pre-define messages) and use their fast selectors for setting a date & time for the reminder. In and out quick. I use this almost every day.
Sports Scores - A great app for getting major league (US) schedules and scores. It also has a great Live Tile that can display up to four favorite teams/games (two on each side of the tile) and uses "push" so it updates every 10 minutes.
Ask Ziggy - And how can you forget this one. A Siri clone.

You didn't mention that the baked-in Twitter, or official app are available and more than adequate for a lot of people. News360 is a pretty good news aggregator.

What is the difference between the youtube pro "free" and the one that's $1.29

I feel InstaCam should have been included in the photos section. Gives you decent filters, ability to share in several ways, and ability to view your friends InstaGram feeds, even if you can't upload to InstaGram itself.

Flux
Evernote
To-Do Tasks (if you are a worker bee)

BBC Radio 1 Player - Popular online radio player
Dark Viewer - Advanced Image Viewer and Vault

wp7news is the best windows phone news source... gathering feeds from several sources and creating a unified reader experience.

Fhotoroom for photo editing and also as a butthurt recovery due to Instagram.

Tilenotes is the best for quick note taking and iSpeak is the best speech translator out there!

App parity has gotten much better over the last year, so almost anything one could want is either available, or an alternative has filled the gap. There is still much to be done though. I would love to see better games frankly.

STARBUCKS app- get the Starbucks Finder app for mobile payment (by adding your Starbucks card) and finding nearby open stores! (yes, we made it but it's the highest rated Starbucks app for WP7 with 5 stars in the marketplace and will integrate seamlessly into your new Nokia experience!!) It is free.
http://bit.ly/StarbucksWP7

Also recommend:
- Wordament (a really fun word game!)
- Windows Observer
- Urban Dictionary 7
- Rowi


- MyTextTwister for some great texting fun.
- PhotoFunia for some great image effects fun.

MegaTile: Great start screen custom tile app
theChive: well, duh... keep calm & chive on

You have some other apps I use ( and bought ), here is my list.

Bill Organizer: A clean and simple Bill reminder app. It has a great metro UI and is very simple but efficient in use. You even have a offline sync tool so you can view your bills in browser as well. A handy app for the boring bill work ;). It's ranked in the top 3 in the finance category for the USA.

AutoManager: Manage your fuels comsumption and your costs. I used to do this by hand but now It's much more efficient.

AppDeals: This app will gather all the deals that are going on the marketplace. This way you can find an app that has a discount for a week or that has just gone free.

Add Sophie Cam to the Photos list! It is Windows Phone's Instagram, with the filters, not the social network. And it's FREE! Also add Fhotoroom, it is certainly WP's Instagram-like photo network, along with filters.

Here's my list of great apps to check out on Windows Phone: Photo apps
Sophie Cam, Apict, LoMob, theChive, Pinsation, FFFFound, Fhotoroom, Flickr. Driving apps
INRIX Traffic, GasBuddy Video apps
PrimeTube, Vimeo, Machinima News/Blog apps
News360, Fuse, FLUD, Weave, Baconit (Reddit client) Weather apps
Weathermaster, WeatherFlow, The Weather Channel Music apps
Radio Controlled (Pandora client), Last.fm, iHeartRadio, Spotify, Shazam, Soundhound Twitter apps
Beezz, Mehdoh, Rowi, Seesmic, Gleek! Tumblr
TumbleBee Sports apps
Pro Sports Scores, Scoremobile Shopping
Smart Shopping, AppDeals, AppFlow, WP7Applist, Groupon Travel/Going out
Skyscanner, TripAdvisor, StubHub, Split It (Tip calculator), FlightWatcher, Flixter, Fandango Other great apps
Clinometer, Congress, Craigslist Mobile, Flashlight 7, GDocs (Google Docs app), GoVoice (Google Voice app), Kik Messenger, IM+, Reinstaller, Runtastic, Suggestion Box
Enjoy! :)

Here are a few of my picks to add.
1. Easy Alarm - Nice tool when you just need to set a timer for a hour or two, I use it all the time when I've got my car parked by a pay meter.
2. Forward Contact - Need to sent contact information to someone else, this tool makes it easy.
3. GV for Windows Phones - Google Voice client that I like to use.
4. PackageTracker - Keep tabs on shipments
5. Yammer - only useful if you use this network, but my company does, so I use it!


Ok so I didn't go over the previous posts with a fine tooth comb, so excuse me if I repeat something.
Engadget
Flud (social news reader)
Endomondo (
Trailhead (for those of you who like biking,hiking, etc)
Newegg
USAA (have to be a member of course)
theCHIVE (for Chivers out there)
Weave
goCatch (cab catching app)
Starbucks Card (by Denham) its free and beats My Starbucks Card hands down.
Im sure a few others I am missing.

Freda reader is probably the application I use the most, since I use my phone as an ebook reader extensively and Freda (free and $.99 version) is great with epub books.
Windows Central Newsletter
Thank you for signing up to Windows Central. You will receive a verification email shortly.
There was a problem. Please refresh the page and try again.