Five paid Windows Phone apps I simply can't live without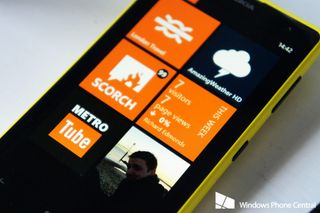 Downloading apps from the Windows Phone Store can open up a whole new world of possibilities. No, that wasn't a sales pitch for the app team. It's a truly great way to experience some exciting content made by developers from around the world. Some apps and games are free, while others are commercially licensed, requiring a purchase.
I've rounded up some of my top paid apps for you to try out, should you not have them installed already. While this may be a small collection, they're apps I rely on a daily basis.
London Travel
London's a big place, as is any capital city. There's an expansive underground rail system (we call it the "tube") which has multiple lines, hundreds of stations and intersect at places you'd not think was possible, but it's an absolute breeze with London Travel installed. The app is a companion app for anyone who's thinking of traveling to London and will ensure you don't get lost on the vast public transport network.
The main features of London Travel include the following:
Display Oyster Card balance (use your email to login, not your username)
Offline tube map
Journey planning
Network status and updates
Departure boards
Back in 2011 when I first reviewed the app, I was still relatively new to London and its transport links. Today I would consider myself comfortable when traveling around and can offer assistance should someone else require it. This level of experience is down to London Travel and getting rather lost on nights out while slightly intoxicated. It's worth having installed just for the Oyster balance alone, which can be pinned to the Start screen.
Unfortunately, the developer behind the app has long since departed from Windows Phone, luckily leaving London Travel in a solid state. There's still room for improvement with the app, including updating it for lockscreen support, widescreen tiles and more. There's also the whole new London Crossrail line currently being constructed.
I've contacted Irtiqa to see if they're returning to Windows Phone to continue development of this great app. While the developer has changed the price to free, it was a premium app when I purchased it (the lite version is still listed on the store) and thus I believe it still deserves a place on my top five list - not to mention I believe it's worth the small price tag which was previously attached.
Going to London? Download London Travel, you won't regret it.
London Travel (2MB - free)
InTheKnow
I own and manage a few websites on the web and have helped out at some rather busy communities in the past - one being a super popular community management and web development forum. Migrating to Windows Phone, I required apps to help me monitor website traffic and other statistics from Google Analytics. Server stuff is always more accurate, but Google is easily accessible and works well enough.
This is where InTheKnow comes into play. I've used some Google Analytics clients in the past, but this one is the latest addition to the Windows Phone platform. If there's one portal you require to Google Analytics, InTheKnow provides. Taking the Modern (cough, Metro) UI and adapting it to display graphs and data, it's a beautiful experience on any Windows Phone, especially the giant Lumia phablets.
It's possible to dive in an get dirty with mobile operating systems, traffic sources, which content traffic is landing on and how said folk are interacting with the web property in general. I've spent hours in this app while traveling to see how websites are performing. It's a great companion app to the Google Analytics web interface, which isn't always easily accessed on the go.
An added bonus of InTheKnow is Live Tiles, which can be pinned to the Start screen and configured to display different information. The only downside to InTheKnow is the lack of updates, which I'll be hitting Doug Rathbone on to see if he has any plans to add new features and functionality to the app. That said, it's a solid portal to your website traffic data.
InTheKnow (1MB - $1.99)
Metrotube
There are multiple YouTube apps available for Windows Phone, making this an extremely popular and somewhat overcrowded category of apps. Since Google continues to refuse to develop and release a sweet YouTube app for Windows Phone (or even let Microsoft do it for them), we're left with relying on third-party platform developers. My favorite YouTube app? Metrotube.
The app has been around for some time, making it a veteran in the YouTube app war. When not checking emails, engaging with others on social networks or playing one of 30,000 Flappy Bird clones, I'll be enjoying videos on YouTube, sucking as much battery from my Windows Phone as possible.
Metrotube is actually developed by Lazyworm, a well known developer in the Windows Phone community. The user experience is just flawless, with numerous elements and features to make browsing the massive video sharing service an absolute breeze. If you're a frequent "YouTuber," it's possible to login to your account and sync everything across to watch videos you've previously marked and view favorites.
YouTube clients are a lot like Twitter apps on the Windows Phone platform - everyone has their personal favorite. There are multiple solutions available on the store and we've always recommended you check as many out as possible to ensure you've got the perfect app that suits your needs.
Metrotube (1MB - $0.99)
Scorch
Work, work, work. It's what we all do to bring in the cash for leisure time. At Windows Phone Central (and Mobile Nations as a whole), we utilise Campfire chatrooms to discuss editorials and general content, just like other companies and organizations. What's different about our teams is we frequently travel to events, meetups and whatnot. This makes it a pain to remain in content with the group.
Scorch makes it so we can remain connected to our work chatrooms on any Windows Phone. It's a really nice app and we've had little issue using it, expect from the sometimes annoying error messages that require you to reconnect your Campfire account. There are many IM clients out there with group capabilities, including the likes of Groupon and WhatsApp, but Scorch is perfect if you're wanting to remain in touch over this particular service.
Here are some highlighted features:
Fast, fluid, simple interface
Automatic login and quick resume
Swipe between rooms quickly
See who's online, and mention them (type @)
View recent uploaded files
It's possible to use the app through the trial, but you'll have to contend with advertisements.
Scorch (1MB - $1.49)
Amazing Weather HD
Before venturing out into the big, bad world I like to check how the weather is going to fare for the remaining hours of the day. This is where Amazing Weather HD comes into play. The app is a beautiful weather app, but aren't the all? What sets Amazing Weather apart from the rest is the included functionality and style of presentation.
Whether you're a big fan of simple UI or a more immersive, animated experience, it's configurable in Amazing Weather. This was the major selling point for myself, the ability to really dig deep and personalize how you want the app to look and feel on the Start screen, lockscreen and within the app itself.
As well as detailed weather reports for selected locations, Amazing Weather also sits nicely on the lockscreen, providing a 5 day report for the week ahead. It's a sweet weather app and one worth checking out, should you be looking for the perfect solution on the store.
Amazing Weather HD (56MB - $1.99)
So those are my top five paid apps. I have more commercial apps that I've used in the past, but if I'm perfectly honest I do tend to opt for free apps for some reason - it's not a suggestion that I dislike paying out for developer time.
What are your favorite paid apps and how much do you rely on them on a daily basis? Sound off some of your own in the comments.
Windows Central Newsletter
Get the best of Windows Central in in your inbox, every day!
Rich Edmonds was formerly a Senior Editor of PC hardware at Windows Central, covering everything related to PC components and NAS. He's been involved in technology for more than a decade and knows a thing or two about the magic inside a PC chassis. You can follow him on Twitter at @RichEdmonds.
MyTube and Weather Flow! Weather flow is getting an update in Q2, btw.

I also use both MyTube and Weather Flow! =]

I just went from weather flow to Bing weather. Weather flow didn't show me hourly weather far enough in advance. That was my only complaint.

If you have AMOLED screen, try Viether its Oh so gorgous!

Mytube is no doubt the best! Metrotube really doesn't come close for me. And laugh but I just use Bing weather, works perfect and its accurate. No need for fancy lock screen stuff.

Bing weather is good, the lock screen is beautiful, but I lack detailed wind info and the unit for wind speed should be m/s, not km/h.

but wind speed km/h is standard unit

I prefer mytube over metrotube...maybe. Bing weather over all others

I liked WeatherFlow for a while, but it's received pretty much has remained stagnant for over a year. Sent the dev some questions and suggestions and never heard back. I don't expect anyone to really listen to me when their app is just a buck or two, but it's something to think about. I've heard back from nearly every other dev I've ever contacted. Amazing Weather, on the other hand, looks just as nice, works better with background tasks, has far more options, and is updated more frequently. It's the better option now IMO. Definitely would be interested to see what an update might bring to Weather Flow though. Was one of the best for a while, but most everyone has caught up and surpassed them.

That's the ones i use hazar for updates !

Yeah at this point, I would have definitely said MyTube over MetroTube.

Not agreed. I still prefer metrotube.

Thnx m8, this was just what i needed!

I was a metrotube user, and because of their lack of updates and features, I switched to MyTube. Even with the new metrotube update, I like MyTube more.

MetroTube, Amazing Weather HD (For the superior Lockscreen implementation over Bing maps, but I use Bing maps otherwise), and TV Show for tracking all my shows, anime, etc that I watch or plan to watch. 6tag for a superior Instagram experience over the official as well.

That's funny you mention that about the weather. I do the same thing. I use Amazing Weather HD for weather on my lockscreen, but I use the Bing weather app to check details. The only other paid app (not games) that I have is MediaBrowser. Streaming all of my movies from my house while on the go is awesome.

I use advanced weather for live tile, and vieather to check details...

TV Show is awesome! Though, it doesn't quite get the attention from Rudy that his other apps get (I can understand why).

Yes, a speed bump would be good. Autobackup once a month, tv show suggestions, also would be nice to see tv show details before you add them.. Rudy is the only developer not to reply back to me when i have reported bugs..

Those features would be nice to have.

Totally forgot to add WPCentral app, which of course, is top notch and a must have for any WP user.

56mb for a weather app? It better make my toast for me at that size.

Readit, can't imagine having a phone without it

I was really surprised it wasn't on the list. It is the app I use to show high quality apps that blow iOS and Android apps out of the water.

This. Readit is my most used app.

I prefer to live without all of those apps.

You missed Bravia Control ;)

I love that app, I just wish we were able to get it working fully for my Sony BR player. (We worked on it together for a while some time back)

Yes, I remember :)... So, is it partially working now?

After reading this article, I will be checking out InTheKnow. My top 5 are: Amazing Weather, BaconIt, MyStocks, DivvyUp, SlingBox Player.

InTheKnow is a must have. I've paid for all the analytics apps to try them out as the try part locks out parts of the app. After all that I use ITK exclusively.

Honestly Iost my 920 so I am using my spare 520 and I've yet to install anything other the basics which are all free. I had a lot of paid apps on my 920 which I love but I've noticed I don't "need" them on this burner phone

If you setup your 520 with the same windows account you can redownload your paid apps

All the apps you paid for on your 920 are yours no matter the WindowsPhone device you use, if you use your same MS account. You can re-download all of them. I wish Microsoft made this easier to find out, since I see many people confused with this.

Did you try tracking your 920 through windowsphone.com

FlashVideo, MetroMail, WPCentral, Chronos Calendar. I'm pretty sure Metrotube is actually free as the trial is unlimited, ad free, and fully functional. The payment is optional.

Flashvideo is really awesome

Hmm, with paid apps, it is 6tag/6sec (still paid to remove ads and support developer), ReadIt, OBDAutoDoctor, MetroTube.

"London's a big place, as is any capital city" You should visit Vienna. Not at all a big place. But it's a concentrate of awesome stuff. I agree with you on MetroTube and Amazing Weather HD, both my favourites too. Other paid apps that, to me, are essential on WP are: - Skinnery Themes (1,49€) - TV Show (1,29€) - Plex (4,99€ though I got it on Red Stripe Deal) - Chronos Calendar (1,99€) And then I've also opted to remove ads on apps like Social Reads, SysApp Pusher. Normally, it the price of taking away ads from a free app is 0.99€, I pay to remove them. Otherwise I'll require a little extra to justify giving more for the app.

Groupon or groupme
Rich I guess you made a typo

There is an youtube app by Idea Creator Corp. Check it out. It provides easy download of videos as well. Awesome application.

YoutubeHD? I use that, thought I was the only one judging by all the Mytubers on here :)

I don't use any of those and won't. :D

-WPCentral
-MetroTube
-Package Tracker
-
-

Package Tracker is awesome, I just dont do enough volume to warrant the paid version for me. If that changes though, I will in a heartbeat.

I agree, amazing weather and metrotube are good apps.

Ya to London Travel!!! But had no idea the developer has left WP!!! Any more news on that - e.g. Why?

Hmmm, InTheKnow looks interesting. I'll have to try it for my websites.


Some app with the initials WPC and Mytube

6tag, wpcentral, mytube, tweet it, and cal.

1) InTheKnow
2) subscription service Advanced Wireless Forms
3) FB Page Manager
4) subscription service Intuit GoPayment website link. No app :/
5) Electro Droid

56MB for Amazing Weather?? Won't do so well on my 8GB 8XT.....and weather is weather. There are plenty of quality FREE weather apps around. I'd spend app money on something else.

PC Remote Pro is a must for me. Same goes for Readit, WpCentral and MyTube. I really like Phototastic and MyTileMaker as well.

I'm a bad WP user, I've not paid for any app in almost two years. 99% of the time the WP built in apps suit my needs. Free ones covet the rest...

Same. Between Nokia solutions and Bing + IE, I have almost everything I need apps wise.

Amazing Weather HD and MetroTube are on my list of paid apps I could not live with out too ! I've tried others but, these work the best for me...

Wpcentral, MetroTube, Package Tracker,Sky Wallet, Fantasia Painter.

MyTube, Battery, InstaWeather Pro, WPCentral are the ones I paid for so far

Chronos Calendar, Metromail, Nextgen Reader, Mini recorder and Music import are the 5 best apps I have paid for. I got London travel for free.

This should be a series where every writer for this site does this same thing. A very good read and please ask the other guys to make one too.

Amazing Weather HD and WPCentral are must haves. Also paying for 6tag, TV Show and Insider.

Nice, enough with the free stuff - talk more about great apps that cost. Good apps cost, not a problem.

I just pay for niche apps & games with trial versions, so that i know i am not throwing my money on something not worth it.

Mytube is the best youtube app I've found so far, plus wpcentral and music hits.

Well on me is moliplayer pro, wpcentral and games. I'm very often watch movie on my 920. And moliplayer is the best around since no progress on vlc

Someone else who uses Scorch! I love it, such a shame it has been dropped by the dev. There is a real gap in the Store for a decent campfire app.

Yah, I kinda have - the app never really took off. Maybe this publicity will, and I'll get back to adding some new features. Thanks for your support!

Upgraded metrotube but still can't get the new interface... Lumia 920

For weather: Forecast. Beautiful and accurate.

Amazing weather HD is so damn big. 85MB for a weather app is just stupid. They should make the animations optional downloads. Posted via the WPC App for Android!

WP Central can't live without!

I love MyTube (superb YouTube app), Readit (reddit client), and App Spotlights (developer). I also love my own paid app, Centwise. I know I am biased but hear me out! I was in the store the other day, forgot my wallet, and I had my friend buy me something. I whipped out my phone, opened my app and entered the IOU in about 15 seconds while holding the bag of my stuff, before we even got out the door. As a developer, it can be hard to remember to actually use your app in a situation where some your users find themselves, but in that moment I felt pretty good and was glad I planned for single-hand usage.

I use SuperTube to record the videos and Accuweather and 4castrfor forecast and radar, and Awesome Lock for lockscreen weather/my team's scores/news. My top apps are 6Tag, Weave, Podcast Lounge, Super Calendar, and Readit

Love Amazing Weather it's pinned on both my phones. I also liked Weather Flow,but got Amazing Weather on sale.. lol

London travel is still paid fom what I see. And it's 3MB. Just sayin'.

Brisbane Bus and Train was the first app I paid for though now I believe it is free. Great app and I use it every day for getting around Brisbane. The dev, Sunny, is also very responsive.
The worst app I put money into (I think to remove advertising) was Extreme Music. The only thing it has going for it is that it shows all of my music including the stuff XBM categorises as unknown artist. Apart from that its pretty useless when switching apps (doesn't continue to the next song when you're in another app) and the same happens if its not the last app open when you lock your phone. Funny the dev was responsive to suggestions about the layout but as soon as I told him about this bug I never got a response.

MyTube, Music Hits and TV Series

Nextgen reader, wpcentral, emol, Wikipedia, cdf

My top paid apps are... Sky Wallet - Too many logins and passwords and this is the app that I use to keep track of all of them. And it backs it up to OneDrive. TVShow- Great app to keep track of your shows. Great live tile! CameraKaze- This app gives me access to my Foscam cameras that I have set up in my house. NextGen Reader- My RSS reader app of choice. Works great on my phone and Windows 8 PC.

1. Fantasia Painter
2. Asphalt7
3. WPCentral
4. 6tag
5. Ruzzle

Still can't get MetroTube to work on my phone when on mobile network. Was intended to purchase it, but changed my mind. I will purchase once the issue is fixed.

When you review chargers it would be useful to check and mention if they make any noise while plugged in and/or charging a device. Most chargers I have emit some noises (buzzing) making me uncomfortable around them especially at nights.

MyTube all the way as it is by far the best youtube app I have ever had.

Why there be a London travel app in an international WP site?

Forecast, WPC and Chronos Calendar.

Quick Controls is greater

i can live without these apps :p

Funny, without WPC's help, I am a MetroTube & AmazWeather user as well.

"There's nothing for me here so I will disappear..."

Never realized that Groupon was a messaging client... Haha Posted via the WPC App for Android!

myTube is my most used paid app. I just love it's simple UI. I also like some of the features like being able to read comments (overlayed) while the video is playing and downloading video for offline viewing. I tried metrotube but the eexperience isn't as smooth as myTube.

I use two weather apps, Bing for an overview and Windguru for its ocean specifics. Then Diving Log, simplest and best out there and Fanfare for ducting calcs. Now if only AutoDesk can play with...

What is a difference between free and paid Metro Tubes?
Windows Central Newsletter
Thank you for signing up to Windows Central. You will receive a verification email shortly.
There was a problem. Please refresh the page and try again.