myAppFree and Game Troopers team up to bring you one Crazy Weekend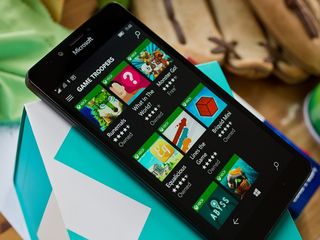 Game Troopers and myAppFree are two of the more prominent presences in the Windows Phone and Windows 10 Stores. Game Troopers for their steadily growing portfolio of Windows Phone and Windows 10 games and myAppFree for the deals they dig up.
These two forces have combined to bring you the Crazy Weekend promotion where four Game Trooper titles will be available free over the next four days. The event came about to celebrate the launch of myAppFree's Android app and we get to enjoy the celebration too, as the deals extend to the Windows Phone versions of these games.
We will touch on the first two games involved in the Crazy Weekend promotion and you can check back in a few days for details on the last two deals. It is a great opportunity to get your hands on some fun and challenging games for your Windows Phone gaming library.
Before we get into things, keep in mind that these deals don't go live for everyone at the same time due to the various times zones the Windows Phone Store has to contend with. The best way to keep track of things is to download the myAppFree Windows Phone or Windows 10 app. At the time of this posting, today's deal is live in the U.S. Market.
Today's Deal: Abyss
Abyss is easily one of the most challenging Windows Phone games in the Store. The Windows Phone game is easy to pick up and start playing, but painfully difficult to master. You control a biomechanical robot, Npe2no, and guide it across the ocean depths. The goal is to search for a new energy source called "Gaia".
The journey is one that carries Npe2no through dangerous caves, trenches and mysterious grottos. Not only does Npe2no have to evade deadly sea creatures but also must avoid crashing into the ocean floor, cave walls, spikes, traps and other pitfalls.
While the game sounds like an easy arcade game, the challenge comes into play with your limited visibility underwater. The game has a very dark mood, which is probably fitting for the ocean depths, and your only visibility comes from your robot's headlight. The propulsion system is responsive but with the limited sight distance, you will often find yourself drifting into a wall.
The game is an Xbox gaming title with twenty Xbox achievements to score. Just don't be shocked if it takes you forever to earn any of them.
We liked Abyss when we first reviewed the game and even though it's painfully challenging and will likely have you pulling your hair out, it's a fun game to have in your Windows Phone library.
Abyss normally runs $2.99 but for the next twenty-four hours, with the help of myAppFree, you can pick the game up free.
Download Abyss from the Windows Phone Store
Tomorrow's Deal: Lines the Game
Just to give you a sneak peak at tomorrow's myAppFree and Game Troopers' Crazy Weekend Deal, it will be Lines the Game.
Lines the Game is a fantastic Windows Phone game when you need a little help passing the time. You are presented with a wide range of drawings and have to determine a strategy to create the longest colored line on that drawing. You do so by placing a colored dot on the drawing, where it will begin tracing the drawing. You race against the computer, who will be placing its own colors on the drawing, to see who can complete the drawing the most with its color. In essence, drawing the longest line.
There are 250 gaming levels, spread across five gaming modes that include:
Point: You are presented a drawing that already has a few colored dots in place. You will have to place your dot or dots on the drawing in a manner to allow your colored lines to be longer than the other colors.
Eraser: Your colored dot(s) and your opponent's dots are already in place. The strategy with this gaming mode calls on you to erase a number of your opponent's dots to give your dots a movement advantage.
Rope: Again, all the dots are in place and with the Rope mode you add a line or lines to the drawing to give your dots a movement advantage over the other dots.
Knife: You will face drawings that already have all the dots in place. The strategy here is to cut a portion of the drawing that will restrict your opponent's dots and give your color an advantage.
Mix: This gaming mode will offer you multiple options for game play that can include any of the previous gaming modes. One level may have you place a dot and cut the puzzle, while others will have all four options in play.
Lines the Game is also an Xbox gaming title with 20 in-game Xbox achievements to work towards.
Lines the Game isn't an overly complicated game, but has a nice element of strategy in creating the longest line. It is not the easiest game to describe so we'll let the video below help give you a feel for things.
Lines the Game normally runs $2.99 and has support for low-memory Windows Phones. Being a part of the Crazy Weekend of Deals, you can pick up Lines the Game tomorrow free.
Download Lines the Game for Windows Phone ($2.99)
myAppFree
Windows Central is proud to be partnering up with myAppFree to bring you savings on Windows Phone apps and games. myAppFree is a free Windows Phone app and service that highlights special deals for software in the Windows Phone and Windows Stores. Make sure you download their app to keep track of all the specials they run weekly, as you'll never know what you may find.
Windows Central will continue to highlight select Windows Phone and Windows 8 titles from myAppFree on a regular basis as a benefit to the Windows Central community. Many of these deals will be for universal apps so you'll double your savings.
Also, if you have any friends sporting an Android phone, let them know they too can enjoy the myAppFree Deals through the myAppFree Android App.
Get the Windows Central Newsletter
All the latest news, reviews, and guides for Windows and Xbox diehards.
George is the Reviews Editor at Windows Central, concentrating on Windows 10 PC and Mobile apps. He's been a supporter of the platform since the days of Windows CE and uses his current Windows 10 Mobile phone daily to keep up with life and enjoy a game during down time.