MyEdit brings curated South African content to Windows Phone and Windows 8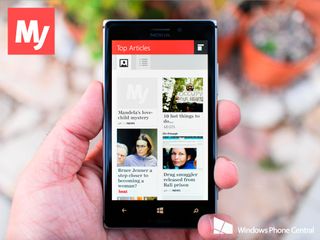 We really like apps that aggregate the feeds for the various websites we read on a daily basis. Apps like Phonly, Weave, and Nextgen Reader are awesome, but there's definitely a place for curated content. MyEdit is a service that serves up local curate content for South Africans. They already have an app out for Windows 8, but there's now one for Windows Phone. Let's check it out.
MyEdit (www.myedit.me) serves up content from the top magazines, newspapers, websites and blogs in South Africa. It's available on Android and iOS, in addition to the Microsoft platforms. This new Windows Phone version comes to us from RogueCode, aka the dev behind many awesome apps and games on Windows Phone, like his recent VALA: Alpha game.
Grab MyEdit for Windows Phone or Windows 8 and you'll be prompted to create an account after launching the app. You'll select some categories that you might be interested in reading about. You can choose from a variety of topics like entertainment, business & finance, fashion, science, technology, culture and much more.
MyEdit will learn analyze your reading patterns and suggest articles to you based on your interests. Which is pretty cool and something you'd be doing manually with a generic news aggregator. Again, this app is especially useful for those in South Africa since it pulls a lot of content from local publications like YOU, Move, Finweek, KickOff and more. But you'll also be getting some international content so you're not completely isolated from the world.
If you're in South Africa and want to check out MyEdit grab it for free from the Windows Phone Store. It's still in active development, so be sure to leave feedback via the settings page of the app. While there, also enable the animations to really see the app shine. Don't forget to pick it up for Windows 8 in the Window Store (opens in new tab).
Windows Central Newsletter
Get the best of Windows Central in in your inbox, every day!
Solid app, just missing careers and education on categories maybe..

I'm jealous once again... :)

Great app, I can now read you magazine in the states :D

Alright another app scratch of the list. That's a very nice looking app.

Great. Thanks for the review and well done to our local devs

Now this is the RSS feeds app i've been waiting for. I used to be so jealous of ios and android users cos they had it, now im a very happy camper! And it works flawlessly.

Love the app, Matt - really nice and clean UI there and a great in app experience!

This is a great app. Great user experience!

Wish more apps are designed the same way as this one! Though in not relevant with south African content and news, I enjoyed this app design and UX.

New Windows Phone 8.1 leaks... http://www.theverge.com/2014/2/11/5400660/windows-phone-8-1-features-leaked

The only thing missing is the ability to add personalized feeds and this'll be the killer app!
Windows Central Newsletter
Thank you for signing up to Windows Central. You will receive a verification email shortly.
There was a problem. Please refresh the page and try again.