Mysterious black Surface Book appears in advertisement for Microsoft 365
Could we see a black Surface Book down the line?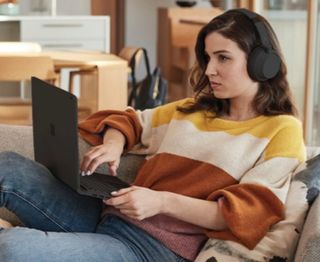 (Image credit: Microsoft)
What you need to know
A black Surface Book has been spotted in a Microsoft advertisement image.
The black device looks similar to the Surface Earbuds "graphite" color scheme.
The ad is likely in error, though it's cool to see what a darker Surface Book might look like.
An advertisement image for Microsoft 365 has been spotted on Facebook featuring what appears to be a black Surface Book device of some kind. The ad itself simply takes you to the Microsoft website, but it's interesting to see a black version of the Surface Book in center frame even though such a product isn't available for sale.
It's likely that this is a mistake on behalf of the agency that Microsoft is using to create and distribute these advertisements, but that doesn't mean such a device doesn't exist internally. Windows Central understands that Microsoft has gone back and forth on black versions of all of its Surface products, including the Surface Go, Surface Studio, and indeed Surface Book.
Microsoft has shipped a handful of Surface products in black, including the Surface Laptop, Surface Pro, Surface Pro X, and Surface Headphones. Microsoft was planning to ship a black Surface Go 2 (codenamed Goma) in January, but that device was canceled for unknown reasons.
It's also worth noting that a black Surface Studio was spotted in the background of one of Microsoft's Ignite presentations last year, though that product doesn't exist for customers to buy. Either way, it's interesting to see black versions of these devices show up in random places, even though none of them are products for sale.
Hopefully Microsoft releases the next versions of the Surface Studio, Surface Go, and Surface Book in black as well as platinum. In the meantime, what are your thoughts on the black Surface devices? Let us know in the comments.
Thanks for the tip, Jason Ward!
Two in one
(opens in new tab)
Power on the go

The refreshed Surface Book 3 for 2020 gets new Intel 10th Gen processors, more powerful GTX graphics, and much better Wi-Fi, SSD, and RAM options making this one powerful 2-in-1 convertible PC. There is nothing else like it, but it's also still a fantastic laptop despite the aging design.
Windows Central Newsletter
Get the best of Windows Central in in your inbox, every day!
Zac Bowden is a Senior Editor at Windows Central. Bringing you exclusive coverage into the world of Windows on PCs, tablets, phones, and more. Also an avid collector of rare Microsoft prototype devices! Keep in touch on Twitter: @zacbowden.
I have a pair of the Graphite Surface Earbuds and that device is significantly darker. Definitely more like the Black Surface Headphones, also present in the image.

It seems odd that Microsoft would supply the agency responsible for the image with a black device, so I have to wonder whether it was actually the usual colour and then changed digitally. That also seems an odd thing to do without Microsoft's go-ahead though. Maybe they just decided to change the device colour digitally so that it matched the headphones.

Although I'm of the opinion that the unique design of the Surface Book has reached about the end of line, given the trade-offs necessary to keep the CPU section in the screen, this would seem to indicate another refresh of the most powerful Surface is indeed in the cards. The problem I see, though, is the fulcrum's constant flexing would seem to be an issue for being able to maintain a nice finish of black that wouldn't scrape off at the parts most constantly in motion.

I don't agree that the CPU cooling is a major concern, ESPECIALLY if they'd go to AMD's 7nm CPUs. The issue of keeping the dark finish clean is an interesting concern I didn't consider, but I think the bigger issue is that the hinge design is really more nifty than practical. A 360-degree hinge that's detachable would be immensely more viable for most users.

Need a SB4 soon. The SB3 is incredibly underwhelming

That specific look being almost graphite grey with a matte look, is phenomenal. Black not so much. Black devices aren't beautiful. Matte Dark grey... that's the cream of the crop!

As with the Surface Pro, my stance remains the same--I'll buy it when it's got Ryzen. Surface Laptop is just a Windows-powered Macbook that makes no sense because I want a 2-in-1. If these things are sticking to Intel, I'm sticking to other brands.

April 1st right... Looks sexy AF though!

Looks so good! The woman in the pic is blissfully unaware of how awesome her laptop looks. Shame!

Surface Book 3 looks great in black. 😎 I love my Surface Book 3. My main PC until late 2019 was a Surface Pro 5 (2017), 8th gen Intel Core i7, 16 GB RAM, 512 SSD that was so graciously gifted to me a while back. LOVE IT. In 2019 (as a guest to the MS event where the Duo was introduced ) Microsoft gave me (and other fans) the choice of a Surface Pro 7, 10th gen Core i5, 8 GB RAM, 128 SSD or Surface Laptop 3. I went with the Surface Pro 7. That became my daily driver (though I still use the older one as well.) The newer 10th gen Core i5 CPU was faster than the older 8th gen Core i7. I recently got the 15" Surface Book 3, 10th gen Core i7, 32 GB RAM and 1TB SSD. Expensive. Yes. Very. Even with a $300 discount💰.
But I love the versatility. It's great for powering my 3 screen set up, handling Zoom worship services (we have lots of those since the pandemic), will handle editing videos (lots of those too), great for digital art whether fully detached chilling on the couch or bed (this screen is surprisingly light), or drawing all in (illustrating my book), using the GPU, flipped backwards drawing at a desk and can even handle some gaming. For me it is a reasonable jack of all trades. 😊 Yes, it is less powerful than some other laptops on the market that have more powerful CPUs. Definitely, more expensive. But, I'm one of those folks in Microsoft's target market for this device that definitely benefits from the unique versatility, where my workflow and power needs are not constrained by the 15 watt CPU. It's one of a kind. I hope MS keeps investing in the form factor and perhaps comes up with a way to address some of the concerns people have: power, bezels, etc. Now, if this black one was on the market when I bought mine, I'm almost certain I would be rocking that. Love the look. 😎Sweet.

Curious how the upcoming 13" Surface Book 4 will go against the 12" M1 iPad Pro.
Microsoft must have something planned like a 35W Ryzen Chip and an OLED Display, hopefully.
Windows Central Newsletter
Thank you for signing up to Windows Central. You will receive a verification email shortly.
There was a problem. Please refresh the page and try again.