myTube update brings autoplay videos and product key verification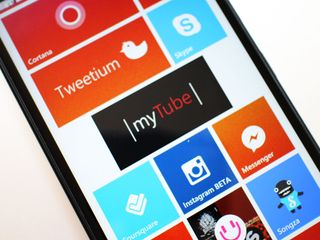 Popular third-party YouTube app myTube has been updated to version 2.0.18 that introduces the ability to autoplay videos. Also included is a feature that automatically checks a user's product key upon launch, which comes in handy considering that several users were facing issues in accessing paid features of the app after the 2.0 update.
That issue has been resolved with an earlier update that was rolled out last week, with today's version ensuring that all paid users have a valid product key. According to the Windows Phone Store changelog, these are the additions in version 2.0.18:
Adds option to play videos automatically without pressing the play button
Now checks if product keys have been activated at launch
Moved product key menu item to application bar
Some bug fixes
myTube users, are you still facing any issues with registering your product key? Share your thoughts in the comments.
Download myTube for Windows Phone 8.1 (99 cents, free trial)
Thanks for the tips Abhishek and Aman!
Windows Central Newsletter
Get the best of Windows Central in your inbox, every day!
Harish Jonnalagadda is a Senior Editor overseeing Asia for Android Central, Windows Central's sister site. When not reviewing phones, he's testing PC hardware, including video cards, motherboards, gaming accessories, and keyboards.
Cant download 1080p video... Only 720.. :(

I switched to TubeCast, it's easy to use. I still don't like the UI of mytube

I used Tubecast, but sometimes i can't pause a video so i went back to Metrotube

The UI of mytube is better than tubecast but I also use tubecast coz its faster than mytube..

There is a pretty messy UI in TubeCast. That's why I picked out myTube!

Line, DeviantArt Client, Fedora Reader and extras+info got updated as well.

Is it just me or all YouTube app on WP can't seek video? I've tried metro tubecast mytube toib all give similar error, happens since yesterday morning.

Google is behind all this....

myTube!'s working fine. just tried.

You're right it works again cool. Now that I think about it don't this app used to have a live tile? Or is it tubecast only?

I've also gone through this bug...but now I switched to tubecast and it's fine....

I ran into seek problems with mytube when the 2.0 upgrade came - uninstalled then reinstalled, works great, now.

I also tipped..!! Bawahh..

Lol Harish.
BTW Extras+Info also updated.

Yeah, not noticing much on that other than a small change in the Firmware Update Notifier.

I see Application Version too changed.

thanks.. really thank you.. from deep of our hearts.. what would this news be without us knowing that aman2901 the great sent in a tip.. thanks again from all of us! .. really i mean it.. thanks ...

Well done! your mamma will be so proud of you :P

*mamma pats me on the back*

So happy with the many youtube apps for windows phone. Hope MS will give us a better one some day

Actually, if you cared to do a little research, you would know why there is not an official YouTube app or at least one made by MS. MS DID make an excellent YouTube app that surpassed every YouTube app that Google can ever made for Android and iOS. And guess what, Google demanded that app to be pulled out from the store. There reason was the ridiculous "YouTube app by MS is not qualified enough" whatsoever. Wait, if you're gonna reply back saying that it was because of the quality of the MS app, read my comment again. Cheers.

It was pulled because it bypassed advertising and allowed downloading of videos both of which are against youtube rules.

Then absolutely NO YOUTUBE APPS for Windows could survive. Lol. You argument is invalid. It was more of a hit from Google to MS rather than that policies story you (or Google) are trying to brainwash other people. Goodbye.

I see your point. Its just a shame you were rude about it.

Why would we need the Official one? These YouTube apps are good enough. But we need video uploading for future updates

It's a matter of principle. Google is actively blocking WPs evolution by denying the platform the use of their apps. The average user who gets a smartphone is not that knowledgeable and tech savvy as a good majority of us. They will search for YouTube on the store. They will not find it or just find the stupid web wrapper. And that's all.

Anyone find that the old mytube is more consistent and stable?

Yes the old mytube is better. But he had to redo things for it to become a universal app. Lets hope it keeps improving. He updates it a lot so there is a good chance it will.

I still can't download the update. Same error for over a month. I've pretty much given up on ever updating this app.

Uninstall the app and download the trial. Then request a key.

I'm worried about doing this. That for some reason I won't get a key.

Even with the key requested unlocking everything, I ended up uninstalling the app, then buying it on the MS Store website. Error is gone completely, store treats it like a normal paid app again. I figured since I got it free in the first place, screw it, I use it enough to part with a dollar :D

Same here man. But I'm using metrotube and I haven't looked back!

Is this last weeks update. ???

Thanks. Seems to have found update now :)

What can we do with the product key now?

Help.. After the update the app still asks product key to submit but the purchase option has been been gone.. Am I still using the full version?

There is not much further to go after Tubecast. This app makes it so convenient, especially for DLNA TVs.

Can't download videos anymore. Anyone getting this error

What do you do after you get the product code?

Bring chromecasting Chris. Other than that mytube is king

This developer is making simple things very bad. Again come on

Any chance for video streaming live?

Yay! I got my Key from Chris, he worked really fast. Thanks a lot, the app is working very nicely.

I didn't get my key after 4 days.... he sometimes works slow!

What error are you geting? I had the c101a... error, and the only way to install it was going to the Downloads section in the store, tap on myTube app, then tap on Release notes, wait for the Try button to appear and install it. Inside the app, there you will find the option to request a key. Hope this help you!

I got from myappfree and I don't have a product key. How do I recover my paid app status?

impossible until you get another myappfree deal or you pay for the app! I think mytube shouldn't be a deal breaker coz you have good apps like tubecast or metrotube which offers similar functionality.

You won't. I got via myfreeapp and didn't get replacement either.

I think this is why I'm getting the update error. Even I had it from MyAppFree, had uninstalled it, but still "owned" the full version. Now I can't re-install it; is it because I don't have a product key?

What error are you geting? I had the c101a... error, and the only way to install it was going to the Downloads section in the store, tap on myTube app, then tap on Release notes, wait for the Try button to appear and install it. Inside the app, there you will find the option to request a key. Hope this help you!

this app crash on my phone

How can I disable that annoying developer comments? Really, I didn't buy this app to bis his private Twitter account everytime I start that app.

Can't even install this app! Error code 80004005. It's been for weeks now...when I initially had it it was eating by data even when the app wasn't active, that's why I deleted it. Now I can't install it anymore

Won't even open on my Lumia Icon. Just keeps crashing.

Love this app but ever since the big update the tile never seems to update anymore. I know you can only pin your subscriptions, which I did, but it used to rotate images of new videos from the channels I subscribe to. Anyone else have this?

This! I really miss the live tile update of new videos. Currently only Tubecast has this feature.

It seems like the key changes every time I open up

You're not alone in this matter.

hmm, to lazy to request key, still using beta version without any problems

I like mytube.. But he is making mess here... Grrrr....

Have not been able to update for over a month now. Keep getting error code c101... something. Afraid to uninstall and lose purchase key in the process. A buck isn't much, but it's a matter of principle. Shouldn't have to pay for something I already own. My patience is running thin and I will have to go with another app if a fix isn't coming soon.

The only way to install it was going to the Downloads section in the store, tap on myTube app (where the error apears), then tap on Release notes, wait for the Try button to appear and install it. Inside the app, there you will find the option to request a key. You already lost the purchase key from the store (you got the app from myAppFree deal, right?) according to Chris, the store paid version for us is lost, but the app will work as a paid app if you request a code. Hope this help you!

Uninstalled. Now app shows I already own it. Tried to reinstall but got error code 80004005. No option to even try it like you suggested. Can't even buy it as new because Store shows I already own it, so no option to buy again either. Looks like I lost it for good.

MyTube for Windows 10 pleaseeee

I constantly turn off background tasks in Battery Saver for this app and everytime I use it, it turns them back on. Any fixes?

Perhaps you should report it to the developer

I can't download it, my error code : 80004005

How do I contact the devs? I'm getting the 80004005 error. Can't install. Not sure what to do now. If the only way to contact the devs is in the app, then those of us that can't get in the app are screwed!