NBC will let you watch Super Bowl XLIX live for free online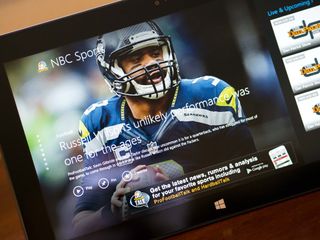 NBC will stream 11 continuous hours of live content on Super Bowl Sunday, Feb. 1 to Windows desktops and tablets. The "Super Stream Sunday" event will run from noon EST and to around 10 p.m. and include NBC's pre-game coverage, Super Bowl XLIX itself, the halftime show, and the post-game show, and the episode of The Blacklist that will air following the game. The stream will take place through the NBC Sports Live Extra app.
Viewers will not need to log into the app in order to take advantage of "Super Stream Sunday". However, they will be treated to messages about how easy authentication is, according to NBC Sports:
NBC will be streaming their coverage and the game to tablets and desktops, but not phones. Verizon holds exclusive rights from the NFL to stream content to smartphones through its NFL Mobile app.
The NBC Sports Live Extra app is available for download now on the Windows Store.
Download NBC Sports Live Extra from the Windows Store (opens in new tab)
Source: NBC Sports, TechCrunch
Windows Central Newsletter
Get the best of Windows Central in your inbox, every day!
Presumably USA only? Didn't see any mention in the article.

Buy the sports app. I can watch any sport from anywhere. I think it may be subscription now, I bought it s soon as it came out therefore I don't pay subscription, awesome. I had purchased it way back in spring. I wondered how it would work for football. Perfect.

Xbox one app??? And/or streaming in browser possibility?

So does that include ipads or only windows devices

Will it show the commercials? Also, what video quality does the app kick out, anyone know? Wouldn't want to watch the game in anything less than 1080p otherwise ill sign up for cable for a week! ;)

If the app isn't up to your satisfaction, you're better off just going to watch at a bar or friends house.

It is w8 after all they couldn't even get xbv to work in hd at launch

What's the catch? Get it! Catch? Hope its not Bostick! *Walks away*

Guess US only as can't find the app in UK store

If you choose US as region, you can download the app and play some content. Don't know if works for the Superbowl, though. Go Pats!

Channel 4 will be showing the Super Bowl here. Why would you want an American app for it?

This is awesome news. I'll steam the coverage on my tablet just to return the support to NBC that there're showing for Windows and their users. Go Seahawks!!

Why not through Xbox Live? Come on NBC/NFL/Microsoft get it together.

If you're gonna watch it over Xbox, might as well watch it on TV? Unless you don't have cable or an antenna I guess...

Yah I don't have cable so Xbox one app or streaming in the browser would be great.

Haha. Pun intended, right?

Service providers like Verizon shouldn't hold exclusive rights to NFL Superbowl viewing on a phone...

http://www.windowsphone.com/en-us/store/app/us-carrier-apps/b1e54402-592...

Verizon needs to lose that stupid exclusive streaming nfl games thing

Not that I care, but does the Sunday Ticket app include the superbowl?

Great for me as I cut the cord a long time ago... Now will I actually watch the game.... Hmmm

Just get antenna and watch the game for free on tv.

Most tv subscribers, young ones anyways only subscribe for live sports. If you live in a city or even a small town these days chances are you don't get anything on the antenna besides some random Spanish tv channel. If I could save $60 by just buying an antenna I would!! Fox/CBS/NBC is all you need for sports and weekly/nightly tv series

Someone else also asked but there was no answer so I'll ask again - will this be available internationally? I am US-based, but will be in Europe for the game. If I install the app on my SP3 before I go, will I be able to grab the feed? I have my doubts that it will work decently even if I'm allowed in, but I am researching my options. None of the sites covering the story mention if this is US-only or not. Anyone??

The game will be broadcast in Europe on TV, that not a better, safer option?