Neonize: new arcade shooter now out for iOS, Android, and Windows Phone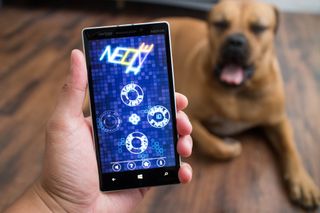 You probably have not heard of Neonize, because it's a new game that has just released simultaneously on iOS, Android, and Windows Phone. The good news is that Windows Phone users do not have wait after its release on other platforms. It's pretty good, too. Neonize is a mobile arcade shooter game, which the goal is to survive an onslaught of enemy ships trying to ram into you.
We've installed it on our Nokia Lumia 930. Go watch our gameplay video.
Features
Fast game sessions for a quick burst of fun and challenging for the experienced player
3 Fast Paced Levels, each significantly more challenging than the last
Easy control scheme with 4 shooting buttons to shoot in all possible enemy directions
Eye-catching neon light based, geometry inspired art style
Enemy ships attack from four directions in a pattern. In order to survive, memorize the pattern the enemies attack from and shoot them down.
Neonize has 3 levels. Each level has a set number of phases. Enemies attack you one by one in a directional pattern within a phase. After completing a phase, the next phase extends the pattern by one additional enemy. You'll need to memorize the attack patterns because enemies become faster.
Shooting down ships earn you points. You earn combos if you shoot down enemies consecutively to the beat. If done correctly, you fire a green laser beam. The higher combo you have, the more points you earn. It's not as easy as it sounds and it can get very frustrating.
Neonize is a free download from the Windows Phone Store. The free version is supposed to be ad-supported, but we have not seen any ads while playing the game. There's a premium version at the store for $1.99, which says "ad-free" in the description. You can also find Neonize on iOS and Android.
Go download Neonize right now and let us know what you think in the comments!
Get the Windows Central Newsletter
All the latest news, reviews, and guides for Windows and Xbox diehards.