Netgear Orbi vs. Linksys Velop: Which Wi-Fi system is best?
By Cale Hunt last updated
Want to blanket your home in Wi-Fi? These are both great options.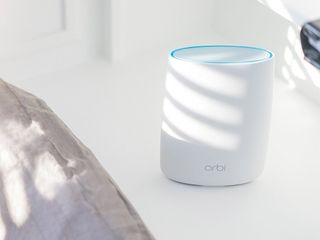 Wireless internet has come a long way in the last few years, and although having a single router is still a viable option, there are also solutions for anyone having a difficult time reaching every last corner of their home. Known loosely as mesh Wi-Fi, the Netgear Orbi (RBK50) and Linksys Velop (WHW0302) are both powerful devices that can blanket a large area in a wireless signal. Let's take a closer look at the similarities and differences to help you decide which is best for you.
Netgear Orbi vs. Linksys Velop: Specs
Category
Netgear Orbi
Linksys Velop
Speed
AC3000
1,733Mbps + 866Mbps + 400Mbps
AC2200
867Mbps + 867Mpbs + 400Mbps
Wi-Fi
Tri-Band
Tri-Band
Antennas
Two 2 x 2 (devices)
One 4 x 4 (backhaul)
Three 2 x 2
Memory
4GB Flash
512MB RAM
4GB Flash
512MB RAM
Ethernet backhaul?
Yes
Yes
Dedicated wireless backhaul?
Yes
No
MU-MIMO?
Yes
Yes
Netgear Orbi vs. Linksys Velop: Design
A lot of traditional, modern routers are still using the mildly arachnoid shape, looking like a large black square covered in long antennas. It isn't exactly something you want on the coffee table, but at least there's only one to hide away in an office or behind a piece of furniture. If anything, you might have a separate range extender plugged into an outlet to help with covering a corner room.
Since there are likely going to be two, three, or even more pieces of hardware when using the Orbi or Velop, the design is much softer. The Velop is a rectangular tower about seven inches tall. The back is covered in small vent-holes, and on the top are more vents and small LED that lets you know the status of the connection. It's minimalist and easy to set down somewhere and not have it draw attention. All Velop nodes are the exact same and any can act as the central router that's connected to the open internet through your modem.
The Orbi is based on the classic idea of a router with satellites, has a main router with a large blue ring light on top that denotes the status of the network. The satellites are the same shape, but without the main light on top.
As for ports, each Velop has two Ethernet ports on its bottom alongside the power jack and a reset button. The Velop node you use as the main router will have one Ethernet port taken up for a modem connection, while the other will be left for LAN, whether to have a wired connection to another node or for a wired connection to a device.
On the other hand, the main Orbi router has four Ethernet ports, one for a modem connection and the rest for LAN, with the satellite having the same amount. Even using Ethernet backhaul, the Orbi will be better for anyone who has plenty of devices that requires a wired connection alongside a powerful wireless network. You'll also find a USB-A 2.0 port and power jack on the back of the Orbi.
Netgear Orbi vs. Linksys Velop: Features
Both of these systems are rich with features that go above and beyond simply delivering data to your devices. Perhaps most importantly, especially when looking to the future, both support 2 x 2 multi-user, multiple-input, multiple-output (MU-MIMO) connections. Instead of delivering data to your devices in a rotating manner — your phone gets some, your Xbox gets some, and then your PC gets some before repeating the circle — MU-MIMO allows a constant stream of data.
Beamforming plays a big role in efficiently delivering data to your devices, and both devices support this tech. Band-steering, which automatically places your device on either the 5GHz or 2.4GHz band according to best performance, should also occur with both systems, and if you're moving through your home, you'll be passed off to whichever node or satellite is delivering the best signal. With both the Orbi and Velop, you'll see just one network rather than separate 2.4GHz and 5GHz access points.
For anyone working on a smart-home setup, both systems are compatible with some of Amazon Alexa's voice commands, and if you're working on a family, both have parental controls. The Velop uses more conventional methods of blocking certain URLs, whereas the Orbi has joined Disney's Circle (opens in new tab) of smart parental controls for some serious filtering.
As for setup of either system, you plug the main router into a modem, open the app (available for Android and iOS) or browser user interface (UI), and you're well on your way to having Wi-Fi flood your home. Within the web UI or app, you have access to in-depth settings as you would on pretty much any standard router, including VPN passthrough.
Netgear Orbi vs. Linksys Velop: Function and performance
The Linksys Velop is a true mesh system. If you purchase a three-pack of nodes (opens in new tab), any one of them can serve as the link to the outside internet using your modem. Once that initial node is set up, the next node will connect to it. The third node, instead of daisy-chaining to the second, will choose to connect to either of the first two based on performance. If you continue adding nodes, they will again connect to whichever other node is offering the best signal. When transferring data, it will find its way along the shortest, quickest route, and if one node loses power, the network will find a new way to route data.
This is a tri-band device, meaning that there are two 5GHz bands and one 2.4GHz band to work with. You're looking at a theoretical speed of about 867Mbps on the former bands and about 400Mbps on the latter band. When sending data back to the main router and to your modem — known as "backhaul traffic" — one of the three bands will be used. There's no dedicated radio for backhaul, but the Velop will choose a band based on performance.
The Orbi is more of a traditional router and satellite setup. You have the base station somewhere near the middle of your home connected to your modem, and a satellite in a corner where the base station can't quite reach. You can add additional satellites to the setup, connecting them to the main router, or you can daisy-chain with other satellites to hit truly far-reaching areas of a home or property.
If in the past you've used an extender with a router, you might have experienced a big hit to performance, especially when daisy-chained. This likely had to do with backhaul traffic eating up your bandwidth, but that shouldn't be a problem here. The Orbi has a dedicated 5GHz backhaul channel that can hit theoretical combined speeds of about 1,733Mbps, with another standard 5GHz channel (866Mbps) and a 2.4GHz channel (400Mbps) for delivering data to your devices.
Both systems have Ethernet backhaul — the Orbi received an update December 2017 to enable it — so if you're already dealing with a well-wired home, you can connect the stations with an Ethernet cable and not have to worry about bandwidth being eaten up when sending data back to the main router. Unfortunately with the Orbi, using Ethernet backhaul doesn't free up the dedicated backhaul band to be used normally with your devices.
I was not able to run specific tests to compare real-world speeds between these two systems, but there were plenty performed over at SmallNetBuilder. If you'd like to get into the technical specifics of how well each performs in a wide number of scenarios, be sure to check it out. Bottom line? The Orbi seems to perform better than the Velop in pure wireless speed, though for most people the difference is negligible in everyday usage. It will more come down to whether or not you prefer a true mesh system over something that more resembles a router and extender setup.
Netgear Orbi vs. Linksys Velop: Price and conclusion
To get started with the Orbi RBK50 that I compared here, a two-pack including main router and one satellite costs about $370 (opens in new tab). These two pieces are enough to cover about 5,000 square feet of space, but if you need more, a three-pack costs about $530 (opens in new tab). There's also an indoor/outdoor bundle that has one weatherproof satellite alongside a standard satellite and main router, costing about $660 (opens in new tab).
The Velop system is a bit cheaper, plus there's the option of starting out with a single node acting as your router before working your way up to a full mesh system, though you will pay more in the long run. A single node costs about $200 (opens in new tab), whereas a two-pack costs about $350 (opens in new tab). With two nodes, you should be able to cover up to about 4,000 square feet. If you need more coverage, three nodes costs about $480 (opens in new tab) and will cover about 6,000 square feet.
Choosing one or the other will really come down to what you use your network for. If you need the best performance possible, the Orbi will likely be your best bet, but if you like the idea of true mesh networking, the Velop looks like the better choice.
Cale Hunt is a Senior Editor at Windows Central. He focuses mainly on laptop reviews, news, and accessory coverage. He is an avid PC gamer and multi-platform user, and spends most of his time either tinkering with or writing about tech.
I have Orbi and they have unsolved technical problems. Devices keep loosing connection, and then have trouble obtaining an IP address when the device try to reconnect. Netgear's forums are filled with angry complaints about this. However, when it works it works well.

I have the Orbi and it works great. You can even chain devices now vs. the hub and spoke mode. The beamforming works great for mobile deivces and performance with the 5Ghz backhaul has almost zero latency.

I think the Orbi wins in this battle. The dedicated backhaul is the winner for me. Read the reviews and took a punt on the RBK50 and have no problems at all. So far have not had any (touch wood) of the issues mentioned in the various reviews. Current package is 50Mbps and with these beasts, getting constant 55Mbps all round. My only gripe was (because it's a mesh) not able to choose between 2.4GHz & 5GHz bands. But a few forums later managed to split this up. This should be an option Netgear should offer as it's one of the most requested feature

I would love to have you guys compare these to Asus routers. The lastest firmware updates for most existing newer Asus routers allow you to set up a mesh network. And all the routers in your network don't have to be the same model either.

I think a good head to head comparison (at least with the Orbi) is to a Ubiquiti Unifi setup.

I have Orbi, but for some reason it cuts my internet speed in half. Netgear support is clueless

I have been watching the development of Mesh wi-fi with interest and its really come fast. I have a Linksys EA9500 router, and a Linksys RE7000 range extender in my large, brick bi-level house. It took some doing to figure out the best configuration, but judging by the cessation of intermittent whining from the other occupants in my home, things are currently good. I do sometimes get one of either of the bands dropping out for no particular reason I can determine. It seems to be happening more often than not. I suppose I could bump up the extender to the 9000 model, but I'm not sure if I'd notice the difference. I think of my set up as sort of a "homemade" mesh network. The end-users don't notice or care what goes on in the backend. I like the Linksys web and mobile UI and would thus lean Velop. I have had a lot of trouble with Netgear. Could be just me. I have done better with Asus and TP-Link in the past, than I have with Netgear. But would Orbi or Velop be better than a 9500-9000-7000 setup? Tough call. Maybe would lessen hand-off issues if I went Mesh?

This article is trash. Do your homework. The velop is far superior. I have it and it blows away the orbi. The connection is fabulous and faster than the orbi due to no latencies from the mesh network. Orbi has latency and is more noticeable the father away from the central router. The author should have done his homework rather than write a layman's article on the subject, what a joke.
Windows Central Newsletter
Get the best of Windows Central in in your inbox, every day!
Thank you for signing up to Windows Central. You will receive a verification email shortly.
There was a problem. Please refresh the page and try again.