New Call of Duty Advanced Warfare live-action trailer puts viewer in FPS mode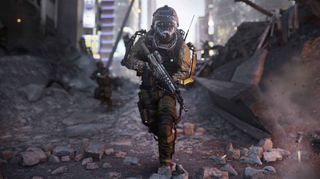 We've already seen the final gameplay launch trailer for Call of Duty: Advanced Warfare, but today Activision has launched a live-action trailer for the latest game in the first person shooter series. Appropriately, the trailer puts the viewer in a FPS mode,
Directed by Hollywood feature film director Peter Berg (Friday Night Lights, The Rundown and Lone Survivor), the trailer is pretty much non-stop action as we see the world through the eyes of the character in this war torn near-future setting. There's lots of shooting, lots of jet pack jumping and lots of speeder bike riding as you chat with your soldier buddy, played by actor Taylor Kitsch, with a quick appearance from model Emily Ratajkowski in a setting that we won't spoil here.
Call of Duty Advanced Warfare is officially coming out on November 4 but folks who have pre-ordered the game will be able to download it on the Xbox One one day early, and Walmart will also sell the retail version one day early as well. Microsoft is selling a 1 TB version of its Xbox One console with the game bundled with it for $449.
Do you think there's a place for live action trailers for games, even if they don't show real gameplay?
Source: Call of Duty (YouTube)
Windows Central Newsletter
Get the best of Windows Central in in your inbox, every day!
Trailer is better than the game.

Is there really people that when they see this videos will say : "looks so good I want this game"!

I'm not that impressed with this game.

Yes, just as there are clowns who come into a thread about the game just to make these kinds of troll comments.

I'm not a clown, just saying that COD are usually average games. Not the same quality gaming like Halo for example...

Again, every store with pre-orders has the 11/3 Day Zero Edition. I am getting it from Best Buy myself.

Why do they call it Day Zero with early access if everyone can get it on Monday? :-/

Like someone said in a blog: Its like titanfall but without titans?

Many people would argue this point until they are blue in the face but I do agree with you somewhat.

...and without the wall running.

Hoping this studio can bring the series back to some kind of glory.

It is at it's glory, It's just too popular with 12 year old kids that people started hating it just like Bieber.

That's what I'm talking about. About a month or so after launch, those 12 year olds will flock to this game and whine and cry about this and that and it will be patched so that they will be "better" than those of us that can't play all day like they do. Hoping SHG doesn't patch everything to hell and break this game like IW did with ghosts. I've never seen such a massive drop in players like with ghosts.

What's worse is the people you are describing probably aren't even that young. Everyone who can't handle themselves in an fps complains until everything is nerfed. Instead of taking the time to learn, they bitch. It's inevitable.

Are we taking about people complaining about getting shot every .001 seconds because of obsessive freaks? I stopped playing after MW2 which I still to this day believe is the only good one they made before they started pouring clear coat all over the maps. I loath what it's become. GTA V is creative and lets you express yourself. MW is just stupid now. Even Counter Strike is better LOL. Love that game.

Been several years since I bought / played CoD, but I'm getting this one. Sledgehammer are good devs.

They should be able to throw what they want in the trailers. It's just a matter of following up with a good game. Destiny didn't really nail it for example. All of the hype beforehand really had me going though.

Well .. I liked The ghost live Action trailer More haha :D in This one I don't like the actor . Should have used someone lees annoying xD but still funny

My god! First call of duty Ghost and now this? I won't buy this futuristic crap.

Titanfall and Sunset Overdrive much?

More like "Call of Duty: Advance Halo Crysis".

Awesome game . I m gonna try it
Windows Central Newsletter
Thank you for signing up to Windows Central. You will receive a verification email shortly.
There was a problem. Please refresh the page and try again.