New Dell XPS 15 now available for pre-order from Microsoft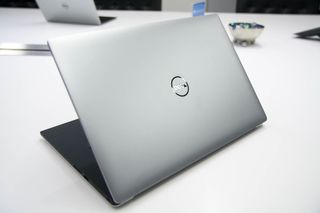 If you're in the market for Dell's latest powerhouse XPS 15, you can now count the Microsoft Store among your purchasing options. The Microsoft Store is currently listing Dell's latest for pre-order, with two variants available. As for specifics, both versions pack a 4K UHD display, with the main differences coming down to processor, SSD space, and RAM.
The cheaper option, coming in at $1,699 packs a 6th generation Intel Core i5 processor, 256GB of storage, and 8GB of RAM. On the other end, you can pay $2,099 to pick up a Core i7 processor, 512GB of storage, and 16GB of RAM. As usual, when you buy either of these from the Microsoft Store, they'll be Signature Edition laptops — meaning a barebones Windows 10 experience out of the box with no manufacturer tweaks.
Both models are showing a release date of November 2, so if you want to pick one up as a nice, cheaper alternative to the Surface Book, go ahead and hit up the link below.
Buy the Dell XPS 15 from Microsoft starting at $1,699 (opens in new tab)
Dan Thorp-Lancaster is the Editor in Chief for Windows Central. He began working with Windows Central as a news writer in 2014 and is obsessed with tech of all sorts. You can follow Dan on Twitter @DthorpL and Instagram @heyitsdtl. Got a hot tip? Send it to daniel.thorp-lancaster@futurenet.com.
Amazing that only as of a few days ago, a machine like this wouldn't take a back seat to any laptop at the mall. Now it's actually a bargain. Crazy times.

I played with it yesterday at the flagship store and I have to say it's a thing of beauty.

This is the laptop I was waiting for. Then Microsoft had to go an release the Surface Book. That option for 16GB RAM for just a little more than the 8GB Surface Book is really tempting, though!

And It looks hot! Surface or Dell? Damn its tempting. :)

If you're not using much of a tablet plus a (pressure-sensitive) pen, XPS offers more. 15.6 inch will never look the same as 13-ish. 4K UHD mind you!

That was something I was curious about. So there is no pressure sensitivity on the XPS-15 when using with a stylus?

why is the xps 13 listed at 11 hours vs 18 hours adevertised on dell? is the QHD screen sucking up 7 hours of battery life?

Touch screen makes a substantial difference too.

Its QHD+, so 3200x1800, not just 2560x1440.

...and it's a quad cores, comparing to dual in Surface Book. Very good choice for developers.


What are you talking about?

Why would the Surface Book only have a dual core chip?

because it is the 15watt intel chip. the dell chip is a 28watt part. remember that all the components are in the screen. heat would be a major issue if they tried putting the same processor as the dell.

true, the xps 15 has a quad core cpu.

Yup. Dell is packing the full bore quad core parts - the two surfaces (book and pro) have the dual core u series ultra book parts. The Dell is a proper beast, and offers much more in terms of expansion and serviceability. It's a step above the msft offering. If, and only if, you need it. I compromised and picked up all three lol though I have to say I am not a fan of the book wobble. Still it's amazing how these devices look and feel and perform. Superb!!!

Firstly, I'm so jealous! Secondly I didn't know the pro and book were dual core, thought the top models were all quad core, so now I have no need for them anymore :( the software I write takes advantage of every available core so there is quite a large difference between dual and quad (Not quite 2x) but significant enough to make the pro and book a no go. For me the Surface Book form factor is perfect and the Surface Pro form factor is a close second, however the internals really matter in my line of work so this revelation really burst my bubble!

It's suddenly a very good time to be a Windows laptop buyer. Plenty of terrific choices and some absolutely gorgeous hardware. Not just that, there seems to be a real push to innovate and offer consumers a compelling product as opposed to just a copy of older boxes. 2 years ago, I certainly would have considered an Apple MacBook. Now I can't even fathom that. Kudos to Microsoft in this regard, they've really managed to ignite innovation in an almost dead sector. This XPS 15 is a great example. Would love the Surface Book but at this price, this thing looks amazing.

What's interesting but sucks is that the article says it's available at the Microsoft store by November 2nd. Yet I ordered mine straight from Dell a couple of weeks ago and it still shows I won't get it delivered until November 20th. Damn!!

Yes! Edge discovered Google.com as a search provider and I was able to set it up as the default search provider. Finally :)

On the XPS15? Or did you comment in completely the wrong place. Let me guess.

Nah, on Mobile :D I was just so exscited that I had to share it.

That's good, but we do have forums...

I used to think Bing was crap until I got used to it on my phone. It's sort of cool :)

Bing isn't that good in Europe. Belive me, I tried it.

And this seems a good thing to you...?

'barebones' as in bad? C'mon, it looks hot!!!

Barebones as in no bloat lol

Barebones like Skull-Greymon!

I dont see a lot cheaper than Surface line as Michael Dell stated during the conference

Lack of 3D Camera/Intel RealSense is the only thing keeping number of our client away from almost most laptops including the new XPS range now days, there seems to be great demand for it despite it being so new to the market. Hope they have plans to include it as an option.

Good, but only 512gb might limit that in terms of longevity for business users. What about the 1TB SSD?

There is a 1TB SSD option, but it's another $500 more then the 512GB option.

Ah, good to know. It did seem a bit odd that Dell would limit business users to 512gb, glad this isn't the case. Thanks.

When are you guys going to write a review on this ;) Very attempting to buy this model

Why is the $2099 version still non-touch? The Dell website has the same computer for $1699.

I don't konw how to chooes xps 13 or xps 15. I'm just a college studen and take my laptop go everywhere. Posted via the Windows Central App for Android
Windows Central Newsletter
Get the best of Windows Central in in your inbox, every day!
Thank you for signing up to Windows Central. You will receive a verification email shortly.
There was a problem. Please refresh the page and try again.