Microsoft reportedly reviving Fable with a story-focused RPG
A new Fable is looking more likely than ever, with a new report claiming a story-focused entry is in the pipeline.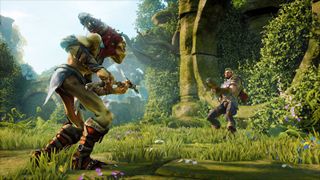 After shutting the doors of the Fable creators, "Lionhead Studios," Microsoft has remained quiet on what lies ahead for its hit role-playing franchise. Aside from Fable Fortune, a free-to-play digital card developed by ex-Lionhead employees, the world of Albion has laid dormant since the cancellation of Fable Legends. Despite this, rumor of a new Fable game has been circulating for some time now, with many expecting a franchise return.
A new report has emerged today supporting these rumors, with sources telling Eurogamer that a new Fable game is around the corner. According to the report, the next Fable will be a story and character-focused open-world action role-playing game (RPG), headed by "Playground Games" – the studio behind Forza's Horizon spin-off series.
Sources have told the publication that development will take place at Playground's recently opened office in Leamington Spa, Warwickshire. Work on the project is supposedly still in the early stages, with development among a dedicated team of 200. If true, this would indicate its public debut is still some time off, let alone its final release.
According to Eurogamer, Microsoft drew inspiration from last year's success of Horizon Zero Dawn on PlayStation 4. As an exclusive to Sony's consoles, the game proved that strong single-player experiences can still see success in the industry, despite a widespread shift toward "games as a service" titles.
Although the revival of the Fable franchise would be welcomed by many, it remains to be seen how Microsoft would approach this project. Not only did Microsoft Studios cut ties with the franchise's former developers – the project is reportedly starting from scratch and ditching all previous assets from Fable Legends. With a fresh team, this may offer a unique take on the franchise, though abandons much of the talent that backed previous entries.
For now, the future of the Fable franchise remains uncertain. Signs have pointed towards Fable's revival in the past and this latest report further backs these claims. As always, make sure to take these rumors lightly until an official announcement from Microsoft – although we may be waiting some time for it to do so.
Matt Brown is Windows Central's Senior Editor, Xbox & PC, at Future. Following over seven years of professional consumer technology and gaming coverage, he's focused on the world of Microsoft's gaming efforts. You can follow him on Twitter @mattjbrown.
This is a GREAT opportunity. The new team isn't a disadvantage at all. They will bring in a new look & feel to this franchise and start from scratch, which means they have lots of ressources available to them to use state-of-the-art technology.

Which is about the same as leaving a franchise alone and do a new game and title from scratch rather I always say.

Fingers crossed! Loved the Fable series just imagine what could be done with the new hardware...

I hope they take inspiration from Witcher 3. It's hundreds of side quests were treated with as much care as its main quest

Exactly what I thought...

Hoipefully they let us kick 4k chickens around, missing a good chicken kicker since I put my 360 in storage.

xbox owners better buy two copies each or kiss single-player, non-lootbox games goodbye forever

Why did they kill Lionhead then, if they were planning on making a new Fable game??

Agreed. Microsoft makes several strange decisions.

Fable legends was to be a free-to-play multiplayer RPG, much the opposite of this new Fable game rumor.

Lionhead was not the only studio cut, it was a short term quarter to quarter money grab. Plus it was before Phil Spencer was promoted to the SLT so not really within his control, as such the xbox one x launch didn't have much in the way of first party launch titles. However now that he has been promoted and his old role filled, Xbox should see massive resurgence if the current xbox track record is anything to go. Xbox is the only thing that is really keeping any form of mindshare imo, if you ask anyone about window mixed reality for instance - you will get "what's that?", "never heard of it".

"[The] game proved that strong single-player experiences can still see success in the industry, despite a widespread shift toward "games as a service" titles." Why is it that companies can never figure this sort of thing out in the first place? There is a reason for different styles of games, types of games and diversity of games.

Microsoft love loot crates, they must be kicking themselves that Battlefront 2 effectively ruined them with their horrid implementation. That being said, the developers behind it know how to make a good game, so I am cautiously optimistic, the Fable games were never really ones for a good story so hopefully a new team can breath some life into the World.

Wait MS should not make games. MS/XB fanboys have been telling me that exclusives doesn't matter...
Windows Central Newsletter
Get the best of Windows Central in in your inbox, every day!
Thank you for signing up to Windows Central. You will receive a verification email shortly.
There was a problem. Please refresh the page and try again.