New firmware for the Lumia 535 spotted on Navifirm, but not Update 2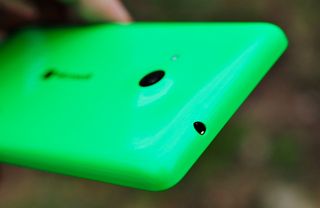 When it comes to software updates on Windows Phones, there are two types: OS and firmware. OS updates can be big like some GDR releases while others can be minor, like the current 14234 build. The same applies to firmware, which usually improves some aspects of the hardware like the display or camera.
Some new firmware for the Lumia 535 dual-SIM has been spotted on Navifirm, which hosts the updates before being pushed through to Microsoft's servers. The firmware version is 15114, up from 15053, which was released a few weeks ago, bringing improvements to the touch display on the Lumia 535.
What is not known at this time is the OS version and whether it is updated from Windows Phone 8.1.1 build 14234. Even if it is, it could be a minor update.
The site WindowsPhoneApps.es has speculated that this could contain Windows Phone 8.1 Update 2. That OS revision is shipping with the new Lumia 640 and Lumia 640 XL.
Update: And just like that, our Lumia 535 was updated to firmware 15114 as have a few of our reader's phones. However, as expected, the OS version did not change, meaning this is not Update 2.
Is Windows Phone 8.1.2 Update 2 actually coming?
However, it is not clear if Update 2 will be pushed to existing devices due to the closeness to the Windows 10 release. In other words, with carriers needing time to approve and distribute updates, an Update 2 could take many months to seed to current devices, interfering with Windows 10 plans.
Indeed, Paul Thurrott has heard that existing phones will not get this update, and it will not be dispersed to the Preview for Developers program. In fact, the last update to the PfD program was back in December with the 14219 build of Windows Phone 8.1.1.
Windows Phone 8.1 Update is a minor refresh to the OS. So far, the Settings app has a new look, with the ability to pin individual settings to the Start screen. There is also support for Bluetooth keyboards and reportedly the ability to tap to turn off the display on some Lumias. Recent documentation also revealed changes in Update 2 for phone manufacturers.
Until more information is revealed for now, we will just expect another firmware update for the Lumia 535 sometime in the near future.
Source: WindowsPhoneApps.es
Windows Central Newsletter
Get the best of Windows Central in in your inbox, every day!
Daniel Rubino is the Editor-in-chief of Windows Central, head reviewer, podcast co-host, and analyst. He has been covering Microsoft since 2007 when this site was called WMExperts (and later Windows Phone Central). His interests include Windows, laptops, next-gen computing, and for some reason, watches. Before all this tech stuff, he worked on a Ph.D. in linguistics, watched people sleep (for medical purposes!), and ran the projectors at movie theaters because it was fun.
Navifirm? I thought it was closed years ago with Symbian S60

It can be used the same way? Download and falsh?

is still used for Lumia software/firmware packages

My first thought, till now I was under impression that its closed

I guess every phone will get the update 2.

Or not, like in the part where I mention all phones may not get the update.

Is there anything to miss?

in the scheme of things, it is a very minor GDR release, especially with Windows 10 on the horizon.

So you are telling that we will get Windows 10 but not the Windows 8.1 update 2? Wow

I bet you read that and just confirming?

But we will get Lumia camera 5 with 8.1.2 if we are getting it?

Lumia camera 5 is meant for preview phones AND 640

Horizon = 6 months till announcement? 9 months till real hardware running it?

Or maybe longer, hope not

What a boss you are. Do you talk to peoples faces like you do on here? You said May so what's that mean holy annoited one. Maybe check what you do for a living and get off your pedalstal. Do you get punched in the face a lot?

Maybe windows 10 will have all the features that update 2 already has.

Obviously w10 will have that

Smelling Windows 10 tech preview update too..

Maybe tomorrow, remember that Microsoft avoids launching products on Mondays and Fridays due to project deadlines running on those days. That's what Gabe Aul said about it.

Really? The previous releases were all on Mondays.

Well he actually said they avoid those days, but it's their decision after all.

Lots of WP users are smelling W10 tech preview for months. Now they lost their smelling sense. May be you are going to loose it too.

It's astounding that Update 2 is still not released on PfD.

Reaffirms the idea that it is not being released to current hardware.

Update 2 is just a minor update. Upcoming Windows 10 for phone is the real deal. #April29

I don't get why we haven't really gotten ANY new builds, after Update 1. Was there 1? What's the point?

Lumia 535... The phone that need updates every now & then. :P

I got an update for my L535 2 days ago.

Any useful information with that like OS and firmware versions?

My friend got it, touch improved

The OS version is 8.10.14234.375
The Firmware is 15114.
I don't see anything different about the update so just bug fixes I guess.

You would already know no? You carry on like you invented the os and Lumia phones..... Oh wait your just a consumer aren't u.

Why I didn't get it on my Lumia 535 dual SIM?

They usually are forgotten about

Like all updates, it could take time before your region/version gets it. Unfortunately, they do not just flip a switch for all Lumia 535s. Mine is a HK dual-SIM, so for those, they get the update. Other regions will take a few weeks. Sorry.

just like me... got it two days ago

Yeah, we got it two days ago too here in the Philippines.

I got it OTA yesterday in Jordan, Middle east... not only on Navifirm

Punish the rest of the world because of Murika Telcos, way to go. Waiting for for the ability to hide on screen buttons, Nokia 630...

Not happening, the 58px I dedicated the the onscreen buttons

fordcom is right, 630's onscreen buttons are here to stay (forever)

"when it comes to Windows Phone, there are two types of software updates, OS and firmware"
Isn't that for every OS? What else could you update lol

Some fans don't know about this

Well, if you only count to 2 then you run out before including app updates. They ARE software too...

Yeah, I guess you're right. WP never gets any app updates ;p

I never heard of a firmware update for an Android ;-)

"the closeness to the Windows 10 release..." hahahahha I expect Windows 10 to be released to actual phones starting by the end of the year and probably will took 4/5 months to reach all...

Not if Project Milkyway has something to say. ;)

Your joke is getting old.. We all know Microsoft isn't going to delay it that much.
Heard by project milkyway btw?

Don't expect any phone in the wild before October 2015 in America. Then test of the world during Christmas

Could be touch improvement. Because sensitivity issue is still not resolved.

Glad that i changed my 535 and added about 30€ for new 735...still i think 535 is great budget phone.

Iv got this update since 2or 3 days now,on my cyan 535

On my page many many people reported this , mostly touch issues are fixed , plus battery life is awesome , some of them posted a photos of their battery sense app , the phone lasted over 3 days with simple use !!
Some of them reported that the touch is fixed but the battery is shit now , and some the opposite

My phone already get that. And it heals my touch screen issues and a smaller font

#wcentral most users of L535 are saying this! WC must know!

Before the update of the article, you could easily check the OS version of this new ROM, guys;) http://img15.hostingpics.net/pics/844242vpl.png

Thanks for the pic anaheiim. Helpful for those who are having 535 and dreaming that they will get the update 2 :P

Why aren't PfD getting these builds? I don't get it.

Check where Daniel smacked me down up above for asking the same thing. :)

can anyone tell me how to use navifirm in order to list me every product code for my lumia 830 as is in the picture? Im looking for a specific product code that Im not able to find in google, but if navifirm can show me every product code is available for my lumia, I can easely find it. I hope somebody can help me.

Doit avoir à acheter un compte payant, mais à la place utiliser ce tutoriel .

Can you guys do an article on why there's no Denim update yet for the 830 on AT&T? Are they even testing it? Skipping and waiting for Windows 10? Please find out. Thanks!

Trying to find out, but we have nothing substantial to report as of now. As an AT&T Lumia 830 owner, I feel ya.

I've recieved this third update recently. this isn't an update 2. at last, at last touch screen issue fixed. gost gray light also desappeard. this issue was on pressing power button. when i wanted to unlock screen. i think display black level became more deep. sorry for my english. :)

Most are getting ready for 10.Probably won't see any carriers pushing update one or two.

Got this update two days ago (germany, country variant) and from my experience i would not recommend it to anybody. The last firmware-update fixed the problems i got with the overeacting touchsensivity. After instaling this update the problems are back - and even worse: when scrolling through the settings menu, it is stuttering like hell.

925 Denim Update Philippines? Where are you?

I think they should release Update 2 through PfD.

That update published a while ago!! It is preview for developers

Touch issues are fixed for my phone. And somehow the display seems much better.

When it will come to india...any1 have any idea.. Posted via the Windows Central App for Android

Just got the same update here #Indonesia

I got this update today.... Very late in India

Is this improve touch problems ?

please please give me navifirm username and password i really need please save my love microsoft lumia 535 please i need downgrade firmware but navifirm only latest firmware availble beacause i haave no any credtid account or bank account please send me username and password on my email i big thanksful please

But a week ago, when i received my lumia 535, i updated it, and after that, to use cortana, had to change language and region, to UK , and then i received the update 2, because the settings page was really like the windows 10, i didn't take a screenshot.. :s
because after a while i decided to try windows 10..
or it could be just the update 1.. but i'm not shure..
i just know that now i can't put i like it was.. i got back to windows 8.1 and it don't change back to how it was :|

When i got update about windows 10 in lumia 535..i downloaded windows insider but system will cresh after that only lumia 730 and other phones can run well.not lumia 535...:(:'(
Windows Central Newsletter
Thank you for signing up to Windows Central. You will receive a verification email shortly.
There was a problem. Please refresh the page and try again.