New firmware update rolling out to AT&T Lumia 950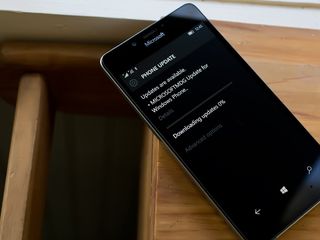 It looks like those with an AT&T Lumia 950 aren't left out of the update love today, as a new firmware update has started rolling out to the smartphone. At the moment, there aren't any details on the update, which is described as "MICROSOFTMDG Update for Windows Phone."
Regardless, AT&T Lumia 950 users should be able to pull the update down now. Once installed, you should see your firmware version move to 1078.00038.16025.39033. Be sure to let us know if you're seeing the update in the comments below, and shout out if you see anything notable.
Thanks for the tips!
Windows Central Newsletter
Get the best of Windows Central in in your inbox, every day!
Dan Thorp-Lancaster is the former Editor-in-Chief of Windows Central. He began working with Windows Central, Android Central, and iMore as a news writer in 2014 and is obsessed with tech of all sorts. You can follow Dan on Twitter @DthorpL and Instagram @heyitsdtl.
Downloading quickly, too.

lol!!! go for it! :D ~DheeraJ~

Have u received any W10 until know

Well, it is only firmware, so not that much code.

It's 210MB. That's quite a bit for Firmware (and worth waiting on Wi-Fi for me)

Because it's small compared to an OS image or update.

All set got it all set WOOOOO HOOOOOO About Time.

Whoa...is the sky falling today?! Win10M rollout and then AT&T releases the firmware for the 950?

I literally almost dropped my drink when the headline popped up on Twitter. I'm looking toward the eastern sky now. This is surely the end of the world.

Yeah I wonder if this means we will finally be getting the "somewhat" overdue firmware for the Samsung Focus or left out Lumia 920 that should have rolled out ages' ago.
Guess I will just be grateful they only made us wait on the 950 and not skip it altogether like they have done in the past which of course is surprising considering how they butchered the Lumia 1520?! when it came to AT&T. The 1520 could have been a game changer if released as specified and not just an emasculated AT&T exclusive. Rant over!

Well, they did skip three of them. At least they gave us the latest one.

Agreed, being an exclusive did the 1520 no justice at all. Still holding on to mine for now. Hopefully, nothing will happen to it before the fall. Looking forward to upgrading to something worthy. So far, I like what HP is going to offer. The only thing missing would be stylus support and dedicated camera button. I'm not a fan of on screen camera activation.

In HP's defense, their target audience is business users who probably don't take a bunch of photos.

This is true and I considered that. However, that seems to be the way many of the newer WPs are going, not just HP. For them, I understand, considering they are focused on enterprise. I'm still a fan of HP's phone and style, though. I'm sure I could get use to it, if I had to.

Idk, I just had a ******* heart attack and am trying to recover so I can download. Posted from down vote central.

Interested to see what people with that device recognize as new/changed.

Windows Central (and Windows Blog, etc.) posted the change log for this firmware update a few weeks ago. Posted from Windows Central for Windows 10

Update Advisor on Lumia 920 shows Windows 10 is available for my phone? Anyone getting OTA for 920?

In My lumia 920 advisor app shows Windows 10 not supported.. Posted via the Windows Central App for Android

Downloaded and installed - still can't connect with MS Band2. On OS build 10.0.14283.1000.

Me neither , oh well, guess it will be available at some time ☺

You guys are on Redmond build. They specfically said in the last Redmond update that it breaks the Band 2 working, and they expected it to be broke for the next few Redmond release. I was on Redmond and when I used recovery tool back to production and then joined Insider on slow ring to avoid Redmond release. The non Redmond builds are SO much more stable and have so many more bug fixes. The Redmond/fast ring is just crappy right now, I highly reccomend going back.

I think you mean Redstone... :-) Posted from Windows Central for Windows 10

Well, red is red, mond or stone.

If you're an Insider to increase stability and reduce bugginess, you're doing it wrong.

enahs555, when you rolled back to production, did you restore your files and apps or did you start cleanly?

Restored files and apps. And yes, Redstone, not Redmond. Microsoft is located in Redmond. :)

Just change your phone language. I changed from US English to UK English and my Band 2 is in fact syncing better than ever.

Thank you my band 2 now syncs. Only problem is the funky date layout. Posted from my overheating 950XL

Regional settings is independent from language

It's OS releated why did you expect att firmware to solve this?

Do a hard reset. My Band2 is syncing fine on my Lumia 950 with this build. Hadn't bother going to all the trouble in the past but need the band and thought changing the language was a bit inane. And now the spinning wheels on the firmware update.

Do a back up and a hard reset. Easy and a quick fix.

Unfortunately, you may have to uninstall and reinstall MS Health and reset your Band 2. This has helped me in he past, but fair warning, it's only temporary. I've noticed something kind of interesting before, when I tried to just pair my Band 2, without reinstalling MS Health. It only seems to want to pair to an iPhone. It doesn't offer an option for WP or Android. This may be the underlying issue with connectivity issues. I get alerts and messages, but I can't respond from my Band using voice or text. Cortana doesn't work using voice either. I believe that part of how the Band 2 connects with WPs running Win 10 mobile is jacked. I added this problem to the feedback. Hopefully, they will look into this issue. I'm not sure if it's the OS or not.

If you make the mistake of resetting the band, you won't be able to activate it again. To do so, the workaround is to install a different language (don't ask), restart the phone with that language. Then do the full brand-new band install and set up your tiles, etc. When you change language back you still can't connect, but at leas the band itself is ok.

Finally...! At&t guys can breathe easy...in comparison, firmware release has quickened for win10 on at&t don't y'all think?? :)

so on a story about the firmware update for the AT&T 950 variant, you ask about a phone that was never on AT&T?

So are we happy now?
What I am asking is when are we going to consider ourselves satisfied customers carrying around our ATT950?
I started with the 950XL unlocked on Thanksgiving day. But later decided to swap to a single SIM variant for technical reasons. While I admit to being an early adopter of W10M by making this purchase, I find this device currently being an AMAZING phone. (My relentless support for it HAS cost me professional collateral at work, however. The suits with the IPhone pounce on even the slightest early adopter issues)

I started off VERY unhappy to the point I was ready to abandon the platform all together. However it turns out my device was bad egg and was replaced by AT&T. Since then I have been pretty happy with the device. We're getting closer by the day!

What kind of things were happening? I feel my phone is also bad. App always crash and things are slow.

I was happy.... but when it rebooted it wouldn't recognize my sim card or my 5Ghz WiFi network. Backing up over my 2.5 and going to reset using the tool. Not happy right now. :(

How about iPhones not having spell check for like the first three versions. Posted via the Windows Central App for Android

Need firmware on older phones too, ms pls rolll it quickly :/

firmware updates for existing and upgraded win 10 devices

WM10 released today, AT&T/MS released the Firmware update for the 950 today, and they're calling for several inches of snow on this Sunday, the first day of Spring? Sounds like Hell is freezing over! :-)

I live in Oklahoma and have an AT&T Lumia 950 and I just got the update. Did not take very long to download. Nothing new yet.

Steers & Queers? You got horns boy?

Installing now. I just hope that it takes away the echo for callers that call me when "Hey Cortana" is enabled. I miss her listening to my yell for help

Hey, I've having the echo but didn't know what caused it. Thanks for the info.

Downloaded, installed, hung on MS logo, soft reboot, works fine now.

Well, I went to the Store and I can not find the UpdateAdvisor app. I live in Romania, so could this affect the presence of the app in Windows Store? (I have a Lumia 930)

You can download it from here. https://www.microsoft.com/en-gb/store/apps/updateadvisor/9nblggh0f5g4

Also I can't see it. You just should click on the link https://www.windowscentral.com/e?link=https2F%2Fclick.linksynergy.co...

An external link redirect? I wouldn't click on that link.

There's another forum poster who always formats external links purporting to be Microsoft or WindowsCentral sites which roll through some Swedish marketing website. Wonder if it's the same individual. Am flagging their post as having a malformed hyperlink.

I use an unlocked one on T-Mobile and still have the xxx.39004 firmware... first of all... why? sencond of all ...are we getting this update? and third of all... when?

Unlocked should be on 39014 already

Well I have 39014 on my unlocked 950. It came out last week. I'm not on any Insider builds.

I have a Lumia 930. Cant find the update advisor app in the store either

Perhaps you could come.t I. The article talking about that

This is newer firmware than unlocked 950

YESSSSSSSS FINALLY YES YES YES

Does anyone know if this is the most up to date firmware? Posted from Windows Central for Windows 10

It seems to have crapped out my hardware. It will not show my sim as inserted and won't connect o a 5Ghz wifi network now.

After being on for about a minute, you will get a message that your sim settings have changed and to reboot. You should be good after that.

Unfortunately, no. I have used the tool to reset it a few times now and it will not recognize my sim or my 5ghz WiFi. Working with MS now. :(

cracking up at the comments here on this article. I had to check to make sure I was reading about an ATT branded Model 950 "I went to McDonnalds yesterday and ordered a Whopper. They refused me service, so I emailed Taco Bell to complain. They haven't returned my call, i'm furious"

The best comment I have read in months. Thanks!

So does this put us on the latest firmware?

Got the update, I'll wait until I get home to download and install

I noticed that I had to go in check for updates, download and then it asked to restart. After restarting I went back I to updates and it still said I had to reboot again. The second reboot actually installed the firmware. I notice my start screen does not freeze for a second now when I first turn on my phone. So it seems to have some affect on performance for the better.

Mine is now back to the pocket heater mode. Poor wireless charging pad can't keep up. WTH AT&T??

That tends to happen after a big update. Let the system normalize

Hopefully that's only temporary. Mine does that for a few hours after every update. Then battery life goes back to normal bad (maybe 7-8 hrs of use) instead of post-update bad (maybe 2-3 hrs use). I'm hoping that this firmware update will get it so my phone lasts me a whole business day. I would be much happier.

My battery problem was related to my Hotmail account.
Go into battery usage in settings to see what apps are using up your battery and change that apps settings made a night and day difference for me after finally discovered it in the battery saver setting.

Yes. I just got the 950 yesterday. It's definatily an upgrade over lumia 830.

AT&T 950, received firmware 01078.00038.16025.39033 today with no problems. Downloaded quickly. Restart phone. Life is normal so far.

Installing now and will do a factory reset after it is done installing. Will be well worth the time giving it a chance to start from scratch.

Yeah, I think that's what I'm going to do this evening.

I got an update notification a day or two agobut checked the frimware and sure enough not the new one. I went into updateshere it was. I downloaded quickly but is taking its time updating.

The long awaited firmware... lets see how it works.

Holy ****... I'm shaking so much I can't press the buttons to download it. HELP!!!!! Today I had a feeling AT&T were waiting before 164 is released formally to their phones. Maybe they felt a few OS changes needed to be out there before the firmware is pushed.

It's available for mine, but I'm currently on roaming so have to wait until I get home.

I have the power! Let's see if this fixes any of my 950's quirks.

Got it here! AT&T North America, Oregon, Lumia 950 on the Slow Ring of Insider Builds. It would be nice to know what was fixed/changed with this update. D

Same here. Got off the fast ring to 10586 build and got the update today. I've been having wifi issues though as of late. After the update, hard reset then did a soft reset as well after all was done. Still same problem. Not sure if I wanna go on the 14921 build.

i got it, waiting to get home to install

Just checked after reading and the update was there pending. I live in Chester County, Pennsylvania.

Decided to use device recovery tool this morning to start from scratch. Then saw this article! Sure enough, firmware and 10586.164 updates are both being pushed for my AT&T L950. Finally! My L920 is on 164 and seems to be more stable than my L950 pre-update. Will do a hard reset after update to start fresh - love a fresh phone! Even if it is a PITA. :D

I might have to do the same. I was caught with the Insider Preview set at the Fast Ring, and now I'm stuck downloading the 14291.1001 OS update along with the needed firmware update.

Hey Cortana echo issue. Gone!

I get an error when it resets to do the install. The error code is 0x801882c1 Any ideas? I removed my SD card to see if that helped and it did not.

Im experiencing the same issue.

I literally just sent in my phone to AT&T because the camera had a huge stripe in it when playing back 4k video (always thought a OS update would fix this but they never did). Yesterday I pulled the replacement out, set it all up, turned on the camera, and it STILL had the stripe gltich (tried it with a hard reset too with the same result). This firmware update fixed it but now there is a small stripe on the side when playing 4k video back. It's basically exactly where the navigation bar would be. SO annoying. I bought this phone for the camera and it SUCKS.

I guess it sucks to be you as I have no such stripe when recording with my 950

Glad to hear the echo is gone. Now maybe people will be able to enjoy the quality of the AT&T network. Sorry that it took so long and so many people got to hear how awful AT&T sound quality is. Is there any news on the alarm issue - no audio volume? Or settings auto-changing from Sound=Default to Sound=VibrateOnly?

Ok. Finally got the firmware downloaded and installed. After going through all the settings o did find that under (Sim settings) there is now a Enhanced LTE option that wasn't there before, giving the phone HD calls where available. So far that's the only real change I've noticed that's been added.

Will they ever enable the "double tap to wake up" feature?

It's in this firmware update, just enabled mine.

So the last update fixed my Bluetooth connection with my car, which the update before it had broken. With the latest update, and the firmware update..... Okay, I'll say it.... My phone is insanely fast!!!! It feels very stable, and is working nice so far. But I'm greedy, and still want double tap to wake :( lol I also noticed that Edges tabs are larger, so you can close them easier.

I've just downloaded it!!!! I love it!!! ..........but what does it do?

Fixes stability, gps, and call quality issues (firmware).
And then apps are getting upgraded too.

Got it here in Maine, seemed to install quickly and smoothly. I haven't noticed any changes right off but I'm hoping for battery improvement/consistancy. I'm very happy with this phone but the battery life is different from day to day with similar usage. I'm also hoping for more Bluetooth fixes/stability but I'm starting to believe those issues are more Bluetooth's fault than anything, I've noticed on forums that the same issues I'm having (random disconnects, poor connection quality, causes phone to jam/reboot) are also problems on iPhones and Android phones, seems the older versions of Bluetooth were more reliable but it's hard to say for sure, just speculation on my part from reading forums etc. Love the L950, would recommend it to anyone especially now that's caught up with firmware and OS updates!

Got this update, but since installing, I get no notifications showing up in the Action Center. Has this happened to anyone else?

Anyone else notice that latest version of Windows Central app v1.1.24.0 (latest thus far) does not allow you to log-in...couple of other glitches...probably should put in the Windows Central app issues thread...was working fine before the firmware update...complete hard reset, clean install too..

Ok just noticed that there are issues with the latest Windows Central app v1.24.0...posted feedback here: https://windowscentral.uservoice.com/forums/348765-general/suggestions/12949872-the-app-crashes-when-logging-in#comments

Still waiting for the update. I was on Insider Slow for the last month - nothing, switched to the Fast last night - nothing. I did a complete reset this morning, signed up for Insider Fast - NOTHING. Getting frustrated with this, any thoughts?

you can use the windows recovery tool to get the latest firmware, thats what im doing right now.... it sees my current firmware and this latest firmware that some are fortunate to download

My phone is always connected to wifi at home... not sure if that has anyting to do with phone getting this MICROSOFTMDG update. I have AT&T banded 950 purchased from AT&T store and just now went to settings, updates and saw the MICROSOFTMDG there on the phone. It required me to press on the download button. While at work I'm not on wifi and it wouldn't download. Joined wifi and now it's downloaded and installing. By the way phone is enrolled in developer preview as "Production" ring.

It appears as though live tiles are updated everytime you unlock phone. My Photos live tile is finally showing pics connsistantly. Also Live tiles Microsoft Weather, News, Money, and Sports apps area to be refreshing with updated content constantly. ;)
Windows Central Newsletter
Thank you for signing up to Windows Central. You will receive a verification email shortly.
There was a problem. Please refresh the page and try again.