New Graphics Amplifier add-on gives a desktop GPU boost to Alienware 13 laptop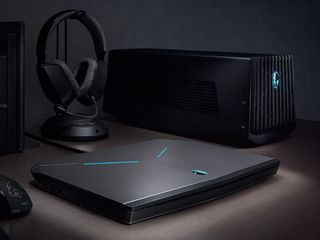 All laptops, even the more powerful Windows gaming notebooks, use less powerful graphics chips than desktop machines by virtue of the restraints of portability, but the just-launched Dell Alienware 13 has an interesting way around that limitation with an add-on that gives it a desktop PC graphics boost.
While the Alienware 13 has an Intel Core i5 4210U processor with a clock speed of 2.7GHz, and support for up to 16 GB of RAM, the optional (and huge) $299 Alienware Graphics Amplifier add-on box has been designed so it can hold of the best graphics cards with either NVIDIA or AMD chips inside so it can provide the laptop with a massive graphics increase. Dell says:
The Alienware 13 itself has a starting price of $999 and both it and the Graphics Amplifier are now on sale at Alienware's website. The company is also now selling the previously announced revival of its high end Area 51 gaming desktop PC, with its unique triad case design, for a starting price of $1,699.
Would you buy a graphics add-on for your gaming laptop if you had the option to do so?
Windows Central Newsletter
Get the best of Windows Central in your inbox, every day!
I tried the word 'first' but the app said I should write more constructive comments...

Maybe you should learn the lesson instead of making comments we have to delete, then.

Maybe you should have listened.

I've never done that, so I thought since I got the chance why shouldn't I use it..

Even if given the chance to comment "first" it's not encouraged here. Haven't you read about Daniel's article regarding commenting?

I read everything that's written here. So what? I felt like writing it, so I did.

If I had the option or the money to do so?
I think I'll buy a desktop PC

On one hand I agree. But if you need the portability of the laptop then this is not a bad option to put your money into one powerhouse instead of having to purchase two.

I need portable power for onsite video editing.. however I also enjoy the casual game now and then. Something like this would be perfect for me!

It does seem really cool.

Is it compatible with my surface pro 3?

No. You need a pcie port.

It's been done. Tell me when I can do this over Thunderbolt with the SP4.

Alienware hardware is so ugly.

They are the most beautiful piece of hardware on this planet...

LOL. But seriously, it's some ugly stuff.

If I could do this with a surface, I could ditch my desktop and still play my games! SP4 the tablet that can replace your desktop!

If they can make anything like this for my Surface Pro 3, I will buy it? What is the connection used for the Surface Pro 3 dock?

I would too. Should get my SP3 today, but was torn between a gaming laptop and the SP3. I'd be all over this if there was something for the SP3.

Like every single other person under the Sun, I want them to make this happen for the Surface.

I would love to see something like this for the SP3. I would retire my desktop.

Just USB 3.0 if I recall...

I've been saying they should do this for years.

Alienware is like Apple. Just some piece of overpriced shit.

That's your takeaway from this article?

Panay are you listening? We need this for sp3!!!

Things like this defeat the purpose of portability. I think this kind of stuff is less economical and fairly pointless.

Same thought process. Why buy a laptop, and then something that requires it to be stationary?

I play PC games but I have to have a desktop for this which isn't portable, and I own a tablet for portability. With this i could save the money I spent to have two devices and use one for both.

Like others are saying, once the Surface can do this I'm sold.

This is really good for people who want the best of both worlds...

I would use it for my Alienware 17 if it works on that one.

I could upgrade to a pair of eurocom r9's for cheaper(that is if my 18 r2 could accept them)

Recently I bought a Lenovo Y50 with a Core i7 and a GTX 860M for the same $999.
Alienware are as beautiful as expensive.

Hope they will give a amplifier for every laptop!!!!

Nice! Just bought the Alienware 18, but have to admit this would have been a nice option for smaller laptop with power boost.

Please dont tell me that massive box in the picture is the additional option?!

It is, but it is meant to stay on your desk connected to one or more desktop monitors.

Ohhh k. Kinda makes a bit more sense that way.

Huh. Will this be compatible with an m14x?

OH YEAH LET'S THROW IN A R9 290X WITH IT. The CPU will definitely not bottleneck! This thing is pretty much for people who don't even know how a computer works and those who like to throw cash away. You can't seriously expect me to use a dual core laptop CPU with a high end desktop gpu (or even mid-tier at that)

Gaming Graphics Cards, probably not. CAD workstation cards. Now I'd be interested

No, but I would get one for a surface pro 3 or lenovo helix style laptop.

love his kit ... its woking in my alien ware laptop...nice extended graphic power for most of the gamer,