Surface Hub gets fresh competition from InFocus' 70-inch 4K Windows 10 PC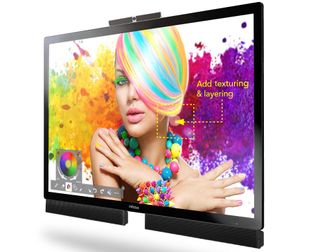 InFocus has announced the Monopad Ultra, a new version of its large whiteboard PCs for businesses. It could be a competitor to Microsoft's Surface Hub as it runs on Windows 10 Pro and has a 4K capacitive touchscreen.
Here's what InFocus has to say (via Neowin) about the Monopad Ultra:
InFocus will sell the Monopad Ultra for $13,999 and it will be released in October. By contrast, the 84-inch Surface Hub from Microsoft, which also has a 4K screen, sells for $21,999.
Windows Central Newsletter
Get the best of Windows Central in your inbox, every day!
It would be better if they had the Windows 10 Surface Hub SKU installed, having it as the full Windows 10 Pro is not so practical on a screen that size not to mention that enterprises pretty much need Windows 10 Enterprise and won't want a Pro SKU on their network. Still it's great to see other companies bringing out stuff like this, hopefully they do very well with it!

The Surface Hub runs Windows 10 Pro. ;)

The Surface Hub runs a special SKU, which is resetting after every meeting.

16 points of touch doesn't compete with 100.

Why would you ever need more than 4 points of touch?

Your comment is pointless...

When more then one person wants to interact with the thing, maybe?

Needs true active stylus support. This seems to be the main issue with most of these large touchscreens or touchscreen overlays; They do not work the same as the likes of the Surface Pro/Book in terms of active stylus. I have a tablertv touch screen overlay and the active stylus support is mediocre at best.

Even the surface hub doesn't have it?

Part of the allure of the Surface Hub is its support for multiple Surface Pens at the same time. They demo'd how OneNote with the special Surface Hub SKU can basically be uses as a giant, digital, collaborative whiteboard that can also sync in real time with other Surface Hubs across the globe. It's pretty impressive stuff, even if it's at a price point far beyond any consumer's reach.

Ah I thought they would have something special like that, thanks for filling in the knowledge gap.

I have not seen one in person and the demos don't seem to work like that. I believe based on SwImSwIm's comment that since it can be used as a collaborative whiteboard the active stylus would not control the mouse and "track" as a surface pro/book normally does.

I'd like a Surface with a 30 inch tough screen to put on top of my drawing table but with a cost that's not prohibitive, that way I could draw all day and improve my digital sketching. Fingers crossed.

I simply don't get the prices asked for these devices; yes, they're really big, but that's about it. Internals certainly aren't breathtaking, so the only real differentiator is the large screen. Now, they're not THAT much larger than some of the bigger standard flatscreens, so what's with the x10 or more price?!?

Standard flat screens aren't touchscreen, also they sell a crap ton more.

From what I understand these are like an all-in-one package instead of companies buying a bunch of separate things like say a projector, a screen, separate type of web/video/telecom conferencing device whether phone or video, a white board, etc. Apparently it's actually cheaper to go this route. I'm not very knowledgeable about the economics of it, but I'm just regurgitating (perhaps in a poor way) what was explained to me before. They aren't buying if for top of the line internals, they just need it to work well for work. And again these are for med-big companies, not really for consumers or even small businesses.

For a business conference room you have a lot of costs: Teleconference Hub / Maintenance contract Projector (bulbs are expensive 200-800 a go depending on type) White board Telepresence equipment Support contracts / additional software. It all adds up, and the more rooms you have the more expensive it gets. With the Surface Hub you have single up-front cost and then the software licences. That's it. Instead of having 20+ cables in a meeting room you have none, instead of having a teleconferencing team supporting them, there's just an IT department. To the average consumer this is prohibitively expensive, but to a business this is dirt cheap especially for those who do a lot of teleconferencing and the Surface Hub has a lot of unique features that no other solution gives businesses such as the tight integration with OneNote. Just like the HP X3 is expensive on paper, businesses will get a bulk discount and don't pay VAT on them. Final point, the cost is down to manufacturing these are not high volume items and a lot more complicated to build and maintain quality control. People are spoiled at how cheap consumer items are, but when you start looking at professional gear then you realise costs escalate rapidly for example colour accurate panels are often 2-5x more expensive than their consumer counterparts because a lot of panels get discarded due to QC and they're shipped pre-calibrated. Unless you've worked in a Enterprise environment then when you do then it'll come as a culture shock. Enterprise is very different from working in a small business, especially when you're working with people worldwide.

You can take 21 PC and hang them in your entire room.Very impressive btw but too spicy for now.
If they drop the Price to 10k I will get one.

Would love to play Civ V on it, but 14000 USD is a bit steep for my budget ;) Well my SP3 will do anyway haha Posted via the Windows Central App for Android

22000 bucks for a 70 inch 4k TV ?? Lol.. Crazy !!

No, $22K is the price of the 84 inch Surface Hub. Not sure why the article author chose to compare this 70 inch device with the larger Surface Hub instead of the more comparably sized model. The smaller Surface Hub (55 inch) sells for around $8K.

A touch-screen enabled, windows 10 powered 84 inch PC in fact. You don't find 84inch touchscreens lying on the road every day you know

This is exactly what Microsoft is hoping, right? Posted via the Windows Central App for Android

Wow, only $22K ? I need one for my bathroom ! LOL

I was thinking of getting this as a doormat or a dining table. Seems pretty cheap :P Posted via the Windows Central App for Android

It's named Mondopad, not Monopad.

I just replaced my 70inch 1080p, 6 point touch screen that cost all of $2500 cad a few years back with a new 65inch 4k, 6 point pressure sentive touch for $4400 cad. I guess in this case you're paying 10k USD more for the computer and operating system.

I still don't know why companies obsess over Intel vPro like it's something that helps people when they're just using the computer. The only benefit to getting a processor with vPro is being able to control a computer remotely via the hardware itself. Sure it's cool, but most people won't use it, unless tech support is needed frequently by employees. Edit: So I looked up vPro and people are only concerned with the AMT part of it.