New map updates now available for Windows Phone Nokia HERE app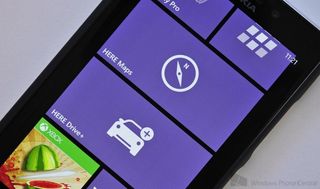 Nokia now has some new map updates available for its HERE app for Windows Phone with the company saying, "There are additions and fixes in every continent, too many to practically list, so just download with the assurance that your map is fuller and more accurate than ever."
Nokia does mention that it is adding more "building footprints" to HERE maps, which offers users outlines of buildings in a number of major cites. It has also made efforts to improve the location of transit lines in some cities such as Chicago. Keep in mind that the app itself is not being updated; just the map information. How does HERE Maps compare to other online mapping services?
Source: HERE blog
Windows Central Newsletter
Get the best of Windows Central in your inbox, every day!
This is the reason i love Nokia and I'm proud fan boy of Nokia

At least Nokia mentions what they add in an update, lol.

It's not an app update. So, it can't be faster. You should say "Seems Fuller"

Yeah it's funny that Microsoft itself does not list version change log on proper pivot.

Extremely sorry for going off topic but couldn't help it...whatsapp new update is out 2.11.587 and it fixes all the problems

Yup! Just noticed that. But the change log still shows 2.11.586.

Scroll down, there's an article about the update on the frontpage.

Well at least they haven't forgotten us in favor of android. Good to see this update.

Is amman-Jordan a major city??
We don't have terrorists! :)

Nothing for Pakistan either... :(

Been waiting forever for Pakistan Maps.... :(

The map content is universal across all platforms. So when android gets it, WP gets it, and vice versa

The mapping data has been updated, this has nothing to do with any OS. This same update will also apply to the android app

They can't. Everyone on android will keep using Google maps. HEREs bread and butter will stay windows.

Well, I assume this update would apply to all HERE apps, for Windows, Windows Phone and Android.
But it is reassuring, yes :)

No updates available in INDIA at present for Lumia 630

Its not the app, but the map data that was updated.

Check for the downloaded maps and not the "Maps" app!
-Open "Maps" app
-Tap the three dots ". . ."
-Select "settings"
-Select "check for updates"

The app is not updated but the maps are.

Is it the maps that has been updated or the or the here maps app??

It's the maps that have been updated and not the app. Updated maps for Australia now showing many more business listings across a range of categories.

Map updated even for India.

None here on the US for my 1020.

i got updates for 2 states in the US.

Update the maps, not the app. Open the app and go to settings.

Great, maps change all the time. Nice to have an update HOWEVER, how about some long needed application updates as well? Some time ago when this site was WinPhoneCentral there was a very long thread with many suggestions. I do not see any of them ever coming to the app. Everything from better traffic routing, exit preview and better navigation options are sorely needed. I continue to use Navigon because Here just does not cut it. Even in a city situation, the sensors should tell you the direction I am moving even if there GPS signal sucks. So many improvements are needed.

HERE maps said its Windows Phone development will lapse somewhat now that it's concentrating on other platfomrs like Android. It wasn't part of the Nokia sale.

Re: NutmegState,
I use Navigon too. Very full featured and great UI (User Interface). It uses maps from Navteq, the Nokia company, based in Chicago, that supplies HERE.

No updates available in Malaysia and satellite maps Malaysia still outdated.....+920 dp 8.1 cyan

Don't expect too much, it's Malaysia after all. :)

Not exactly. There's a slight update on Miri, Sarawak.

Big update for Australia. The maps now show way more business listings across different categories and have even more detailed 3D buildings showing on my city for Gold Coast Queensland

The integrated Bing maps so also very good to find places nearby and even for navigation. But needs more details on roads here india.except that its pretty smooth to use and better than google maps in accuracy and even 95% accurate in offline.

My neighborhood's map has been updated! Yay! It's about time. The roundabout changed into a junction with traffic lights and the road was upgraded a year ago

Updated quite a bit of detail in Birmingham UK

Previous update months back was told to have better 3D navigation..but it wasn't the real case...
So I won't download this one.

There is a rather large update (42MB) for the Ontario map. Downloading it now. :D

Because of the constant freeze-ups and inaccuracies, I switched over to CoPilot. I like it better than when Here Drive/Here Maps were working.

WhatsApp recive another update!

But they didn't mention what's new in it.
As version shows .587
But it still showing what's new in .586

4months back also same thing happened when WhatsApp thrown 3 updates continuously.
To make it stable that time.

There's an article about that on the front page...

keep in mind that the app itself is not being updated

Map updates are nice but, how about fixing the POI search? It has sucked since the S60 days.

Is the map itself what got new update not the application !!!

Fix the shitty Drive app. I'm tired of it taking new to a destination I went to four weeks ago, instead of what I just selected, as well as the constant crashing.

Curses, no new maps for Tokyo!

Unable to connect to server...

I liked most of Nokia lumia is here map and here drive+ , and I do not need another navigation application . finally there is an update to my country, Indonesia,Thanks Nokia

There are update in Lebanon but the map still old

Out of Topic
But
WHAT'S APP
Is getting second update of the day

Already covered by Windows Central!

I'm telling this is the 2 nd update of the day
Windows central has covered for
2.11.586
And now you can find a new version with 2.11.587.0

Just noticed the new updated build. Thanks.

Yes it has.. but now I cant see my house in satellite view... Its hidden by clouds... darn!!!

Here is still owned by Nokia, correct? Was really hoping that M$ bought this division as well, so WP could get a single, killer map app. Instead we are stuck with the Map app and need to download Here maps, beside it. A shame, cause both apps have the upsides

Hell yeah. Now that's why I'm still with Nokia!

All Souravs love Nokia itseems :P Even I'm Sourav too ;) a nokia fanboy :D

Updating Singapore, Malaysia, Indonesia and Taiwan now.

Nevada and California got updates

Hopefully this fixes the freezing and crashing I keep experiencing with this app

Go into WP8 settings --> maps --> locate the "delete search history" (or something similar, I am using non-english version) and that fixed my constant forced-crash issues. Before, even deleting and reinstalling the HERE drive + maps didnt help, the "clear history" was the only solution for my pain. Maybe will help in your case as well!

Thanks for the tip! I think I tried everything else except that. I will try and see soon if it worked. It's funny too, this is possibly the worst bug I've ever experienced, the app would just freeze and I had no idea I missed my turn. I think MS owes me some gas money!

Surprised that their still pushing this out to gdr3 devices

here italian maps are still 2 years old!!

http://360.here.com/2014/10/30/news-flash-updated-maps-android-windows-p... curse them on their homeland, not on this 3rd party news portal.

I like the app...so far hasn't gotten me lost in my travels its free an being able to download maps for offline use is always a plus

20.6mb update available for New Zealand maps but keeps getting a server error & won't download the update.

An update is available again for WhatsApp

I don't have HERE maps installed but I did get map updates by using the stock Maps app and checking for updates to my installed maps. Don't they both use the same provider?

+60Mb for Mexico maps. Hope the updated maps fix the freezing issue.

Go into WP8 settings --> maps --> locate the "delete search history" (or something similar, I am using non-english version) and that fixed my constant forced-crash issues. Before, even deleting and reinstalling the HERE drive + maps didnt help, the "clear history" was the only solution for my pain. Maybe will help in your case as well!

Thanks for the advise. I definitely will try it. In the last days the app works fine for around one hour but was working in offline mode. Once I deleted the search history I will try use the app in connected mode. If this don't help I think there is something bad with the connected mode.

Here maps is excellent works really well and is just another reason I'm glad I switched.

When i was using here maps, my app freeze from doinf nothing AT ALL... I hope this Update with The New map fix this issue... Cause othe months it was ok, with this 3D maps it was frezing all The time... Sorry for Bad english xD

@Fabrizzio:
Go into WP8 settings --> maps --> locate the "delete search history" (or something similar, I am using non-english version) and that fixed my constant forced-crash issues. Before, even deleting and reinstalling the HERE drive + maps didnt help, the "clear history" was the only solution for my pain. Maybe will help in your case as well!

THANK you ric, i am gonna trie this, thanks for The attention and help! Thank u very much :)

Still waiting for BRT add on BH, Mg Brazil...

Love this apps !!! Use it everytime when I'm in trouble !!!

72 meg update just in Southeast Brazil....great improvemnt I hope

Something's wrong, trying to update but it tells me to check my connection!! Even when it shows me the update , when trying to install it's the same story !! Anyone like me??

It isn't showing update at all

Even for me.
Wts the prob??

Will they ever going release a online version with full 3d mapping? Like IOS, pretty sure we all wanted browsing browsing in 3d. I know its really a great map(even better than my navigation system) and far more practical from online map, what about when I'm at home and has internet connection?

Updating Belgium, France, Germany, Luxembourg, Netherlands and England. Have to wait a while ...
Love Here maps a lot. The main reason I bought Lumia phone.

Czech Rep., Austria, Slovakia 700MB update :)

Maybe they'll actually get my location right.

Thank you Nokia and the HERE maps team.

Got updates for Jamaica from the other day, will double check to see if there are any new-er ones

a. Needs bike and walking routes b. should have TomTom like road displays for car navigation when the road signs are also displayed c. navigation should notfiy, also like TomTom, what to do after the 1st navigation step...so not just "turn right", but "turn right and after 300 meters turn left"

is nice the last update but how come that the beta version of Android can download HI-FI voices and we still with the same voice in non HI-FI ?

Update for Romania's maps. 35,6 Mb, Lumia 1020.

No maps available for Pakistan

Maps have been updated, good ..... but how about satellite view?

I do wish I could search my contacts from the HERE apps.

MS why are you so pathetic.....why window phone sucks so much.....why haven't we given option of downloading through 3g data plan......why downloads of maps never works in background......why maps dont download if user is doing some other work or screen is locked.......pls let me know who is the great mind behind this design....