New Microsoft ad highlights free Lumia 928 offer with Lumia 2520 purchase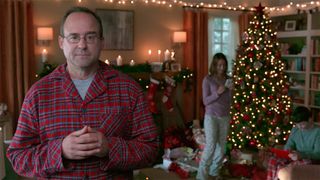 Microsoft keeps on putting out some solid ads for television these days. Here's another from the Redmond giant that captures a bit of the Christmas spirit with the Nokia Lumia 2520 and Lumia 928. Video after the break.
The video is helping to promote the Verizon holiday offer for the Nokia Lumia 2520 and Lumia 928. Buy the tablet with a two-year plan for $399 and you'll the Lumia 928 for free. Both devices though require that two-year activation. Still, it's nice to see Microsoft push out these unified videos to show off the Windows ecosystem.
Anyone picking up the Lumia 2520 for Christmas?
Source: YouTube, Microsoft (opens in new tab)
Windows Central Newsletter
Get the best of Windows Central in in your inbox, every day!
Yup, saw this on TV last night, so they're already airing.

Yes, saw the same thing too. I like how they touch on the superior screen and LTE as stand outs. Definitely need more of these types of commercials.

What I'd like to see more of, though, are carriers getting involved in the promotions on the airwaves. To present date I've only seen Microsoft invest in the advertising (Nokia included) and for Android and crApple I see Verizon and at&t fawning all over themselves to promote these wares and leave Microsoft to foot the bill for the investment and promotion. Now, to me, its not about the money, its about showing that Verizon and AT&T (and others) supporting the platform by advertising them as feature devices. Then, the market might react differently and see a more positive picture of the WP devices.

I saw it too. Were you watching Tomorrow People?

Loving these new Windows ads!

This ad has been running like crazy here in Missouri for about a week now, its a pretty good ad

Ad is very misleading. The Lumia 928 is already free with a 2 yr contract.

Comment deleted. Sorry.
I see your point now.

No your getting it free with the tablet. Doesnt mean you have to add it to your current plan or anything. Its a free phone.. I think that's how it works. Correct me if im wrong

You need to resign the contract for two more years on a line to get the phone AND start a new tablet line.

Um... you can already get the 928 for free if you are eligible for an upgrade, without having to buy the 2520. I don't see what the deal is??? AT&T had/has some deal that you can get the 2520 for $199 (with activation) if you buy a Windows Phone. Now that is a deal.

Lol you do this deal if your looking to buy a tablet not if your looking to buy a phone -_-. That's when this becomes a deal cmon you guys lol

They were offering the 2520 at $399 without the phone and the 928 for free without the tablet. Still don't see the deal here?

I think its more of getting the phone without having to activate it or paying an upgrade fee etc. you get the phone 100% free without contract.

Maybe they are waiving the upgrade fee. Still not much of a deal compared to AT&T.

That's because there is no deal.

A a tablet that comes with a free phone that's a deal. This is not a get a free phone by buying a tablet.

Loved the dance at the end.

Yep! It was awesome! It made the ad. :D

He calls it the 'Windows Nokia Tablet' then refers to the 'Nokia Lumia 928'. A preview of MSFT going away from Lumia and the numbering system in the future??? Not that I agree... Just an observation.

What are you talking about? It's a Windows Nokia Tablet, and a Nokia Lumia 928. Why would they call them anything else? "A Nokia 2520 tablet that runs Windows" is too much of a mouthful to say - especially when there only is one.

Why would they call it anything else? Oh I don't know... Maybe because the name of the product is Nokia Lumia 2520.

what song is that at the end btw? anyone know?

It's Sara Bareilles' Brave.

Yeah great choice for a song in all their recent commercials. That song was sticking in my head the past few weeks. Finally figured out what it was recently. Good stuff!

Nothing is FREE if you have to pay something to get it. Perhaps "receive a bonus blah..." would be more accurate.

Of course nothings free, but the 928 is $0 with 2 year agreement and the data is what you are paying for. I'll wait for the 929 to drop before I jump on this, but it is enticing.

These deals,are only,useful If, you don't already have a phone... Gaaay. PS. The (,) button should be further from the space,bar,shits,pissing,me off

Purchased the 2520 on the 2nd for my wife, already had the 928. Hopefully they will send the free keyboard.

I'm looking for a tablet and phone for my wife. Had this been on ATT I would get it for her, unlock the phone, and put it on T-Mobile. Oh well.

Not sure if this deal is still available, but it's worth a look. https://www.windowscentral.com/e?link=https2F2Fcli...

The 928 is already free on two year contract : /

Oh.. youtube?? I thought windows guys hates everything related to google. parasites..

where is the new 929 for versizon?

I've seen this on TV a few times this week. Best commercial yet!!!!
Windows Central Newsletter
Thank you for signing up to Windows Central. You will receive a verification email shortly.
There was a problem. Please refresh the page and try again.